Miguel Cabrera Reports to Camp in Shape, Is on a Mission
February 19, 2012

Harry How/Getty Images
Miguel Cabrera reported early to spring training in Lakeland Florida Saturday morning, and immediately got down to business taking swings and playing catch. His arrival this year is in stark contrast to his arrival in 2011, which was clouded in controversy after getting arrested for driving under the influence on his way to camp.
Cabrera again has controversy surrounding him this year, but of a far more positive nature.
With the free agent signing of Prince Fielder in the offseason, who plays the same first-base position as Cabrera, the Tigers' brass have made it clear that plan-A for fitting both superstars in the lineup is for Cabrera to move to third-base.
Cabrera has a history of playing the hot corner for the Florida Marlins, however, he last played the position full-time in 2007 after being acquired by the Tigers. He only lasted 14 games to start 2007 before committing five errors and moving to first-base permanently.
This year things are different. Not necessarily because the Tigers think Cabrera will be more effective as a third-baseman, but because they appear willing to sacrifice defense to put one of the best offensive lineups in the league on the field.
Tigers manager Jim Leyland has made it clear that Cabrera's position switch is not necessarily set in stone. Options exist to keep both Fielder and Cabrera in the lineup without having Cabrera play third by utilizing the DH; however with interleague play, clearly having both Cabrera and Fielder comfortable with a fielding position is the best solution.
The Tigers should have enough firepower to separate themselves from the competition in the American League Central, allowing Cabrera to work out the kinks throughout the season—but there are significant risks involved.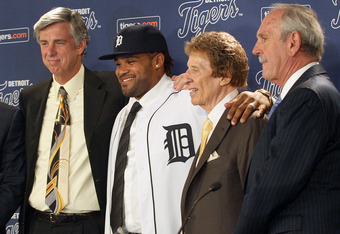 Jorge Lemus/Getty Images
Cabrera has to lose weight to facilitate the position switch, and came into camp Saturday already down 25 pounds. Leyland wants Cabrera to lose ten more before the start of the season to get down to 255 pounds. Cabrera has been one of the best players in baseball his entire career, and has also been one of the most durable, appearing in at least 150 games per season since 2004.
Both his dominance and durability are in jeopardy, however, as Cabrera drops weight and moves to a position much more prone to injury.
Great hitters are finely tuned machines, and sometimes it doesn't take much to put a great hitter in a funk. Cabrera should continue to be an outstanding hitter with less weight, however in spacious Comerica Park, any drop in power could result in more fly-outs and less home-runs. If Cabrera struggles at third-base and struggles with reduced power, loss of confidence could result in some uneven play throughout the season.
But for now Cabrera is taking the challenge head on.
"It's going to be hard," said Cabrera Saturday morning, aware of the task ahead. "But when you're motivated and you have your team to support you and you've got support of your manager and all your team, you feel like you are going to do it." 
"You can see that the effort's there and the attitude's there. That's pretty good," said Leyland Saturday. "I think he's on a mission to show people he can play third base."
Cabrera is on a mission, that much is clear. The risks are real, but with Cabrera seemingly as motivated as he has ever been in his career, and with Prince Fielder providing the best protection of his career, American League pitching better take notice, Miguel Cabrera might have just got better.