Fischler Report: Extensive Hockey Coverage from Stan Fischler, David Kolb & Co.
February 19, 2012

Jonathan Fickies/Getty Images
I was not born to be a hockey Maven. 
It only happened that way in 1939 when I was seven-years-old and saw my first game at the "old" (actually the third) Madison Square Garden. 
By the time I was nine, I was writing condensed game stories on the back of my MSG ticket stubs and around the time of my Bar Mitzvah, the present that I had hoped for was being named President of the National Hockey League. 
Instead, I got a nice, Schaefer fountain pen which wasn't bad after all. It enabled me to write longer stories about assorted teams including my favorite of all, the Toronto Maple Leafs.
Don't ask me how many games I've seen since then, or how many Stanley Cup-winning games because it's irrelevant. 
What is meaningful is that all of this hockey exposure over six decades has enabled me to write more than 90 books about the ice game, cover endless telecasts and intermingle with the most famous hockey people in history from Gordie Howe—his biography, which I wrote in 1967, was my first hockey book—to Eddie Shore and, of course the Great Gretzky. 
In modesty aside, I've won no less than six Emmy Awards for my television work and I'm currently writing a new book about the Detroit Red Wings. 
If you want a little bit more background, try this:
I began writing professionally in 1954 when I worked in the New York Rangers' publicity department.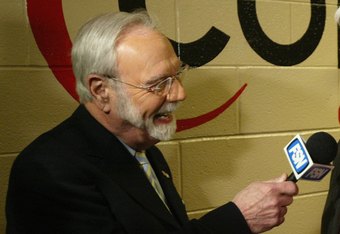 Len Redkoles/Getty Images
A year later, I began a newspaper career during which I won numerous prizes. I continually promoted United States hockey while writing for decades on the staff of the Hockey News.
I was awarded the Lester Patrick Trophy in 2007 for Outstanding Contribution to USA Hockey. 
My wife Shirley deserves plenty of credit for where I am today. She was the brains and energy behind the two of us authoring the first major hockey encyclopedia for MacMillan Publishers. 
We also combined on a comprehensive Who's Who in Hockey. 
Among the many savants of the ice game, my pal and partner, David Kolb, is up at the top. I'm tickled pink that Dauntless Dave enabled this arrangement to be made with Bleacher Report. Kolb and I think alike—except when we disagree.
So now you know a little bit about me and my un-remitting love for the ice game and its characters. 
***
My wife and I live in Manhattan where I work for MSG Network, covering the Rangers, Islanders and Devils as well as doing the Emmy Award-winning feature, Five For Fischler. I'm enthused about being a part of this galvanic operation called Bleacher Report and look forward to your digesting my thoughts and opinions whether we agree or not.