Illinois Basketball: Why Illinois Will Retain Bruce Weber
February 20, 2012

Joe Robbins/Getty Images
For many of you, simply reading the title of this article was enough to get your blood boiling.
What reason could there possibly be for Illinois' first year AD, Mike Thomas, to retain Weber for next season? 
After the Illini have dropped eight of their last nine games, 99 percent of Illini Nation is calling for Weber's head. Across the country, the general consensus is that the Illini's embattled head coach is going to lose his job once the season concludes.
I love Illinois sports as much as anyone and this meltdown has been borderline unbearable for me to watch, but when I put my emotions aside I see a very compelling argument for keeping Weber.
Before I dive into that argument, I want to clarify my stance on this topic. I believe that Weber will lose his job at season's end. There are just too many factors playing against him, and without the security that previous AD Ron Guenther provided, those factors will cost Weber his job.
But, the purpose of this article to present the argument that few are willing to accept.
It is the argument for keeping the Illini's head coach around, and it is a compelling one that will cause me to not be overly surprised if Thomas does end up keeping Weber and his orange blazer.  
Expectations:
Let's start with the expectations for this season.
Although Illinois fans expect their basketball teams to constantly compete for championships, this year was widely considered to be a rebuilding year.
The top three scorers from last year's team were gone, and the Illini lost their blue-chip, McDonald's All-American forward Jereme Richmond to the potential riches of the NBA. 
There was not a senior on the roster other than newly transferred point guard Sam Maniscalco, and he was considered an injury risk due to him sitting out the 2010 season due to ankle injuries.
On top of that, there were five new freshman on a roster that was already underclassman heavy.
So what does this say about Weber?
Well, it shows how great his coaching effort needed to be to make the Illini competitive this year.
He needed to take a group of under-performing raw athletes, inspire leadership amongst them and then teach them the intricacies of his scheme-heavy system.
After the incredibly strong start that the Illini had to the season, many fans forgot just how uneasy this team's outlook was going into the 2011-12 year.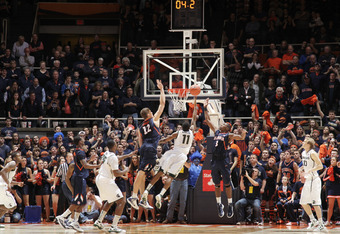 Joe Robbins/Getty Images
It is obvious that many of the red flags that surrounded this team have come to fruition towards the second half of the season, and while much of the blame lies with the coach, one must recognize the sheer magnitude of the mission he was faced with.
Although it does nothing to lessen the sting of this Illini meltdown, realizing just how unsure the outlook on this season was can provide some comfort.
Recruiting: 
Next, we look at recruiting.
Illinois has recently turned into a powerhouse on the college recruiting stage with three classes in the ESPN top 25 rankings over the last three years.
Say what you want about how well these players have turned out, but they were all stars on their own respective stages going into college and Weber was the one who managed to hook them.
Weber, along with his dynamic recruiting assistant coach Jerrance Howard, have built up incredibly strong relationships with coaches and players within Illini Nation's borders. Pipelines have been established and scholarships have been extended.
But what does Weber's past success have to do with keeping him around? 
Nothing.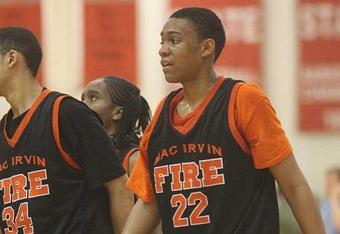 It is in the future of recruiting that I make my case.
Illinois is currently pursuing the top player in the nation in Simeon's Jabari Parker, and the Weber/Howard combo has made Illinois one of Parker's serious candidates. 
And don't forget about ESPN top 60 prospects, Thomas Hamilton Jr., and Parker's Simeon teammate, Kendrick Nunn
These three players alone are program changers. Put them together and this team could be put over the top from a talent perspective.
If Weber goes, so do these fine young student athletes. Howard will likely not be retained on a new coach's staff and new players will be targeted to fit said coach's scheme.
Illinois needs to retain young talent if the program wants to succeed, and keeping Weber is the best solution for that. 
It is also worth noting that the Illini have two solid commits for the 2013 class in Malcolm Hill and Jalen James. Firing Weber will likely result in the loss of one of both of them. 
The buy-out:
So here is the one factor that could contribute to Weber staying more then any other.
You see, the university would be forced to buy out $3.7 million dollars worth of Weber's contract (which runs through 2015). And as ESPN Chicago notes, Illinois is already paying former football head coach $2.5 million dollars as the result of his firing.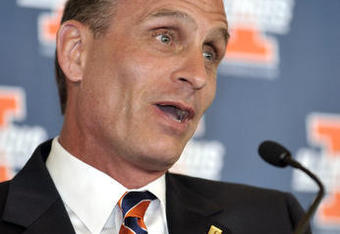 The University of Illinois is like most state schools in the country, it's strapped for cash and the athletic department is the same. 
Illinois cannot afford to pay $6.2 million dollars to coaches no longer on staff with the orange and blue.
AD Mike Thomas is a smart, calculated man. He knows that he has an entire athletic program to take care of, not just the "big two" of football and basketball.
From the personal interactions I have had with him, Thomas has stressed how he views all sports equally and does not show preferential treatment to any team or coach. It is that fact which makes me struggle to see him willing to sacrifice the "lesser" sports in order to support the larger ones.
Don't be surprised if at the end of the day, the reason for keeping Weber is simply dollars and cents.
Replacement Options:
Now for my final point in the case for Weber.
If Weber is let go, there will obviously need to be a coach to take his place. It is common sense that If that coach is not considered an upgrade over Weber, Mike Thomas would be unable justify the hire.
I understand that the type of coach that Weber is has been up for debate, and everyone seems to have an opinion, but you cannot debate the success he has had over his career.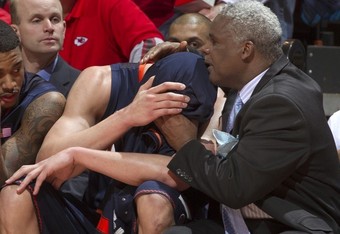 He is 312-148 as a head coach (.678 career percentage).
No current coach in the Big Ten has won more outright conference championships than Weber.
He took the team to a Final Four with a 37-2 record in 2005.
It's also worth noting that Illinois is the 15th-winningest college basketball program in the nation during Weber's tenure, totaling 193 victories since 2004.
What this says is that Weber has the experience, and he has had success. He may not have had the consistent success that Illinois fans require, but he has had success nonetheless. 
My point in presenting this information is that Illinois will be hard pressed to find a coach who can top the success that Weber has had.
Obviously, we do not know how many of the up-and-coming mid major coaches would perform as Illinois' head coach, and I do not wish to open up a debate over whether Shaka Smart or Brad Stevens would fit in Champaign.
The fact of the matter is that there are no coaches who will be on the job search at season's end who have a better resume then Weber. 
Mike Thomas would need to take a gamble with a relatively unproven coach, as he did with with the football program (and the verdict is still out on whether that move will be a successful one).
So if Weber is kept around, it might simply be because there are no better options to replace him.
Now I want to leave Illini fans with this final statement.
Although the future seems bleak for Weber, the decision over whether he will be kept or not is solely in the hands of the athletic director. No amount of complaining, booing, heckling will influence him (no matter how big of a booster you are).
Let's let Thomas, a man who knows this program better than anyone, make the decision on Weber's future. And then support whatever that decision is. 
It is our duty as members of Illini Nation to support our Illini, no matter who is wearing the orange blazer.