Fantasy Baseball 2012: The Youngsters of the AL East
February 19, 2012

Mike Ehrmann/Getty Images
Over the last couple of weeks I have written about some sleepers and prospects from each division. The last one on the list is the AL East, the powerhouse division that is home to some of the best baseball, the biggest payrolls and the most media attention.
As it turns out, it is hard to have sleeper status in the AL East. Guys like Desmond Jennings and Brett Lawrie, who would probably be under the radar in most other divisions, are being drafted as if they're proven veterans.
Also, top prospects like Manny Banuelos and Dellin Betances just don't have the minor league numbers to back up the hype they're receiving.
So I'm going to do something a little different in this preview. Instead of trying to convince myself (and you) that guys like Nolan Reimold and Eduardo Nunez are good sleepers this year, I'm going to highlight a few young players that may or may not be worth their current draft position.
Matt Moore, SP, TB
For someone that has 19.1 big league innings under his belt (including the playoffs), fantasy owners sure are putting a lot of trust in rookie hurler Matt Moore. He is currently the 28th pitcher off the board, being drafted 102nd overall so far at Mock Draft Central. That's how much of a sure thing this kid seems to be.
Before getting called up in September, Moore posted a 1.92 ERA and a 0.95 WHIP while striking out 12.2 batters per nine innings in 155 innings between Double-A and Triple-A. Somehow, he had better stats in Triple-A in nine starts.
In his first start for the Rays, the 22-year-old lefty struck out nine Yankees over five innings without giving up a run. His success continued in the playoffs and now here we are. Moore is all the rage and owners are lining up for his services.
If you're planning on drafting him, I caution you not to get too carried away with your expectations. David Price had similar success in his 2008 debut and followed it up with a 4.42 ERA and a 1.35 WHIP the following season.
Brett Lawrie, 3B, TOR
Lawrie, 22, is currently the fifth third baseman coming off the board (via Mock Draft Central), being picked ahead of guys like Alex Rodriguez, Aramis Ramirez, Pablo Sandoval and Kevin Youkilis. Wow. That's pretty high for a guy with 150 major league at-bats.
Well, is the hype justified? Lawrie raked at Triple-A last year. He hit .353 with 18 home runs and 13 stolen bases in just 292 at-bats. He was about to be called up in June but he suffered a fractured left hand which delayed his big league debut until August. Once at The Show, Lawrie hit .293 with nine home runs and seven stolen bases.
Extrapolating his numbers over 600 at-bats gives you some sick-looking stats. However, I would advise against expecting 36 home runs and 28 stolen bases out of Lawrie in 2012.
His home run-per-fly ball percentage with Toronto was an unsustainable 14.3 percent, almost twice the league average. A projection of 20 home runs and 15 to 20 stolen bases seems more reasonable.
The hype seems justified, but I don't know that I would pay the current price tag for Lawrie. I would be more comfortable waiting a couple rounds for one of the proven vets mentioned above. Just remember how much of a sure thing Jason Heyward was heading into last season.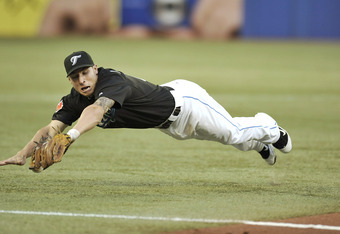 Brad White/Getty Images
Desmond Jennings, OF, TB
The Rays have angered fantasy owners in recent years because they have been unwilling to give 25-year-old Desmond Jennings regular big league playing time until halfway through 2011.
Jennings was the next big thing prior to the 2010 season because he had just hit .319 with 11 home runs and 52 stolen bases in Triple-A the prior year. He got the call on September first that year, but only received 24 plate appearances. Last year, they waited until late July to call up the youngster.
In 247 at-bats for the Rays in 2011, Jennings hit 10 home runs and stole 20 bases but sported only a .259 batting average. He slowed down at the end of the year, hitting .160 in September.
Jennings is a career .294 hitter in the minors, so I would expect his average to come up considerably. My 2012 projection for the speedster is .280/105/15/60/35.
If you want Jennings this year, you're not going to get him cheap. His current ADP at Mock Draft Central is 56. He is the 17th outfielder off the board.
For more fantasy baseball insight, visit us at www.fantasysportskings.com.