2012 NFL Free Agency: Washington Redskins Must Re-Sign Rex Grossman
February 20, 2012

Rob Carr/Getty Images
The Washington Redskins have the biggest quarterback need in the NFL.
After what started the season with a surprisingly good quarterback battle between Rex Grossman and John Beck, the season ended with something left to be desired.
Watching a season full of interceptions and fumbles, it is clear that Grossman is far from being an elite quarterback in the NFL. But does that mean the Redskins should part ways with him after this season?
My answer is no.
Although, Grossman can be blamed for many of the turnovers and offensive struggles this season, he cannot be blamed for all of them.
Depth on the offensive line and a lack of a strong receiving core ruined any of the Redskins' chances of being successful beyond that of poor quarterback play.
Grossman is far from perfect, but I sincerely think the Redskins should re-sign him. Here are my top three reasons why the Washington Redskins should re-sign Grossman.
Grossman Can Be a Top-Tier Backup Quarterback If Necessary
Over the 16 games in the past two seasons that Grossman started, he was 6-10.  For any backup quarterback in the NFL, that is a very good record if your main starter gets injured. I have to believe that there are only a few backup quarterbacks in the NFL last season that could beat that record in the same situation that Grossman was in.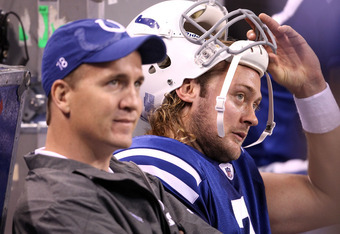 Andy Lyons/Getty Images
A backup quarterback signing is obviously not as an exciting prospect as that of signing or drafting a franchise quarterback. But if you ask a team like the Indianapolis Colts about a solid backup quarterback, I think even they would be ecstatic about signing a good one.
Grossman Is Still Better Than Beck
The Washington Redskins had two quarterbacks listed on the depth chart throughout the entire regular season: Beck and Grossman. Grossman is a free agent this offseason and Beck has one more year left under contract.
In the 2011 season, Grossman completed 57.9 percent of his passes, passed for over 3,000 yards and ended the season with 16 touchdowns and 20 interceptions over 13 games. While, Beck completed 60.6 percent of his passes, 858 passing yards, two touchdowns and four interceptions over three games. Based solely on these statistics, these two quarterbacks might seem similar.
However, this is a misconception.
While Grossman was in the game, he attempted to stretch the field by throwing the ball deep. Sure, some of his passes were under-thrown leading to an interception; he at least attempted to put a spark into a very bland offense and succeeded at times as well.
On the other side, while Beck was in the starting lineup there was no spark in the offense. Beck played extremely conservatively with the football by throwing short passes to his running backs and never pushed the defenses that he played against.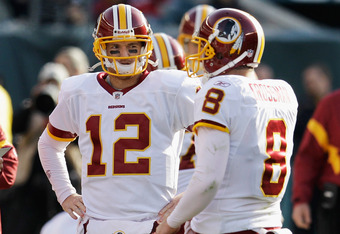 Rob Carr/Getty Images
Additionally, Grossman won against better teams such as the recent Super Bowl champions New York Giants, twice, while Beck still does not have a single victory to his name.
Players and Coaches Agreed Grossman Deserved to Be the Starter Last Season
Players like Santana Moss and Jabar Gaffney gave Grossman strong endorsements to start over Beck after he threw the four-interception game against the Philadelphia Eagles in Week 6. I know this may be seen as just a political statement to show locker room unity, but even Brian Orakpo on the opposite side of the ball agreed as well.
If three of the Redskins' key players are not enough evidence, even Redskins offensive coordinator Kyle Shanahan agreed that Grossman was the Washington Redskins' best playmaker of the 2011 season.
Realistically, what I think will happen is that the Redskins will re-sign Grossman to another one-year contract and let him, Beck and the rookie or free-agent quarterback they sign duel for the starting position next season.  
A final thought: If whichever quarterback the Redskins draft or sign this offseason gets injured, would you rather have Grossman or Beck on the bench ready to play?
Say what you want against Grossman, but my vote is still Grossman, hands down.
Let me know what you think and I thank you in advance for your comments.