Colorado Rockies: Effects the Newly Acquired Veterans Will Have on the 2012 Team
February 20, 2012

Doug Pensinger/Getty Images
Finally!
The Rockies finally did something noteworthy in the offseason by acquiring players they've had their eyes on for a while. Not often do they pull off an upset by bringing in a Cuddyer or scooping up a Scutaro via trade.
But they were able to do so this offseason, giving the Rockies hope that 2012 could be a good year. Here's a preview of how I expect the newly acquired veterans to effect the Rockies this year.
3B Casey Blake
Last year the hot corner was seemingly the hot seat at Coors Field, as the Rockies shuffled through countless players in a feeble attempt to cover the position. Offensively and defensively, the third basemen for the team severely underperformed. That should change with the veteran presence of Casey Blake.
A career .264 hitter with an OBP of .336, Blake is a key piece to the infield this year. The 13-year veteran has played in the NL West for the past three-and-a-half seasons. The familiarity within the division should certainly help Blake in Coors Field. Not to mention the hints he'll give to the younger guys when facing a divisional foe.
Did I also mention that Blake has been a Rockie killer? He has a BA over .300 the past couple of years against the Rockies. Taking away a major weapon from an NL West rival will certainly help the Rockies.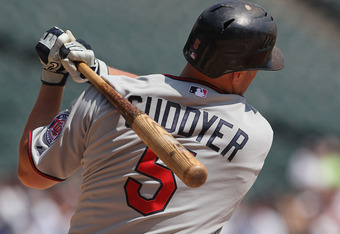 Jonathan Daniel/Getty Images
Of course his injury-plagued 2011 season causes some worry, but if the Rockies can manage to get 110-120 games out of the vet then I believe this will be a very healthy relationship.
OF Michael Cuddyer
You knew the Rockies were serious this offseason when you heard they were able to sign Cuddyer away from the Twins. His .272 BA and .343 OBP are certainly attractive to any team, especially one that plays at Coors Field. The 32-year-old has been a big part of the Twins' recent successes, and that should easily transfer over to Colorado.
Not to mention filling the void in the outfield will be critical. Outside of Carlos Gonzalez and Dexter Fowler, the outfield was usually questionable last year. Let's be honest: Seth Smith is fit more to be a DH with his defensive skill set (my head's still sore from pounding it on the wall after watching balls roll by him and seeing his throws consistently miss targets).
With Cuddyer, who has a .985 career fielding percentage (officially in RF where he has played the majority of his games), the outfield will be better equipped than they were with Smith. I expect we'll also see Charlie Blackmon shuffled in whenever Cuddyer needs rest, a move that likely won't have us stressing out whenever a ball's hit to him.
The acquisition of Cuddyer makes our outfield complete, giving the veteran presence needed to help mold Fowler and CarGo into better players than they already are.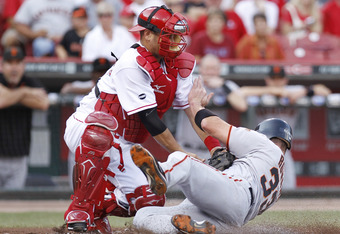 Joe Robbins/Getty Images
C Ramon Hernandez
So long to the streakiness of Chris Iannetta. The ever-inconsistent catcher is finally gone. Enter Ramon Hernandez, a career .266 hitter. Might not seem too impressive at first glance, but that's about 30 points higher than Iannetta's average.
The 35-year-old Venezuelan is expected to be the starting catcher this year, though he hasn't caught over 100 games in the past three seasons. That means he's going to be more of a mentor to up-and-coming prospect Wilin Rosario, the next expected starting catcher for the Rockies. Surely the 13-year veteran has plenty of hints to give Rosario as they rotate games this year.
Not only can Hernandez help the young Rosario, but his veteran presence should also help the young Rockies' pitching staff. A young staff with a young Iannetta probably wasn't the best mix, but with a veteran like Hernandez there will probably be less stress when he's behind the plate.
Expect this move to be a positive one.
2B Marco Scutaro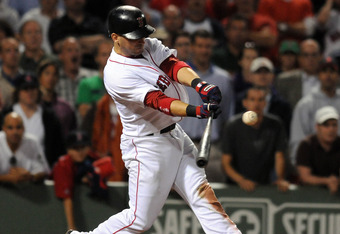 Darren McCollester/Getty Images
You're telling me the Rockies have an everyday starting second baseman now? Not only that, but one that hit nearly .300 in the AL East? And we got him for who?
To learn that the Rockies were able to acquire Scutaro was huge for a team that hasn't had a good second baseman since Kaz Matsui in 2007. Honestly, since the Rockies gave Matsui away after the 2007 season, the position has been a revolving door.
In 2010 we hoped Jonathan Herrera would be the answer, and in 2011 we thought Mark Ellis might be the answer. Of course, we were wrong.
With Scutaro, though, we now have a career .270 hitter with a fielding percentage of .992. Not only that, but put him on the other side of Troy Tulowitzki and tell me that doesn't look like a dangerous middle infield.
Put a great-fielding second baseman across from Tulo and add in the fact he just hit nearly .300. Put him in Coors Field, know that you gave up a young pitching prospect to get him (which the Rockies have enough of anyways), and know that you just pulled off one hell of a steal.
How it will all look
Here's the projected starting lineup that's expected to come out of spring training:
CF Dexter Fowler
2B Marco Scutaro
RF Carlos Gonzalez
SS Troy Tulowitzki
1B Todd Helton
LF Michael Cuddyer
C Ramon Hernandez
3B Casey Blake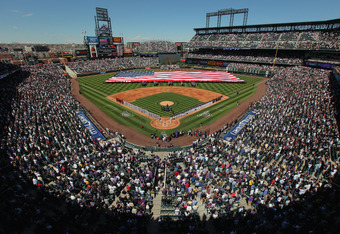 Doug Pensinger/Getty Images
It should bring vast improvements to the Rockies' offensive stats. Last year, the Rockies ranked ninth overall with a .258 BA. The combined career BA of this starting lineup is .285, which would've ranked first in the majors by just two points over the Texas Rangers.
Of course, we can't completely expect that number to be what they'll hit in 2012, but it's a good number to show the improvement the Rockies have made in the offseason.
The one thing that glares at you when you look at the lineup though is age. Only Fowler, CarGo and Tulo are younger than 30. What GM Dan O'Dowd and the rest of the Rockies' organization is hoping to get out of the vets is to have them mold the up-and-coming young prospects. I believe that a couple seasons of this veteran leadership will do the Rockies well.
But this season looks to be a promising one for the Rockies. Barring any major injuries, the Rockies will once again be in contention for the division. They have easily made the most noise from the NL West this offseason. Now we'll see how that all translates onto the field.