Top 10 Fantasy Hockey Forwards: Point Scoring Streaks
February 20, 2012

Christopher Pasatieri/Getty Images
Each week, we will look at a top-10 fantasy forward list. The list will be based on fantasy impact over the past few days and weeks. Most elite stars are consistent scorers, but there are several players who are very streaky, so keep an eye on their stats so that you can dress them while they are on a hot streak.
No. 10: Nik Antropov (Winnipeg Jets) is pointless in the last 10 games. he is on pace for just 37 points, which would be his lowest in five seasons. He is on pace for only 11 goals, which would be his lowest in nine seasons. These are disappointing numbers for a guy who once scored 20-plus goals in four straight seasons and 40-plus points in five straight seasons.
No. 9: Jiri Tlusty (Carolina Hurricanes) is on a little hot streak right now with seven points and a plus-seven rating in seven straight games. Tlusty is on pace to play his first full season in the NHL and finish with 19 goals and 34 points. As he becomes more consistent, he could develop into a 25-goal and 60-point player.
No. 8: Sam Gagner (Edmonton Oilers) scored four goals and eight points in a game against the Chicago Blackhawks back on Feb. 2, 2012. In the seven games following that outburst, he has two goals and seven points. That eight-point game was an abnormality that will never happen again; hopefully, you traded him immediately after that game.
No. 7: Blake Wheeler (Winnipeg Jets) is a big, power forward winger who has all the tools to be a solid fantasy player, but needs to play with more consistency. He has scored a goal and six assists in the last two games to go along with 10 points in last five games. He has already scored career points with 46 this season and is on pace for 61.
No. 6: Michael Ryder (Dallas Stars) has found the net with some consistency, with six goals in the last 11 games, and has points in the last six games. After going pointless six straight games in January, he has scored 10 points in the last 11 games. No surprise here; he is an inconsistent goal-scoring winger who is on pace for a career-high 31 goals.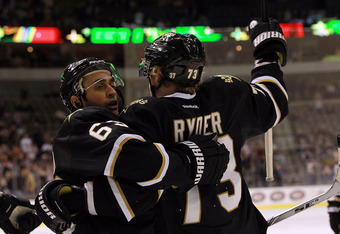 Ronald Martinez/Getty Images
No. 5: Max Pacioretty (Montreal Canadiens) is leading the Canadiens in goals and points this season at just 23 years old. He is showing no ill effect from the fractured vertebrae last season, and all the hard offseason work is paying off. It's no wonder he has already set career highs in goals this season, as he has registered over 200 shots. Pacioretty is on pace for 34 goals and 63 points; count on those numbers going up next season.
No. 4: Eric Staal (Carolina Hurricanes) has put that slow start behind him and has points in five straight games. Staal is on pace for his lowest goal and point totals since his rookie season, with just 22 goals and 63 points.
Lately, he has shown his old scoring ways. Since Dec. 29, 2011, he has scored nine goals and 26 points in 21 games, that's a 102-point pace over a full season.
No. 3: Corey Perry (Anaheim Ducks) looks to be a second-half goal scorer again. Last season, post All-Star, Perry scored 25 goals in the final 30 games to win the Richard Trophy. This season, post All-Star, he has scored seven goals in the last 11 games. He has scored six goals and seven points while on a five-game points streak.
No. 2: Steven Stamkos (Tampa Bay Lightning) is the first player to reach the 40-goal mark this season and is on pace for his second 50-plus goal season. He is on pace to be the only player to score 50 goals this season and is on pace to win the Richard Trophy by 11 goals. He is on pace for his third straight 90-plus point season
No. 1: Jason Spezza (Ottawa Senators) has points in six straight games, which includes five straight games with two or more points. Nobody in the NHL has more points over the last 14 days than him.  Spezza is back scoring over a point a game and is on pace for 86 points, which puts him back into the top 10 for scoring overall.
Aaron Brouwer is the co-creator of www.fantasyhockeycoach.com. FHC is a free fantasy hockey service that developed a ranking system combining post-lockout statistics, current factors and our own hockey knowledge. Brouwer writes about fantasy hockey on Bleacher Report. You can contact Coach Brouwer at brouwer@fantasyhockeycoach.com.