Rory, Lee, Tiger in Accenture; Phil Stays Home
February 21, 2012

Stuart Franklin/Getty Images
Kathy Bissell
With the top four players in the World Golf Rankings now Europeans, and 42 of the 60 being international golfers, one question at the Accenture Match Play will be can the US players topple Luke, Rory, Lee or Martin? 
We can't look to Phil Mickelson. He elected to take the week off.   He's priming for Doral, we suspect.
To recap, there are four brackets. The winner from each bracket will emerge with the bottom two brackets, headed by Martin Kaymer and Lee Westwood, playing each other and the top two playing brackets, headed by Rory McIlroy and Luke Donald, playing each other.   Here are the highlights of each bracket.
Tiger Woods is in the Lee Westwood bracket and in the Rory McIlroy side of the draw.  That means either Woods or Westwood or McIlroy could advance, but not two of them.
Woods will have to defeat several household names to get to the quarterfinals, including Webb Simpson,  Sunday's winner, Bill Haas and Lee Westwood.  In addition, Alvaro Quiros and Paul Lawrie have already won in 2012 on the European Tour, so they are on form. 
Nick Watney has been MIA on the golf course lately, and Ryo Ishikawa does not seem to have the game yet to defeat Woods.   The biggest challenge for Woods to get to the final four is sure to be Westwood, which could be his second match.  Top choices for this bracket: Haas, Woods, Westwood, Simpson.
The Golf Boys bracket is headed by Martin Kaymer, and although Kaymer was second at Accenture in 2011, he has not been cultivating trophies in recent months.  Look for US Players to come through here. 
With Rickie Fowler, Bubba Watson, Ben Crane and Hunter Mahan all in this side of the draw, it will certainly be interesting.  Unfortunately, Fowler has drawn perennial match play expert David Toms, and it may be hard for anyone to get by Toms. 
Steve Stricker is also in this quarter of the matches, and as a winner already this season, he has to get a strong look.  Toms is the sleeper candidate.  Bubba Watson will be just plain fun to watch because he hits it over everything.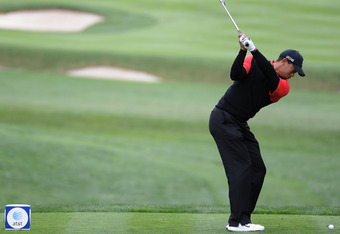 Harry How/Getty Images
If Luke Donald can get beyond his first match with Ernie Els, and there's no reason to believe that last year's champ won't be successful, his path to the championship may be the smoothest. 
His biggest challenges, based on recent form of the others in his bracket, may be Brandt Snedeker and Mark Wilson. Robert Rock looked into Tiger Woods' eyes a few weeks ago and didn't blink and so he may be a little tougher than his professional record indicates.    
Rory McIlroy will break hearts if he doesn't advance, but his bracket has significant obstacles in Keegan Bradley and Sergio Garcia.  That's not even considering Charl Schwartzel, Ian Poulter and Gary Woodland.
Just like the NCAA bracket, somebody will be a Gonzaga and somebody will be a Duke.  We just don't know who yet.  Even though Ernie Els is No. 64, no one would overlook this three-time major champion and Hall of Famer.  It would be like saying that Tiger Woods, whose ranking has plummeted, has no shot. 
There are plenty of names who could pop up and cause unexpected trouble for stars, guys like Simon Dyson or Rafael Cabrera-Bello, who just won in Dubai.  The brackets are just riddled with guys like Dyson and Bello who have the ability to win over 18 holes.  And some of the "usual suspects" have not played up to expectations lately, making bracketology even more of a challenge than usual this season.
Cinches and Surprises:
Look for seeds Luke Donald, Rory McIlroy, and Lee Westwood to win their first-round matches.   Martin Kaymer against Greg Chalmers, who won twice in Australia over the winter, may have a tougher time.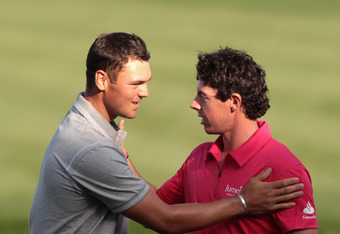 Ross Kinnaird/Getty Images
Pick Steve Stricker to beat Kevin Na and Bill Hass to take down Ryo Ishikawa. Webb Simpson will handle Matteo Manassero.  Alvaro Quiros should control Martin Laird. 
Tiger Woods should win his first-round match and Nick Watney, though not making headlines lately, should beat Darren Clarke, who has not had good form since winning the British Open.  This even though Clarke has won the event before.
Robert Rock may overcome Adam Scott, depending on which Adam Scott shows up.  No matter who wins, they will be the heartthrob pairing. Dustin Johnson chipped and putted so miserably the last two weeks, it's hard to see how he will beat Jim Furyk except that Johnson can hit a golf ball from Tucson to Phoenix.  
Rory McIlroy will take out South Africa's George Coetzee.  Sergio Garcia should handle Miguel Angle Jimenez.  Although Geoff Ogilvy has won the event, he has been absent from leaderboards since his injuries last year.   It's likely Keegan Bradley will get by him unless the spitting complaints have gotten to Bradley.
Golfers are a bit fragile, in reality, and anything that upsets the psyche can cause a performance glitch.   Gary Woodland has been struggling with the coaching change, so don't be surprised if Charl Schwartzel doesn't flinch.  Ian Poulter should advance. 
There are many matches that are just toss ups.
Bubba Watson and Ben Crane?  How do you call that one?  Same for Zach Johnson / Hunter Mahan and the David Toms / Rickie Fowler matchup.  What about the Swedish duel of Robert Karlsson against Frederik Jacobson.  At least you know a tall guy will win it.  K.J. Choi vs. Kyle Stanley could go either way.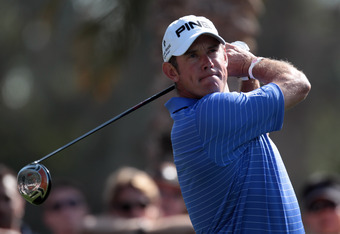 Ross Kinnaird/Getty Images
Some are not even a toss up.  They are a flip of the coin. A spin of the bottle.  Simon Dyson against John Senden.  Same with Thomas Bjorn and Francesco Molinari,  GMac and Y.E. Yang.  None of them have been great lately, but they are all quality players.  
Print your brackets, make your picks and get ready to sit in front of the TV set and ask yourself how you could be so stupid to have picked so-and-so at the end of every day.  You can take comfort in knowing everybody else is doing the same thing.