After Tebow Mania and Linsanity, Is Danicraze the Next Media Sensation?
February 21, 2012

Todd Warshaw/Getty Images
It seems as of late it has been pretty easy to become a media sensation. There have been two media phenomena in the past year. One is shelved for the time being, while one is currently exploding. Now, hold on to your seats because there will soon be a third media phenomenon to drive its way right into the news and sweep the nation.
Tim Tebow was the first icon that took the sports world by storm over this past year. This University of Florida quarterback was already well known due to his success in his college days by winning two National Championships and a Heisman Trophy.
The decorated college quarterback was not expected to have much success in the National Football League. Tim Tebow was surprisingly drafted 25th overall in the 2010 draft by the Denver Broncos in a move that is still criticized.
Tebow was driven to the top of the headlines because he was outgoing about his religious beliefs. Everything he did was a headline, whether it was relevant to his NFL play or not.
Tebow finally got his chance to prove himself in the second half of the 2011 NFL season. Tebow went 7-4 as a starter in the regular season and had an amazing playoff win against the Pittsburgh Steelers before the New England Patriots stopped Tebow Mania in its tracks the next week.
"Tebow Mania" is over for the time being. The madness will pick back up when Broncos training camp convenes this summer.
The current media phenomenon, as we all know, is "Linsanity."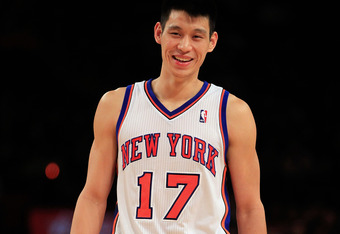 Chris Trotman/Getty Images
Jeremy Lin has averaged 24.6 points over his last 10 games and has made everyone wonder, is he for real?
Lin has truly taken the world by storm as a multinational phenomenon. Lin was a decent college player at Harvard University, but no one could have imagined three weeks ago, even Lin himself, that his name and face would be on every news outlet in the world.
"Linsanity" will continue for a while, especially considering he plays in New York City. It could very well be here to stay.
The next media phenomenon ready to take the world by storm, whether you like it or not, is Danica Patrick.
Danica Patrick first took the IndyCar series by storm as a full time racer for Rahal-Letterman racing from 2005-2006 and then for Andretti Autosport from 2007-2011.
Patrick has been slowly transitioning into NASCAR with part-time racing in the ARCA Series and the Nationwide Series. Her best finish was a fourth place in the Nationwide Series at Las Vegas Motor Speedway in March of 2011, giving Danica the best finish all-time by a woman in any NASCAR series.
Danica is already everywhere on NASCAR broadcasts and once the season starts she will be pushed to a national phenomenon with Internet headlines, commercials and news reports. She will be racing 10 Sprint Cup races this year for Stewart-Haas Racing and will also be driving full-time on the Nationwide circuit for JR Motorsports, which is owned by none other then Dale Earnhardt Jr.
While Tim Tebow was highly marketed by his religious beliefs and Jeremy Lin was marketed because of his nationality, Danica Patrick will be marketed because of her sexuality.
Get ready. "Danicraze" will soon be everywhere.