MLB 2012 Predictions: Boston Red Sox Season Preview
February 22, 2012

Greg Fiume/Getty Images
Coming off one of the worst collapses in sports history, the Boston Red Sox have to be eager to get back on the diamond. 
The offseason was full of changes, the two biggest being Bobby Valentine becoming the new manager and losing closer Jonathan Papelbon to the Philadelphia Phillies. 
The team will also transition setup man Daniel Bard from the bullpen to bolster the starting rotation that faltered down the stretch in 2011.
With the improvement the New York Yankees made and the never-ending resiliency of the Tampa Bay Rays, the Red Sox will be fighting for a playoff spot for much of the season.
In fact, it wouldn't shock anyone if they missed the playoffs again. But lets not forget that this team was the best in baseball for much of 2011 and could just as easily win the AL East.
Projected finish: 2nd in the AL East. Wildcard.
Projected record: 96-66
Key Arrivals: Andrew Bailey, RP. Mark Melancon, RP. Cody Ross, RF. Ryan Sweeney, RF. 
Key Departures: Jonathan Papelbon, RP. Marco Scutaro, SS. Jason Varitek, C. Tim Wakefield, SP.
Projected lineup:
CF - Jacoby Ellsbury: 2011 stats .321 avg 32 hr 119 r 105 rbi .376 obp .552 slg .928 ops
2B - Dustin Pedroia: 2011 stats .307 avg 21 hr 101 r 91 rbi .387 obp .474 slg .861 ops
1B - Adrian Gonzalez: 2011 stats .338 avg 27 hr 108 r 117 rbi .410 obp .548 slg .958 ops
3B - Kevin Youkilis: 2011 stats .258 avg 17 hr 68 r 80 rbi .373 obp .459 slg .833 ops
DH - David Ortiz: 2011 stats .309 avg 29 hr 84 r 96 rbi .398 obp .554 slg .953 ops
LF - Carl Crawford: 2011 stats .255 avg 11 hr 65 r 56 rbi .289 obp .405 slg .604 ops
RF - Cody Ross: 2011 stats .240 avg 14 hr 54 r 52 rbi .325 obp .405 slg .730 ops
SS - Mike Aviles: 2011 stats .317 avg 2 hr 17 r 8 rbi .340 obp .436 slg .775 ops
C - Jarrod Saltalamacchia: 2011 stats .235 avg 16 hr 52 r 56 rbi .288 obp .450 slg .737 ops
Projected rotation:
1) Jon Lester: 2011 stats 15-9 3.47 era 1.257 whip 
2) Josh Beckett: 2011 stats 13-7 2.89 era 1.026 whip
3) Clay Buchholz: 2011 stats 6-3 3.48 era 1.294 whip
4) Daniel Bard: 2011 stats (as a reliever) 2-9 3.33 era 0.959 whip
5) Alfredo Aceves: 2011 stats (as a reliever) 10-2 2.61 era 1.105 whip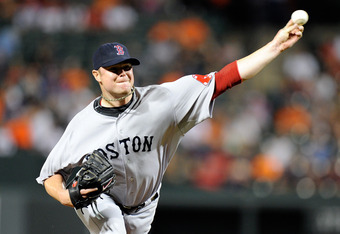 Greg Fiume/Getty Images
What they will do well:
One thing this Red Sox team will have no trouble with is scoring runs. There is no denying that they are one of the best offenses in baseball. The 1-2-3 start of Ellsbury, Pedroia and Gonzalez is probably the best in baseball and there is no dropping off after that with Youkilis, Ortiz and Crawford.
In 2011, this same offense scored a major league leading 875 runs and with the right field position improved with Ryan Sweeney and Cody Ross, they could score even more. Look for the Red Sox to lead the league in runs scored again in 2012.
Where they will struggle:
The 2012 Red Sox will struggle in the same area they struggled in 2011, starting pitching depth.
Despite signings of Vicente Padilla, Aaron Cook and Carlos Silva, all of whom are not guaranteed a roster spot, there will be a point in the season where the Red Sox will have starting pitching problems. Josh Beckett has not proved he can pitch a full season without going on the disabled list in a while and Clay Buchholz seems to be just as fragile. And with Daniel Bard converting from a setup man to a starter, he will likely have an innings limit.
All things considered, the Red Sox will need innings-eaters and the guys they have do not fit that description. Unless the rotation can stay healthy for much of the season, this team will scramble to find spot starters much like in 2011.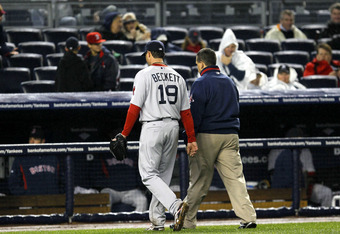 Chris Trotman/Getty Images
Overall outlook:
Despite the opinion of the major media, the Red Sox will be a team that will compete for an AL East title and, potentially, a World Series Championship. It is a rare occurrence when everything that could possibly goes wrong, does much like what happened with the 2011 Red Sox in September. And unless that happens again, this team will win 90+ games and go to the playoffs.
They could benefit from another starting pitcher but these guys have something to prove after getting roasted in the media all offseason and I fully expect them to deliver. As previously stated, for much of the 2011 season they were the best team in baseball and you could argue that this team is better than the 2011 group, especially in the bullpen with the additions of Andrew Bailey and Mark Melancon.
So fear not Red Sox fans, all will be well in 2012.