Jeremy Lin: What Linsanity Teaches About American Media
February 22, 2012

Chris Trotman/Getty Images
Have you heard about this guy Jeremy Lin? He is the point guard for the New York Knicks and he's supposed to be quite the basketball player.
With all the attention he's been getting in the past weeks, he must be. Lately, it seems like anybody with half a brain and a working knowledge of the English alphabet has been writing about what Lin does, what Lin means, and what Lin says about the American dream.
Well, I've got half a brain and fancy myself a writer, so that makes it my duty—and my pleasure, really—to contribute to what Janet Malcolm called that old, uncanny zeitgeist, by commenting on the latest flavor.
The Lin narrative that's been pushed and repeated by almost every major American media outlet stresses determination. With a little hard work and a can-do attitude, even the most unlikely of us can make our dreams comes true. The Lin narrative is one that all Americans love to hear. Unfortunately, it isn't an accurate view of Jeremy Lin.
In fact, it sells him a bit short. The Knicks, remember, didn't just find this guy sleeping in Penn Station.
Lin is a lean 6'3", 200 pounds, and is one of the strongest dribblers in the world. He's got handle, and he can move at full speed with the ball. He graduated from Harvard with a degree in economics and left behind a legacy as one of the Ivy League's greatest basketball players, right up there with another Knick, the former Princeton Tiger, Bill Bradley.
If the Knicks put out a yearbook, Lin would be voted "most likely to succeed."
His teammate Amar'e Stoudemire, however, doesn't have the same history we as a culture think of as breeding success. When Stoudemire was very young, his father died, his mother and older brother were incarcerated for various crimes (his mother on more than one occasion). Before graduating from Cypress Creek High School, Stoudemire bounced around to five others, six if you include the fake one made by an AAU coach as a way to guarantee Stoudemire on his team.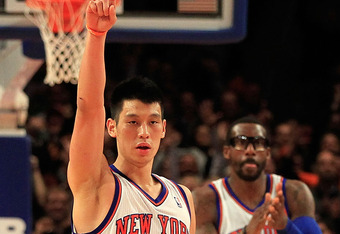 Chris Trotman/Getty Images
Through it all, he became NBA Rookie of The Year in 2003—despite also being nearly blind.
Not often, however, is Stoudemire praised as a symbol of the American dream fulfilled. But Lin has, and is. The reason has nothing to do with either of them as people—obviously, there are valuable lessons to be learned from both of their biographies—and everything to do with them as newsworthy stories.
The media system in the United States, and other countries, too, is based on a system of conventional wisdom. It's been called the way in which a culture speaks to itself. History, economics and a number of other factors help determine what words and images will be broadcast over the airwaves in the form of messages. However, the meaning of those messages stems from, either consciously or subconsciously, a mutually agreed upon sense of cultural understanding, or stereotypes.
A newsworthy story is that which challenges those stereotypes. Stoudemire, despite what he has been able to achieve, doesn't strike people as a challenge. African-American, 6'10", solid and athletic, Stoudemire cuts the image Americans associate with the NBA. In truth, plenty of young African American basketball players with Stoudemire's size and athleticism haven't been able to achieve what he has. However, he is viewed as normal by basketball standards regardless.
Lin, on the other hand, has been seen as a challenge to those stereotypes. As an Asian American, Lin is rare in the NBA. But beyond that, he is an Ivy League graduate. Balling and book worming are not supposed to exist within the same person, and with Lin we see that they can. And we are supposed to be surprised by it.
Contrary to the presented narrative, Jeremy Lin's story doesn't teach us anything more about that value of hard work and determination that we can't find in other NBA players. Within any locker room around the country you will be able to find inspirational stories about achieving goals against the force of adversity. He is just one more incredibly talented basketball player.
All the "Linsanity," however, says we are supposed to be excited about him more so than other players. That, in a weird way, contributes to the kind of stereotypes Lin is supposed to be challenging.