NHL Trade Rumors: Trading Marek Zidlicky Can't Be Minnesota Wild GM's Only Move
February 22, 2012
Claus Andersen/Getty Images
With the NHL trade deadline just five days away, the Minnesota Wild, losers of 23 of their past 29 games (6-18-5), not only need to make the obvious trade of disgruntled defenseman Marek Zidlicky anywhere—as long as its not here—but also should continue that mindset by ridding themselves of other high priced but perpetually under-performing talent like goalie Niklas Backstrom and defenseman Nicholas Schultz, as I've called for on numerous occasions in the past.
Maybe its just an "anti-Nicholas" bias and all connotations of the name?
Okay, all joking aside, both Backstrom ($6M) and Schultz ($3.6M) are signed to long term, cap-killing contracts with the Wild. Backstrom is just 15-15 this year in games that he starts, always seems to be hurt—like captain Mikko Koivu—and is frustratingly inconsistent.
Why Backstrom should be on the move
While Backstrom won't be a free agent until after next season and that may not seem to be too long to wait, consider the fact that his $6 million annual salary has been on the books for the previous two seasons, not including this one, and we already have two cheaper options in Josh Harding and the emerging-but-still-waiting Matt Hackett ready to take his place.
Hackett, the nephew of former long-time (isn't that redundant?I mean, no one plays in the NHL for less than 12 years it seems) goalie Jeff Hackett, has looked very sharp in limited play this season. He probably knows a thing or two about net-minding, having seen it first hand.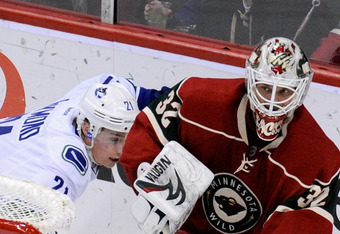 Hannah Foslien/Getty Images
In the spirit of buy low sell high, what better time to find some sucker team than now, with Backstrom coming off perhaps his best-ever performance against the Bruins on Sunday? See my last article for game analysis.
Tampa Bay, who still thinks they have a shot, might take that risk. What about Philadelphia, who always seems to have problems in net and needs three goalies just to make it through the playoffs each spring? Or maybe the Blackhawks, who've had goalie rumors circulating—I heard a Patrick Kane (Buffalo native) for Ryan Miller rumor?
Nick Schultz, what more can be said?
For a second-round pick, Schultz has been pretty good. The problem is, he's overpaid and the team already has more than capable replacements in Clayton Stoner and Jared Spurgeon, who do his job at a fraction of the cost.
If you think Backstrom's contract is bad, take a look at his—$3.6M for each of the next two seasons. Its like we're never going to be able to move this kid. What do they see in him?
Though it initially looked like he could be the beneficiary of the trade that sent All-Star defenseman Brent Burns to the Sharks, giving Schultz more ice-time and opportunity for points, Schultz pulled a Heatley and decided that being "good enough" was better than being great and kept it at that.
Why all the sudden need to free up money?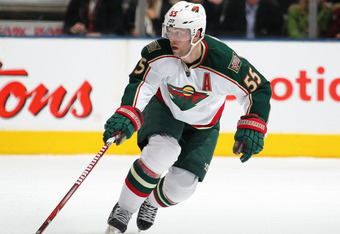 Claus Andersen/Getty Images
What's the need to get rid of all of the cap room? Simple: Minnesotan Zach Parise is going to hit free agency July 1st and we need to have every financial advantage to bring him home (see my last article)
The $13.6M saved here would be more than enough to do it, and lets face it: they probably aren't going to flip Backstrom, but $7.6 from the other two players is approximately what Parise will earn in free agency, so there you go.
When you consider that other players like Stoner are likely to get raises and extensions—if you believe the rumors—there still isn't enough money to go around, but the Wild have other free agents coming off the books like defenseman Greg Zanon, whose wife is a Hastings, MN native and whom I don't see leaving because of this (nor would I want him to). At just $1.1M, he is a bargain and worth it for his blocked shots.
Next, disappointing but oft-injured Guillaume Latendresse at $2.5M each of the last two seasons won't be back. It's been disputed that his injuries may even be career-threatening.
I hope not, as he's shown the potential in the past to put up 25 goals on a team that couldn't score.
If he comes back (most likely with the Avalanche, where all ex-Wild players seem to surface) he'll likely burn us like my former-favorite player Andrew Brunette did for three miserable years.
Finally, as much as I hate to say it, it probably would be best if talented-but-concussion-prone Pierre Marc-Bouchard took one for the team and retired amid his latest setback.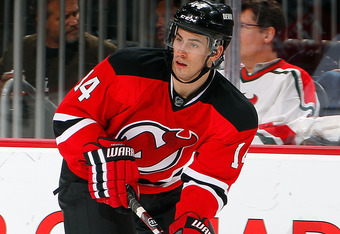 Paul Bereswill/Getty Images
I realize that, unlike Minnesota Twins first baseman Justin Morneau—whom Minnesota fans are all too familiar with—Bouchard's injury wasn't a relapse but rather a boarding hit from the Winnipeg Jets Zack Bogosian.
Still, retiring would save the Wild his $4.08M cap hit and allow them to be more competitive in filling his spot with talent and not temporary adhesive tape in the form of a journeyman.
Believe me, I have these cap numbers memorized because there are certain contracts you know the team sometimes wishes it wasn't responsible for, and as a fan, you wish could get rid of in order for them to be able to do more things.
Its never too early to start looking at next year while continuing to build for this one, as the quest for Parise demonstrates.
The defense is more difficult to predict seeing how its most in flux. Mike Lundin likely won't be back because lets face it, that hasn't worked. But at $1M this year, he'd be worth another try.
Back to the Zidlicky trade
There is much debate over whether or not Wild GM Chuck Fletcher should trade always talented but inconsistent Marek Zidlicky.  In defense of these horrid stats, I absolutely agree.
If you watched "Hockey Day in America" on NBC this past Sunday and saw the Bruins-Wild game, you no doubt saw the two horrid plays Zidlicky made which almost contributed to goals.
First, Daniel Paille nearly had a breakaway goal off a clearing attempt late in the first period where Zidlicky missed a cross-ice pass and it took one of Backstrom's amazing saves to prevent what should have been a goal.
Then another time, he couldn't clear the puck right in front of the net late in the second period, nearly leading to another goal, if not for Backstrom covering the puck from closer range.
The final period, Zidlicky's play improved, almost as if the announcers were going out of their way, making amends to try and hype Zidlicky up as the two-week story of his struggles, scratches, and trade requests has been well-documented.
But in my eyes, the damage was done. He single-handily almost cost the game on multiple occasions as he looked like a guy just going through the motions, and I have no doubt the team just had him out there trying to boost his value, which may have backfired.
Trading Zidlicky, even for prospects, immediately frees up money for Parise, but it also gets players back who actually want to be here, which he does not.
More importantly, it shows the fans that management is listening and not afraid to make a move as such a deal, even for a used bag of hockey pucks, would give the fans something to cling on, much like when the team acquired Erik Christensen for basically just as much—that being overrated Casey Wellman who never fit in with Minnesota right from the beginning.
But if Wild fans think Zidlicky alone is the problem and once he's gone, (my personal choice is 22-year-old Canadian center Adam Henrique) all will be well, think again. The Wild have puck-handling problems and also need at least one more 20-goal scorer that Latendresse was supposed to be, in order to begin to make up for his absence. Henrique fits the youth movement in addition to the team's annual need of more depth at center.
Most fans are worried about mortgaging the future with a Jason Zucker, Johan Larsson, or Mikael Granlund for a short-term rent-a-player fix that any Zidlicky trade might provide. I argue the opposite; by trading Zidlicky, we are positioning ourselves better in the future by jettisoning an overrated, overpaid veteran and opening up more ice time for whomever we get in return.
Plus, its not like the Devils think we are dumb enough to trade any one of those guys for someone not named Parise who won't be moved before this summer, according to reports.
The Wild have sold out their last four home games despite this historic slide, and I think that loyalty should be rewarded with an uncharacteristic pre-deadline move in order to give us a chance to make the playoffs, at which point anything is possible.
At only four points out, why not? What have we got to lose? A trade might be just what this team needs—as long as they put it in perspective and walk the line between preserving the future and trying to win now.
Information from NBC Sports, ESPN.com, the Minneapolis Star Tribune, Yahoo Sports! and Puck Daddy, and NHLnumbers.com contributed to this article.