Tuomo Ruutu Receives 4-Year Extension: Carolina Hurricanes No Longer Sellers?
February 22, 2012

Jeff Gross/Getty Images
Tuomu Ruutu is staying in Carolina.
The 29-year-old Finnish winger is the latest Hurricane to be taken off the trade market by a major extension, signing a new four-year contract Wednesday afternoon.
Per the Carolina Hurricanes official press release:
Jim Rutherford, President and General Manager of the National Hockey League's Carolina Hurricanes, today announced that the team has agreed to terms with forward Tuomo Ruutu on a four-year contract extension.

"Players like Tuomo are extremely difficult to replace, and it is very important for our franchise to keep him here long term," said Rutherford. "Along with the physical elements and skill level that he brings on the ice, Tuomo is a popular leader in our locker room. We are very happy that he has committed to what we are building here, and [he] is excited about what the future holds for the Hurricanes."
CapGeek.com soon revealed the numbers for the contract, which will total $19 million over four years (beginning with the 2012-2013 season).
Ruutu's actual salary for next season really decreases, dropping from $4.4 million this year to $4.0 million next year before jumping up to $5.0 million annually in 2013. Conversely, the $4.75 million cap hit he'll now carry—third-highest on the team—is a major step up from his hit of $3.8 million running through the end of this season.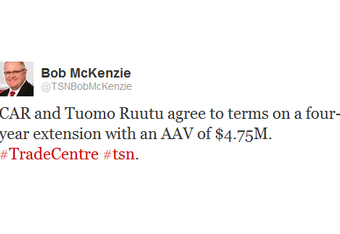 It's hard to call that raise unjustified, however.
Ruutu is a tremendous force in all zones of the ice. His 17 goals are second on the team and put him easily on pace for the fourth 19-plus goal campaign of his still-young career. The former Olympian also packs a punch with his body, as he ranked second in the NHL last season with 309 hits.
Just as important as the extension, though, is the indication that the Carolina Hurricanes and GM Rutherford have confidence in the team's current makeup.
Ruutu is joining defenseman Tim Gleason on the list of 'Canes whom Rutherford has taken off the market in recent weeks—Gleason signed a four-year extension of his own earlier in late January after weeks of frenzied trade rumors.
Add those signings to the Hurricanes' ongoing hot streak, which includes points in 11 of their last 13 games, and the postseason is suddenly looking like an real possibility in the near future.
If, indeed, the 'Canes are not going to resort to the rebuilding route, the predicted trade deadline fire-sale probably isn't going to happen. That could mean veteran blueliners Bryan Allen and Jaroslav Spacek, both free agents in July, will be given an opportunity to stay with the team as well.
Moreover, the Hurricanes may decide to actually enter the trade market as a shopper, as they still need to fill several significant holes before a playoff push can be made. Depth forwards, a reliable second-line center and possibly even an experienced backup goaltender could be on the grocery list.
Today's deal that sent Antoine Vermette to Phoenix makes the market for top-six centers even shallower, but Toronto's Mikhail Grabovski, Edmonton's Sam Gagner and Buffalo's Derek Roy would all be very suitable, albeit high-value, options.
Fortunately, adding a few more bodies to the fourth line should be an easier task.
In regards to a backup goaltender, someone like Nikolai Khabibulin of the Oilers, Curtis Sanford of the Blue Jackets or Chris Mason of the Jets may intrigue Rutherford.
Despite the top candidates we just listed, though, the possibilities are really endless for the Hurricanes as they make a shocking shift into the "buyers" department.
Tuomo Ruutu's new extension wasn't just about Tuomo Ruutu, in fact—rather, it foretold of a complete philosophy shift on the part of the Carolina Hurricanes.
Mark Jones is currently Bleacher Report's featured columnist and community leader for the NHL's Carolina Hurricanes. In his 40 months so far with the site, he has written more than 340 articles and received more than 415,000 total reads.