Carolina Panthers 2012 Mock Draft: Updated 7-Round Predictions
February 23, 2012

Kevin C. Cox/Getty Images
It's been exactly one month since my last full Panthers mock draft, and with the scouting combine knocking on the doorstep, the time seems appropriate to project the franchise's picks given the current state of affairs. 
Sometime next week, following the NFL combine, I'll analyze who has boosted their stock and which prospects appear to be drawing interest from the Panthers in another full mock draft—likely my last until the majority of pro days have concluded. 
Also yet to be determined is the Panthers' final drafting position, whether it be eighth or ninth pending a determining coin toss with the Miami Dolphins. For the purpose of this mock draft, we'll assume that Carolina will be drafting in the eighth spot—we'll attribute it to alphabetical precedence. 
With the scene being set, let's get going. 
Round 1, Pick 8: Morris Claiborne, CB, LSU
The closer we have drawn nearer to the draft, the more this has become a possibility. It's not to fault Claiborne, but it's a nod to two players who are rising up draft boards: defensive tackle Michael Brockers and running back Trent Richardson. 
I expect Richardson to continue to rise as he shows off his physical prowess at the combine and go to the Buccaneers with the fifth pick. Following the 'Bucs is the Redskins, who are appearing more and more likely to take Michael Brockers here if they cannot trade up for Robert Griffin III.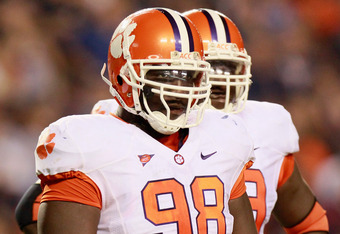 Kevin C. Cox/Getty Images
With the lack of need for cornerbacks among the teams picking ahead of Carolina lies a real chance that Claiborne lasts to this pick in an event that would set up perfectly for this franchise, which desperately needs a cornerback possibly more than anything else. 
Round 2, Pick 42: Brandon Thompson, DT, Clemson 
Once the second round begins, defensive tackles will begin to fly off the boards. Luckily for Carolina, there is such an abundance that a great prospect like Thompson will still likely be available here. He's stout against the run and can be disruptive as a pass-rusher when he's matched up on a lineman that he can physically dominate. 
Other possibilities here include fellow defensive tackles Dontari Poe and Jerel Worthy. Neither are as particularly as Thompson is at stopping the run, but both can rush the passer better, and if the Panthers value that more in their pre-draft self evaluation, they could opt for Poe or Worthy if either one remains on the board. 
Round 4, Pick 103: Jeff Fuller, WR, Texas A&M 
Once the Panthers have addressed their two biggest defensive needs, they'll turn their focus to the offensive side of the ball, where they are in need of a big-bodied receiver that can eventually replace Steve Smith and be a threat in this offense. 
Fuller of Texas A&M is a perfect candidate because he's being vastly underrated—consensus is that he's a fourth- to fifth-round prospect—and has every skill necessary to be a great NFL receiver. He has the pedigree and a combination of impressive speed, 6'4" height and the hands needed to catch Cam Newton's fastball. Overall, I'd say he's a steal if the Panthers opt to draft him here.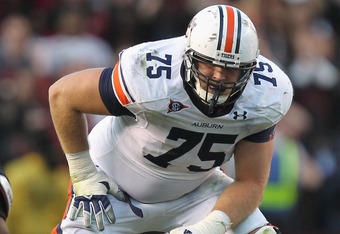 Streeter Lecka/Getty Images
Round 5, Pick 137: Brandon Mosley, OT, Auburn 
Mosley is a bit of a project, but that's exactly what teams should be looking for in their late round picks. What value is there in a fifth-round talent that performs consistently but has limited upside? I'll answer that—little to none. 
Mosley shows good technique and aggressiveness as a run blocker and has the quickness to develop as a pass protector given instruction and time. He has adequate size and something that consistently shows up on film is his balance—a key component that makes me believe he can become a well rounded starting right tackle. 
Round 6, Pick 168: Janzen Jackson, S, McNeese State 
Jackson is a first-round talent—yes, a first-round talent—whose stock is being dragged down by an armed robbery which he was involved in while at Tennessee as well as multiple events afterwards, which left to his ultimate dismissal from the university. 
The Panthers have struggled mightily in recent years to cover tight ends and free safety Sherrod Martin is largely to blame. Jackson could start from day one, while consistently locking down opposing tight ends and being a playmaker in the run and pass game. I can't understate what a steal this would be for the Panthers if he can put his character issues behind him. 
Round 7, Pick 198: Marquis Maze, WR, Alabama 
In the seventh round, it comes down to best player available, and Maze will be one of the top players left overall if he hangs around until here—which is likely considering the depth of this class of receivers. 
Maze is short and won't likely contribute much to the offense early on, but he is quick and can return punts well. He isn't a game-breaker like Arkansas' Joe Adams, but he certainly is more reliable and makes better decisions on a play to play basis. For a seventh-round pick, he'd provide great value as a punt returner and eventual slot receiver down the road.