NHL Trade Deadline: Kings, Lombardi Feeling the Heat as Deadline Approaches
February 23, 2012

Andrew D. Bernstein/Getty Images
Perhaps no team is feeling more pressure than the Los Angeles Kings as Monday's NHL trade deadline approaches.
GM Dean Lombardi made some moves during last summer designed to help his team go deep into the playoffs after its first-round exit at the hands of the San Jose Sharks last year. The addition of center Mike Richards from Philadelphia and left wing Simon Gagne from Tampa Bay were supposed to elevate the Kings to elite status in the tough Western Conference. 
When Lombardi locked up defenseman Drew Doughty to a long-term deal just before the start of the regular season, most experts believed Los Angeles had the core of a young, talented contender for many years to come.
It hasn't worked out that way. Despite the infusion of new talent, the Kings remain starved for offense. In fact, through 60 games this season, Los Angeles is dead last in the NHL with just 2.02 goals per game. The power play is also struggling, ranking just 23rd in the league thus far. 
There are several reasons. Gagne has been out since December with a concussion, and the team is still unsure when he will return to action. Richards has been a disappointment, scoring just 14 goals and 30 points. 
Doughty has just six goals after scoring 11 a year ago and 16 in 2009-10 when he was a Norris Trophy finalist. First line center Anze Kopitar is also off his usual offensive output with just 51 points in 60 games.
Overall, the Kings offense just seems to lack timing and rhythm. After a recent game at the Nassau Coliseum which Los Angeles lost 2-1 and narrowly avoided being shut out, I spoke to two scouts who had seen the Kings play throughout the season. 
When I remarked that the team's passes seemed a half-step off throughout the game, they both quickly added it wasn't just tonight, but a problem the team has had all year long.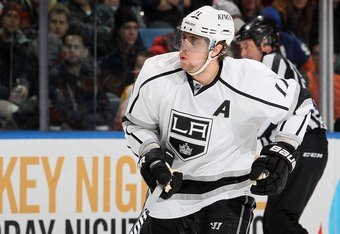 Jim McIsaac/Getty Images
As a result, the Kings are clinging to the eighth and final spot in the Western Conference standings, just one point ahead of the Calgary Flames. Coach Terry Murray has already been dismissed after the team got off to a slow start and seemed to lack any kind of zip on offense. 
Darryl Sutter took over behind the bench, and while the team got a short term lift after the coaching change was made, the same problems have again emerged for the Kings. Lombardi knows that he needs to produce something in this, his sixth season in LA, or he will be the next one looking for a job.
But what can the Kings do at the deadline? Columbus is making sniper Rick Nash available, but do the Kings have enough cap room to bring in an expensive goal scorer like Nash who is under contract not only for this year but through the 2017-18 season and has a cap hit of $7.8 million per year? 
The Jackets may also make center Jeff Carter available, but the Kings already have two solid scoring centers (on paper at least) in Kopitar and Richards.
The Kings have two young goalies and may be willing to deal Jonathan Bernier who is still just 23 and has a very cap-friendly salary and loads of potential. But if they are going to trade a young potential NHL starting goalie, they will need to get something substantial back in return.
Regardless, changes will have to be made before the trade deadline to get some badly needed offense to Hollywood pronto, or the Kings will struggle to make the postseason. After such high expectations, even another first-round playoff exit may not be enough to save Lombardi's job.
Even though it's late February, the heat is on in Los Angeles. It's being felt in the front office, behind the bench and on the ice.
Look for the Kings to make some major moves in an attempt to salvage the 2011-12 season.  Otherwise, Lombardi won't be the only member of the Kings organization who will be working somewhere else next summer.