NHL Defensemen and Goalies Battling Back from Injuries
February 23, 2012

Christian Petersen/Getty Images
Each week, we will look at the NHL's top five fantasy defensemen and top five fantasy goalies.  The list will be based on fantasy impact over the past few days and weeks.  Most elite stars consistently produce, but there are several players who are very streaky, so keep an eye on their stats so that you can dress them while they are on a hot streak. 
No. 5—Oliver Ekman-Larsson (Phoenix Coyotes) had a good start to his sophomore season but has struggled as of late.  For the month of January, he scored seven points in 12 games and finished with a plus-three rating.  However, things didn't go so well in February, as he is pointless in nine games and has a minus-one rating. Ekman-Larsson has tremendous upside as an offensive defenseman and is on pace for nine goals and 28 points this season.  He has the potential to be a 15-goal and 50-point defenseman in a few years. 
No. 4—Brent Burns' (San Jose Sharks) production isn't quite what it was last season when he scored 17 goals and 46 points with the Minnesota Wild.  But Burns is red hot right now with 11 points in the last 10 games.  Burns is a big defenseman who has some inconsistency issues but is capable of scoring 50 points a season.  Though he is not the go-to guy on San Jose's offense, Burns is a solid secondary option as he is on pace for 12 goals and 38 points this season.
No. 3—Dustin Byfuglien (Winnipeg Jets) missed 16 games this season due to a knee injury but looks like he has come back even better.  Before the injury, he scored 24 points in 35 games; that's a 0.69 points-per-game rate.  However, since his return Byfuglien has 12 points in 11 games, which is a 1.09 point-per-game rate.  He is on a four-game point streak with seven points over that stretch and is on pace for his second 50-point season. 
No. 2—Kris Letang (Pittsburgh Penguins) is an offensive defenseman who can put up big-time points.  Last season, he scored 50 points while playing in all 82 games, which is a 0.61 points-per-game ratio.  This season, before he suffered a concussion, Letang was scoring at a 0.88 points-per-game rate.  Back on February 11th and 12th, Letang scored two goals and an assist against Winnipeg and one goal and two assists against the Tampa Bay Lightning.  That's six points in two nights.  Letang is on pace for 46 points in 58 games this season.  Expect him to be at the 50-point mark for the next several seasons.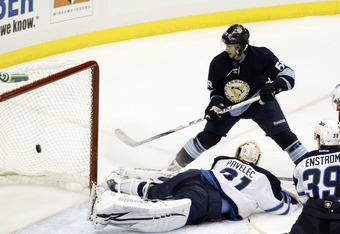 Justin K. Aller/Getty Images
No. 1—Alex Pietrangelo (St. Louis Blues) is having a fabulous season and is big reason why the Blues are fighting for top spot in the West.  Over the last six games, he has scored two goals and nine points, including two games in which he scored three points.  Last season, Pietrangelo scored 11 goals, 43 points and 161 shots, which are strong numbers from the blue line.  This year, he is on pace for a career year of 14 goals, 47 points and 207 shots. 
The goaltending position is the streakiest of all hockey positions so be sure to keep a hot goalie in your lineup and the cold one on the bench!  (Abbreviations: goals against average is GAA and save percentage is SV%).
No. 5—Carey Price (Montreal Canadiens) is not helping the Canadiens get into the playoffs.  Over his last five starts, Price is 1-3-1 and is allowing a very high 3.14 goals a game and posting a low 0.899 SV%.  After proving that he was the one to keep over Jaroslav Halak with 38 wins and eight shutouts last season, Price is on pace for 29 wins and five shutouts.  Now is the time to make a move to acquire Price, as his value is low and he should bounce back next season.
No. 4—Joey MacDonald (Detroit Red Wings) stepped in when Jimmy Howard went down with a finger injury and was lights out for the Wings.  MacDonald played a huge part in securing the NHL record for most consecutive home wins.  Over his last five starts, MacDonald won all five and posted a 1.57 GAA and SV% of 0.940.  He has played so well that he has secured the backup role in Detroit, forcing Ty Conklin to the AHL.  Expect MacDonald to get a few more starts as Howard will be rested for playoffs and will be the full-time backup in Hockeytown next season.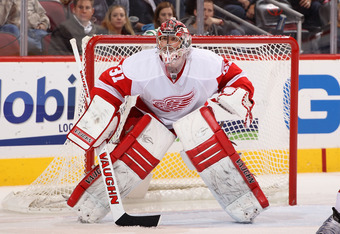 Christian Petersen/Getty Images
No. 3—Jonas Hiller (Anaheim Ducks) has been the Ducks' best player over the last 10 games.  Hiller is 6-1-3 with a shutout over the Florida Panthers and has a GAA of 1.74 over that time span.  Hiller has 10 overtime or shootout losses this season and is on pace for 13; that's a lot of wins that slipped away.  Hiller has put his battle with vertigo behind him and is on pace to tie his career high of 30 wins this season.  However, with the Ducks just six points out of a playoff spot, he could set career highs.
No. 2—Mike Smith (Phoenix Coyotes) has been perfect is his last seven starts with two shutouts.  Smith has posted a spectacular GAA of 1.12 and SV% of 0.962 during this span.  Smith has helped push the Coyotes into a playoff spot and has already set career highs for wins and shutouts.  Though Smith is on pace for 35 wins, pay close attention to the trade deadline; if the Coyotes are sellers, his wins won't be that high.  Smith is locked in for one more season and should see another 60-plus starts next season.
No. 1—Craig Anderson (Ottawa Senators) is doing all he can to get the Senators into the playoffs.  Over his last four starts, Anderson has four wins with two shutouts.  Anderson posted 38 wins and seven shutouts with the Colorado Avalanche back in the 2009-2010 season, proving that in the right situation he can put up solid numbers.  This season, Anderson is in the right situation and is on pace for 37 wins.  He's locked up for another three seasons, and you can count on similar production for the term of his contract.
 --------------------------------------------------------------------------------------------------
Aaron Brouwer is the co-creator of www.fantasyhockeycoach.com.  FHC is a free fantasy hockey service that developed a ranking system combining post-lockout statistics, current factors and our own hockey knowledge.  Brouwer writes about fantasy hockey on Bleacher Report. You can contact Coach Brouwer at brouwer@fantasyhockeycoach.com.