NASCAR: The Daytona 500 Is a Race Where Underdogs Can Shine
February 23, 2012

Matthew Stockman/Getty Images
"Not in my wildest dreams did I think we could come here and win this race."
Those are the words of a Daytona 500 champion in victory lane. No, not Jeff Gordon, a three-time winner of "The Great American Race." Nor do they belong to Jimmie Johnson, who won the event back in 2006.
That phrase doesn't belong to a driver who will be appearing on any who's who of NASCAR lists anytime soon.
On the final lap of the 1990 Daytona 500, Derrike Cope, then 0-71 in his NASCAR career, found himself sitting in second place in the running order. In front of him was Dale Earnhardt, the Intimidator, who had dominated the afternoon by leading 155 of 199 laps to that point.
Cope was essentially racing for second place. At least until the leaders entered Turn 3.
Earnhardt's black No. 3 Chevrolet ran over a piece of transmission from another car. His right rear tire went flat. Earnhardt shot up the track and Cope dove underneath. He would hold off Terry Labonte and Bill Elliott, both past series champions, for the remaining mile and take the checkered flag.
While that day left Earnhardt and his team bitterly disappointed, the crew of the No. 10 Chevrolet and driver Derrike Cope were celebrating in victory lane.
It would be the first of Cope's only two wins in what is now called the Sprint Cup Series. Driving for an underfunded team owned by Bob Whitcomb, it is considered by many to be one of the biggest upsets in Daytona history.
And that's how Daytona works.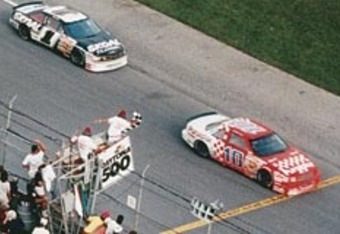 Sure, proven winners like Kevin Harvick and Matt Kenseth have claimed the Harley J. Earl Trophy. But Daytona, every once in a while, likes to produce winners who seemingly come from nowhere.
Take Michael Waltrip for example. In 2001, he claimed his first career Cup Series victory in NASCAR's biggest event.
He hadn't won in his previous 462 starts.
Ward Burton only won five races his entire career. One of those was the 2002 Daytona 500.
That victory was possible thanks in part to Sterling Marlin, who was penalized during a late red flag for getting out of his car and trying to fix a partially collapsed fender. Marlin was sent to the pack, handing the lead to Burton, who would never relinquish it.
And speaking of Marlin, his first two career victories came on the high banks of Daytona, both times in the 500 miler held every February to kickoff the NASCAR season.
The most recent underdog story to grace NASCAR's biggest stage just took place this past season.
Driving for the legendary Wood Brothers, a team that hadn't won since 2001, was Trevor Bayne, a rookie in the Sprint Cup Series who had just turned 20 years old. This combination of history and youth managed to overcome a wreck in the Gatorade Duels and losing their drafting partner to a late race penalty en route to winning the 2011 Daytona 500.
As Bayne crossed the finish line, he fittingly yelled over the radio, "Are you kidding me?"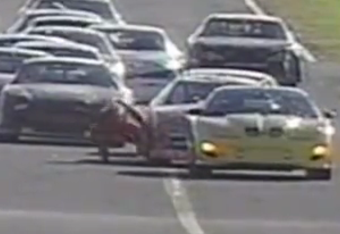 No kidding here, nor with any of the other drivers mentioned.
Some strange occurrences have made these upsets possible. Flat tires on the last lap and drivers jumping out of their cars to fix a fender is not your usual fare at a NASCAR race.
The one correlation between all of these races is the great equalizer that is unique to only Daytona and another track on the NASCAR circuit—Talladega.
Restrictor plates.
Cars at Daytona exceed speeds beyond which NASCAR deems safe. To counter that, they place a restrictor plate in the engine intake to cut horsepower and as a result reduce speeds.
This crams the field together and creates a large pack of cars, essentially putting them on a level playing field. The cars and drivers become more dependent on the air and—especially over the past year—a drafting partner to be faster than their own equipment.
This in turn can create wild finishes—and in some cases wild crashes—where anything can happen.
So while names like Kyle Busch, Dale Earnhardt Jr. and Kevin Harvick will dominate many people's favorites lists, don't forget to look into the middle of the pack for some potential good stories.
Stories like David Stremme, who in spite of reportedly having only eight guys employed on his Inception Motorsports team, managed to lock himself into the Daytona 500 on time.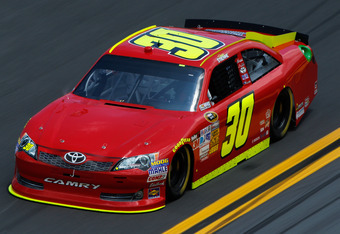 Chris Graythen/Getty Images
Or maybe Elliott Sadler, who, after a year away from the Sprint Cup Series, has been given arguably his best chance to win at Daytona in a fourth entry for Richard Childress.
Or even, dare I say, Danica Patrick, who could possibly crash the Internet itself with a victory on Sunday.
It wouldn't be accurate to say anyone can win the 500, because not everyone has.
After 27 tries, Mark Martin has never hoisted the Harley J. Earl Trophy. Neither has Tony Stewart, Kyle Busch or Kurt Busch—though, that could change Sunday afternoon.
A Daytona 500 champion can, however, come from anywhere. No team is too small, no driver has too little experience in victory lane.
And that makes the Great American Race even greater.