St. Louis Blues: David Perron Has a Desire to Deliver
February 23, 2012

Dilip Vishwanat/Getty Images
As David Perron sees it, the Blues have a tight-knit, fun-loving group of players that has faith in one another and a desire to deliver St. Louis its first Stanley Cup championship.
You don't have to do much arm-twisting to get Perron, the 26th overall selection of the Blues in 2007, to talk about his teammates and their ultimate goal.
In fact, his one-word answer ("Awesome!") to a text requesting a few minutes of his time to talk about the 2011-12 edition of the Western Conference squad tells you all you need to know about Perron's enthusiastic outlook.
"What we have here is one group all pulling together to be successful," said Perron, who had a memorable 2006-07 Quebec Major Junior Hockey League season, leading the Lewiston Maineiacs in scoring with 39 goals and 83 points in 70 games played, as the club won the President's Cup and made it to the Memorial Cup.
"We have great leadership in guys like David Backes, Jason Arnott, Jamie Langenbrunner, Andy McDonald, Barret Jackman and more. When we execute and play as a group, things go well with us."
And as Perron, who scored his first career goal against the Chicago Blackhawks on November 3, 2007, has discovered, teams around the league have taken notice of the Blues.
"When I talk to guys around the league that I know after we've played them, they always say we are a hard-working team, the type that you don't like to play against," said the 23-year-old left-winger, who hails from Sherbrooke, Quebec. "They are aware of us and that makes us feel good about what we're trying to achieve."
A slow start to the season and a coaching change didn't derail the campaign as St. Louis finds itself in the upper tier of the West.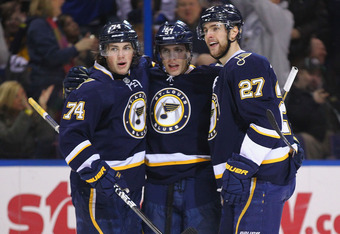 Dilip Vishwanat/Getty Images
While they're fortunes have turned around, Perron hasn't seen a shift in attitude in the dressing room.
"We're not the type to take anything for granted," said the 6'0, 180-pound forward. "We see each game as a challenge. If we lose a game, Hitch (head coach, Ken Hitchcock) addresses what we need to do right away. We try to fix things right away. We'll talk about it and move on to the next game. I think that speaks volumes about our leaders."
You can bet his teammates are happy to have Perron back in the fold.
In November 2010, he suffered a severe concussion and missed the final 72 games that year, along with the first 25 games of the 2011-12 season, a total of 394 calendar days.
Perron made his return a memorable one, scoring on his first shot on goal against the Chicago Blackhawks.
"I wasn't sure what to expect, to be honest," admitted Perron. "I figured I'd be a little bit rusty. I was a little rusty, but I remember it being better than I ever expected. I was able to make stuff happen. It was a lot of fun to be back out there again."
The fun times don't end on the ice, whether it's games or morning practice.
"We play ping pong all the time and we have a chart to see who has the most wins," offered Perron.
"Everyone is always laughing and making jokes. We have about five or six guys that are really good at ping pong. We'll always look at the board to see the rankings of the guys. I'm definitely not in the top group, but it's a way for us to have some fun and relax."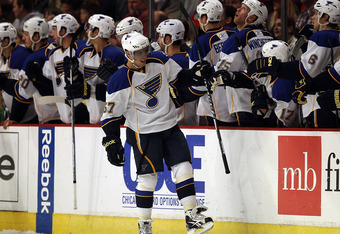 Jonathan Daniel/Getty Images
With a balanced group from first line to fourth, a solid defensive corps and highly-capable goaltending, Perron hopes this is the year the Blues break through and make a serious Stanley Cup run.
"The chemistry is there and the will to do what it takes to win is also there, too," he said. "For as much as we are happy with what we've done to this point, it's far from over and we know what we have to do before we get to the playoffs. Sometimes it's easy to look ahead, but we know we can't do that."
Instead, Perron and the rest of his teammates will continue to polish their individual games in pursuit of hockey's top team prize.
"We'll continue to challenge each other and we'll continue to maintain our focus," he noted.
Perron and his teammates will do all that and still find time to have fun along the way.
Video: Meet the World's Toughest Directors - Player's Playbook
CBC Hockey Night in Canada/NHLPA Player Poll Results
Kevin Shattenkirk Proud of What The Blues Have Built