Bassmaster Classic 2012: Why Bass-Fishing Extravaganza Deserves Your Attention
February 23, 2012

The 2012 Bassmaster Classic is this weekend. For bass-fishing enthusiasts, this is like the Super Bowl, the World Series and a random day out on the lake all rolled into one.
For non-bass fishing enthusiasts (i.e. most people), the Bassmaster Classic is just another thing on the outskirts of television. Most people have probably heard about it, but they have no idea where to watch it or when, and they sure as heck don't have reasons to watch it.
The first two concerns are easy to answer. Everything you need to know about the Bassmaster Classic's TV schedule can be found in our full preview.
As for reasons to watch, I've got four of them.
It's an Actual Competition
There are some pretty big sporting events going on this weekend. The Daytona 500 is on Sunday, and sports nuts can also delight in watching the NFL scouting combine and the NBA All-Star festivities if they so choose.
The Daytona 500 is fine, but there's one fundamental problem with both the combine and the NBA All-Star festivities: There's no actual competition.
The combine consists of a bunch of jocks doing, well, nothing at all, really. All-Star Weekend features a whole lot of activity, but none of it means anything. The rookie-sophomore game is a joke, the skills challenge and the dunk contest are not as exciting as they should be and the All-Star Game itself is a tired joke.
There's a lot at stake in the Bassmaster Classic. Whoever wins is the basically the best bass fisherman in the world, a designation that is desired by many and pursued only by the best of the best.
Before you think it's all luck, I assure you it's not. There are several fisherman who have won the event multiple times. You don't do that with luck; you do that with skill.
Make no mistake, these guys are legit, and they want to win.
Good for the Kids
All kids do these days is sit inside and play video games and code HTML. My understanding is that outdoor activities just don't appeal to kids anymore.
If your kids are averse to going outdoors, try sitting them down and subjecting them to the Bassmaster Classic. This is a particularly good idea if you have a son, as you can point out to him that bass-fishing is a real hobby for real men. None of the guys on the tube know what it's like to score an epic kill streak in Modern Warfare, but they've caught enough fish in their lifetimes to feed cities.
With a bit of luck, your son will then want to go fishing. And let's face it, all sons should want to go fishing.
If they don't, they just need a little convincing. That's what the Bassmaster Classic is for.
Perfect Way to Spend a Relaxing Day on the Couch
OK, let's say your efforts to get your kids into fishing fail. Or maybe you just don't have kids. Either way.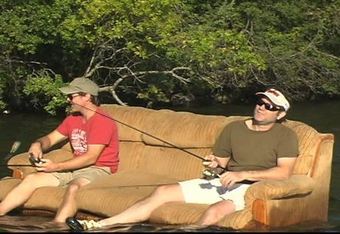 In this case, you should still sit yourself down and and watch the Bassmaster Classic for a few hours. It will be a nice, relaxing experience. You can enhance it with beer and potato chips, just like you would a football game, a basketball game, a baseball game and so on.
You'll be at risk of unintentionally slipping into a nap, but that's not such a bad thing. Studies have shown that naps are awesome and that they do the body good.
I conducted these studies on my own, for the record.
Bass Fishing is Awesome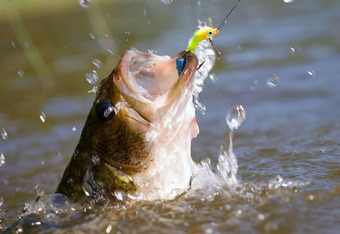 If you've never been bass fishing before, you don't need further justification of this point. There's nothing like shoving off early in the morning, chilling in a boat all day and occasionally hooking a few bass. They taste good too, especially if you fry 'em up in a bit of lard and bacon grease.
Hey, don't knock it if you haven't tried it.
If you haven't tried fishing yet, what you need is a little motivation to get out there. Just like watching a football game will make you feel like tossing a football around, watching the Bassmaster Classic will make you feel like busting out rod and reel and hitting the lake.
In fact, if you feel like doing that now, I won't stop you. Just make sure you hang a "Gone Fishin'" sign outside your cubicle. Such things are required.
If you feel like exchanging fishing stories, hit me up on Twitter.