NHL Trade Rumors: Jeff Carter Deal Creates Trade Scenario Between Leafs & Kings
February 24, 2012

Abelimages/Getty Images
The Los Angeles Kings made a big splash last night, acquiring center Jeff Carter from the Columbus Blue Jackets in exchange for 25-year-old defenceman Jack Johnson and a conditional first-round pick.
If the Toronto Maple Leafs were in the hunt for Carter, and it is widely speculated that they were, management missed an enormous opportunity to fill a gaping hole in their roster, the position at top-line center.
But as fast as one trade door closed, another one may have just opened.
Trading for Carter may or may not turn out to be a good move for the Kings.
The team currently sits last in the NHL in goals scored, having only put the puck in the back of the net 129 times in 61 outings this season.
Compare those numbers to the ones put up by the current goal-leading Philadelphia Flyers, who have scored 198 times in just 59 games thus far, and it goes without saying that L.A. desperately needed to address their offensive woes via the trade market.
GM Dean Lombardi is most likely hoping that reuniting Carter with former teammate Mike Richards will be enough to rekindle the offensive magic shared between the two star forwards from their playing days together in Philadelphia.
Considering the hefty price paid to snare Carter out of Columbus, he best be right.
In order for this to happen, though, the former teammates would have to be reunited on one line.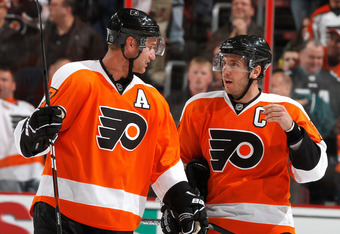 Paul Bereswill/Getty Images
Simple enough, right? Not so fast.
Both players are natural centers, so one of the two will have to be moved to the wing in order for them to play together.
If history is any indication, Richards will retain the center position, thus moving Carter to the wing.
This was the formula implemented in Philadelphia, and it worked. Together, the pair tallied no fewer than 60 points in three straight seasons.
If you're asking yourself where the Maple Leafs come in, just take one look at the Kings' roster.
Before making yesterday's trade, L.A. had a surplus of right wingers, but throw Carter into the mix, and they have a severe logjam to deal with. For all intents and purposes, it seems at least one player has to go.
According to TSN's Bob McKenzie, who first reported the Carter deal last night during the second intermission of Toronto's 2-1 loss to the San Jose Sharks, the Kings may be willing to part with captain Dustin Brown.
Brown is the prototypical power forward that Toronto GM Brian Burke has been after for quite some time. He provides a combination of scoring ability and size, and should the Leafs be able to obtain his services, the trade may go a long way to helping them end their six-year-long playoff drought.
As for the details of a possible trade, your guess is a good as mine.
However, TSN's Pierre LeBrun suggested this morning via Twitter that the Kings may want defenceman Luke Schenn in any deal involving Brown.
It has also been widely speculated that Kings backup goalie Jonathan Bernier is on the trading block as well and, considering the inconsistent play of Toronto's goalies lately, don't be surprised to see Burke put a major package together in an attempt to consummate a blockbuster trade for Brown, Bernier and possibly Dustin Penner, too.
Has one missed opportunity opened the door for a different trade possibility?
The NHL trade deadline is next Monday, February 27, so Toronto will have its answer soon enough.
Follow Matt Wiseman on Twitter for up-to-date NHL news and analysis.