Carling Cup Final 2012: Liverpool Will Blow Cardiff City Away to Win Trophy
February 26, 2012

Michael Regan/Getty Images
It has been six long and treacherous years for anybody associated with Liverpool. Six years is how long they have went without winning a trophy, but that's all about to change on Sunday.
The 2012 Carling Cup Final will see Liverpool blow out Cardiff City in convincing fashion.
This will not be the upset we saw with Arsenal and Birmingham City last year. It actually helps that something of that nature has been implemented into the minds of Liverpool.
It won't happen again.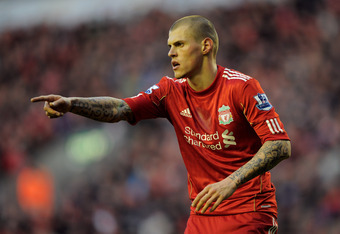 Michael Regan/Getty Images
One area that I am focused on is who each team played to get here. Liverpool has endured the tougher road in this competition, and I believe it will pay dividends on Sunday.
Liverpool defeated Stoke City, Chelsea and Manchester City (among others) to get to this point and Cardiff City defeated teams like Oxford United, Huddersfield Town, Leicester City, Blackburn and Crystal Palace.
It doesn't seem like this could make a big difference because it's making it to the finals that counts; however, this will easily be the toughest challenge for Cardiff City. It would have helped them significantly if they played and defeated another top-tier team in the English Premier League.
Obviously there are bigger goals for Liverpool in the EPL, but Sunday's game is very important.
A victory could give them confidence going into the latter stages of the EPL, possibly giving them life towards the final UEFA Champions League position.
A game like this could really make a guy like Andy Carroll confident. I've been harsh on Carroll for his lack of goals, but he's ready to play at Wembley on Sunday, according to The Telegraph.
I am buzzing and can't wait for it. All of the lads are the same. It's a cup final at Wembley for Liverpool, so it's great, he said. I came here to win medals. Getting to Wembley is great - now hopefully we can go there and get the win.
This would be a perfect game for Carroll, who was brought to Liverpool to score goals, to put a couple to the back of the net.
It's time to put up or shut up. 
Prediction: Liverpool 4, Cardiff City 0