NHL Trade Rumors: Likeliest Targets on Move at Trade Deadline
February 26, 2012

Harry How/Getty Images
The trading deadline is less than 24 hours away, and while some big-name stars have already been shipped to other teams, there are still quite a few quality players floating around on the market.  Here are four guys who may be on the move before tomorrow's deadline at 3:00 p.m. 
The name that has garnered the most attention (both from the media and other teams) is the Blue Jackets' Rick Nash.  Nash—a former first overall pick—has spent all nine years of his NHL career in Columbus.  The Blue Jackets, of course, have been notoriously awful since they entered the league in  2001 (one playoff appearance in 2008-09, but they were blown out of the water by the Red Wings in the first round), but they have been particularly lackluster this year. With a record of 18-36, they are far and away the worst team in the league.  Understandably, Nash is starting to get antsy.  He's 27 years old—on the verge of the prime of his career—and doesn't want to waste his best years playing for an uncompetitive club.
Whichever team decides to snatch Nash away from Columbus will have to pay a stiff price. 
A report from Yahoo! Sports claims that Blue Jackets GM Scott Howson is asking for a "significant NHL player, plus top prospects and a first-round pick."  That's certainly a lot to ask for, but Howson just might be able to pull off a deal of that magnitude  since several borderline playoff teams are desperate for a stud like Nash to aid in a late-season playoff push.
Nash currently has a no-trade clause written into his contract, but he has presented Howson with a list of teams that he would be willing to leave Columbus for.  The Maple Leafs are one of the teams on that list, and one of the few organizations secure enough in their finances to take on Nash's heavy $7.8 million annual cap hit.  The Flyers and Rangers have also been swirling around in the rumor mill, with the latter team making the most recent push to put Nash in their uniform.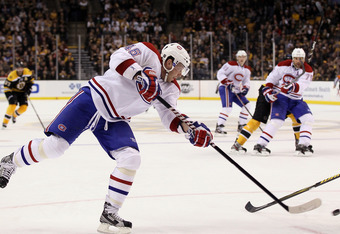 Elsa/Getty Images
It's also very possible that Nash will stay put in Columbus—at least until the offseason.  The thinking behind this is that any team currently in the playoff hunt would ultimately have to risk tinkering with team chemistry to bring Nash aboard.  Nash is talented, no doubt, but is he ultimately worth it?
Dustin Brown
The Los Angeles Kings' Dustin Brown is a cheaper, slightly less productive alternative to Rick Nash.  While any team that decides to trade for Nash will be stuck with a $7.8 million annual cap hit through 2017-18, a team that completes a deal for Brown will only be on the hook for $3.175 million each of the next two seasons.  The Kings' captain has 35 points through 62 games this season, while Nash has has 42 points through 61 games.
Bob McKenzie, an NHL analyst for TSN, tweeted on February 24 that there were eight teams with "high levels of interest" in acquiring Brown's services: Boston, Buffalo, Edmonton, New Jersey, New York (Rangers), Philadelphia, Toronto and Vancouver. 
Later that day, Eliott Friedman, a commentator for CBC, tweeted that Kings GM Dean Lombardi had taken Brown off the market.  However, I wasn't able to find any other sources to confirm Friedman's report.  As of today, Brown was still on ESPN.com's list of players who could still be moved before tomorrow's deadline.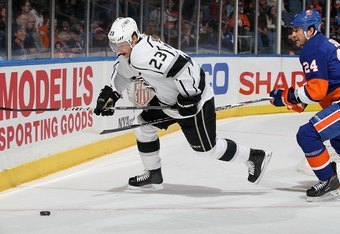 Jim McIsaac/Getty Images
Andrei Kostitsyn
Andrei Kostitsyn is another player who could be moved before the deadline tomorrow.  He's been a consistent goal scorer for the Habs throughout his career, but he, like the Canadiens, have struggled somewhat this season (he's on pace to score less than 20 goals).  A change of scenery may be just what he needs to inject some life back into his career.
The Predators seem to be the most logical destination for Kostitsyn.  GM David Poile told ESPN.com that he would "like to add a forward" before the trading deadline, and Kostitsyn, a left winger, would give Nashville another scoring presence at an affordable cost ($3.5 million).  He would also be reunited with his brother, Sergei, who has 15 goals for the Predators so far this season.  
If Kostitsyn is in fact dealt away, the team that gets him will essentially be renting him for a playoff push in the second half of the season, seeing as he will become an unrestricted free agent at season's end.
In a somewhat unrelated yet interesting aside, Andrei and Sergei were suspected of having ties to Pasquale Mangiola, a member of an organized crime faction, when they were together in Montreal.  The NHL sent officials to investigate the matter, but their search ultimately turned up fruitless.  Neither brother was charged with any wrongdoing.
Evgeni Nabokov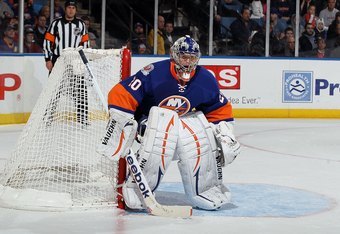 Jim McIsaac/Getty Images
One goalie that is causing ripples in the trade market is the Islanders' Evgeni Nabokov.  If there was ever a perfect time for the Islanders to deal Nabokov to another team, that time is now. 
First of all, the Islanders are wading around in the Atlantic Division cellar, and there's no reason to believe that they will turn their season around and make a serious playoff run. 
Second of all, Nabokov's current market value is about as high as it's going to get.  Sure, he's aging, but he could be a valuable rental player for a team in want of a consistent goaltender, such as the Maple Leafs or the Lightning.  Why shouldn't the Islanders deal Nabokov to a team that desperately needs a goalie if they can snag (a) a valuable draft pick or (b) a young, budding star who could help the Islanders become competitive a few years down the road? 
Like Kostitsyn, Nabokov will be an UFA at year's end.