Ring Girl Ashley Ferrara on MMA, Boxing and Law School
February 27, 2012

Unfortunately we live in a world where society will judge an individual based on their physical appearance.
For instance, I am easily the best looking man that has ever walked the Earth. I mean, seriously, I make Tom Cruise look like he popped out of a trash can.
Due to my divine looks, most of society assumes that I am a stuck-up womanizer that hooked up with multiple Playboy Playmates on a single night. It's frustrating.
This is something that Ashley Ferrara can certainly relate to. As both a boxing and MMA ring card girl, most people stereotype Ferrara as a "ditzy blonde" that is all about her looks.
They are oblivious to the fact that she is actually a graduate of Yale University and an all-around awesome person to have a conversation with.
Ferrara works as a ring card girl for multiple fighting promotions in the Oklahoma area.
She has worked for several boxing events, including the Molina vs. Quintero fight for ESPN, Showtime Championship Boxing: Williams vs. Ishida and Chavez Jr. vs. Rubio on HBO.  She also returned to law school at the University of Oklahoma.
Here is her story:
The Beginning of her Modeling Career
 "Modeling is definitely something that I fell into as I got older. I ran track all throughout high school and then continued on all throughout college so I was always more of a tomboy-athletic type and was never really into modeling," Ferrara said.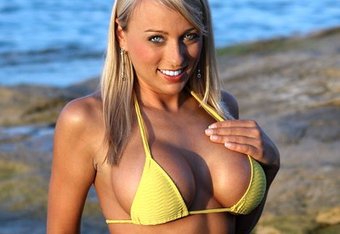 "I graduated from Yale and then worked in Houston for a couple of years at a law firm before going back to law school. Law school is tough, it's very dog-eat-dog and I was looking for something fun to do.
"I ended up getting a job at Hooters and occasionally modeling agents will come in and hire some Hooters' girls for modeling gigs and that's how I got involved in the industry. It's kind of funny because at first I was just looking to get a break from law school at first."
Her Passion for Combat Sports
"I have always been a big sports fan in general and growing up if there was ever any sports program on TV I was more likely to watch that over something else.
"Specifically with the ring carding, in Oklahoma there are a lot of casinos so there are more fights here than in a lot of other states.
"In Oklahoma City, boxing is huge and in the last five years or so MMA has also become very popular here. They now have a Gracie Jiu-Jitsu Academy in Oklahoma City and are putting on a lot of MMA fights. Everybody who's anybody will go out to a fight in Oklahoma City."
Boxing vs. MMA from a Ring Girl Perspective
"I don't really prefer one over the other because they are very different in my eyes. When it comes to ring carding though, when you ring card an MMA event you don't usually have to get inside of the ring so sometimes that is a little less nerve-racking compared to working a boxing event.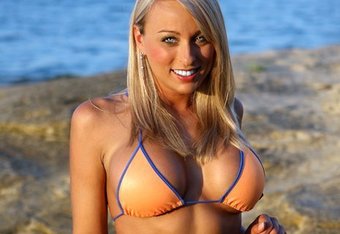 "I love being a ring girl for both sports but with MMA you don't have to worry about going in and out of the ring so logistically it's a little bit easier plus there are fewer rounds in an MMA fight.
"As far as which sport I prefer watching over the other, I really can't pick because I look for different things. With boxing I love to watch them punch but my favorite aspect of MMA is the ground game."
On UFC Aspirations
 "Getting a job with the UFC is definitely every ring girl's goal and I would love to get that position someday. However, my long term goal, five years from now I do want to get involved in entertainment law.
"Who knows, maybe years from now I will even become an MMA commissioner or something, we'll see.
"Personally if [the UFC doesn't hire me] then I do hope they hire another blonde because I'm obviously partial to them. So if there is a blonde ring girl out there other that is cooler than me—which I don't know if that's even possible—then they should hire her.
"In all seriousness though, I do think they should hire someone that truly loves the sport and is always willing to talk to the fans."
Gamer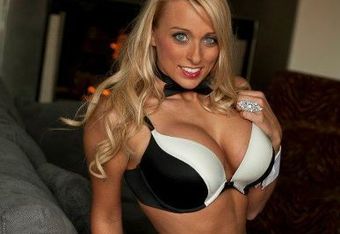 "I got the new UFC Undisputed the day that it came out and it was the day right before Valentine's Day. Instead of going out to dinner, my husband and I had four of his friends over and just played the game all night.
"The only problem I have with [UFC Undisputed 3] is that I think they gave Brock Lesnar a little bit too much of a chin."
Motivation from Doubters
"Most of my family thinks I'm pretty crazy for doing things like this. I'm very motivated by people telling me that I'm wasting my time and saying that I won't get a legal job [if I pursue a career as a ring card girl] but people don't know the whole story.
"My family is not at all supportive [of me being a ring girl]; my in-laws have actually been more supportive about it. If my family knew and understood what I'm doing and that I have a plan, they might come around."
All quotes are first-hand from Mitchell Ciccarelli's interview with Ashley Ferrara.
Follow Ashley Ferrara on Twitter @ ashleyferrara
Mitchell Ciccarelli is the sexiest writer in all of mixed martial arts. Legend has it that Ciccarelli defeated 50 lions, an army of Ice Giants and Chuck Norris at the same time with nothing but his two fists and an expired pop tart. Follow him on Twitter @ mitchciccarelli