NFL Combine 2012: How Did Stanford QB Andrew Luck Perform?
February 27, 2012

Joe Robbins/Getty Images
Grading a quarterback's performance at the NFL Scouting Combine can be tricky, especially if the quarterback makes the decision not to throw during field drills.
You have a classic Catch-22 in the notion that throwing does not matter, but drills like the 40-yard dash are deemed all but irrelevant to the position.
At some point, one has to wonder why quarterbacks bother to show up at all if neither their throwing nor their athletic prowess is going to be taken seriously. 
I feel a lot of scouts out there often contradict themselves.
For example, someone may start a sentence talking about how arm strength is the most overrated aspect of a quarterback's game, and finish the sentence talking about how he does not care if the throw was off target because this player wakes up with an ability to "rip it" that 98 percent of other passers do not possess.
In this way, I feel the throwing at the Combine counts, even though many observers often put forth the idea that it does not count at all. And so, the decision not to throw at the Combine is a strategic decision, one with which I often agree.
Yet in my opinion, when it comes to the draft, everything counts. Every throw counts, every decision counts, every 40-yard dash, every 60-yard shuttle—it all counts to some degree.
In the specific case of Andrew Luck, I see three areas that truly deserve grading. They are the following:
1.  Participation decision
2.  Media availability
3.  Athletic drills
In actuality, there are private interviews and medical checks that also figure prominently into a player like Andrew Luck's overall Combine showing. Since I was not privy to those interviews, nor was I provided with the results of his medical checks, I can only grade based on the above categories.
Participation Decision: B+
As I wrote some time ago in an article linked above, I fully understand the decision for a top-level quarterback not to throw at the Combine. The bottom line is, all the people telling a quarterback that he should throw are incentivized toward that end.
The ones only partly motivated to do what is in the best interests of the player, the agents, are the ones most often holding the player back from participating. I do not believe that is a coincidence.
Furthermore, Luck's decision to participate in all of the athletic drills proved to be an excellent decision on the basis of "if you've got it, flaunt it" principle.
All you have to do is pop on some tape of his games to see that he's an extremely accurate quarterback that can throw the football.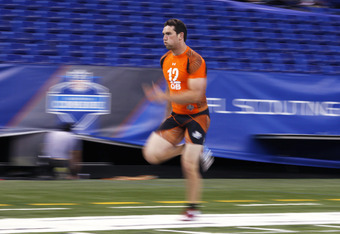 Joe Robbins/Getty Images
But how athletic is he, exactly?
If this is something that you want the scouts to know, then you participate. If this is something you do not want the scouts to see, you do not.
One potential downside to making the decision not to throw is that the guy closest to you in competition could seize the opportunity to participate and show a contrast in competitiveness. Thankfully for Luck, his primary competition also chose not to throw, so this was not an issue.
The only reason this grade is not higher is simply because for Andrew Luck, the "if you've got it, flaunt it" principle should also apply to his throwing. I believe he has absolutely nothing to hide in his throwing, whereas a guy like Robert Griffin probably does (for the moment) want to keep his throwing and footwork hidden a little longer while he continues to work on his fundamentals.
Media Availability: A
The very first thing that stood out to me about Andrew's media availability was the issue of ownership. He immediately took control of the conversation about his decision not to throw at the Combine by being proactive in dispelling reports that Jim Irsay and the Colts had advised him not to throw.
He emphasized his own role in the decision not to throw, saying that he made the decision by himself, that he bounced the idea off his father and others close to him and came to a decision.
This highlights a mistake that I feel many quarterbacks make when it comes to this particular matter as well as matters like it. It seems convenient, almost desirable, to position this decision as if you truly want to go out there and compete, but your agent and those around you are holding you back. That way, you get to maintain that you truly are a competitive player.
To me, you are not demonstrating your competitiveness. You are demonstrating your lack of ownership of your life. You are ultimately the decision-maker. You will do what you think is best.
Do not cop out by claiming or even insinuating that if it were up to you, you would be throwing. It is up to you, and the NFL wants to see that you can make grown-up decisions for yourself that you will not attempt to hide from, especially at this position where you will be leading an entire team.
For the rest of it, he came across as he always has: intelligent, humble, well spoken, honest and direct. None of this was new for him.
Athletic Drills: A+
Andrew Luck carries the profile of a pocket passer who can do some damage with his legs as needed. For him to come out and perform the way he did is absolutely insane. Though two inches shorter and 14 pounds lighter, he essentially reproduced Cam Newton's Combine performance from a year ago.
40 Time (official): 4.67
40 Time (unofficial): 4.59
Vertical Jump: 36 inches
Broad Jump: 10'4"
Short Shuttle:  4.28
Cone Drill:  6.80
Only one tailback and one tight end had a better broad jump result than Andrew. Only six wide receivers managed to best his 10'4".
The cone drill, or "L drill" as it is sometimes called, is supposed to be a receiver's specialty. However, only three wide receivers outperformed Andrew Luck's performance of 6.80 seconds. Only two tailbacks and one tight end also managed to beat the time.
To put things in a different perspective, you can look at Luck's results within a historical context at his position.
In the past, we have had some players participate in the NFL Scouting Combine as quarterbacks even though they were marginal as throwers. Reggie McNeal participated in the Combine as a quarterback, but never started a game at the position.
There have been other players that kicked around the league briefly as backups, never saw any real action, and left the league with as little fanfare as they entered. I do not particularly care about the Combine results of these players. Therefore, in looking at the history of the position, I excluded players that did not start at least one game at the position in the NFL.
From 2000 to the present, only five quarterbacks that went on to start at least one NFL game at the position managed to jump higher than Andrew Luck's 36 inches in the vertical. Only three of the above managed to jump longer than Andrew's 10'4" in the broad jump. Only five managed better than Andrew Luck's 6.80 second cone drill.
We're talking about explosiveness and agility measures that come out in the top third to sixth percentile among all quarterbacks to be tested at the NFL Scouting Combine during over a decade of modern NFL football.
Andrew Luck truly knocked this portion of the Combine out of the park.
Total Grade:  A
Overall, Andrew Luck handled his Combine nearly as well as could be expected. The only way he could have done any better would have been to participate in throwing drills and solidly outperform the competition. That was a gamble that Andrew understandably decided not to undertake, as he had more to lose than to gain.
He scored extra points with me by taking ownership of the decision and attributing it purely to himself, emphasizing that he and nobody else is driving the Andrew Luck bus.
Players like this truly do not come along every year, and he put the exclamation point on that by showing that he has as much athletic ability as most of the "mobile" quarterbacks that have come out over the years.