Toronto Raptors Looking to Move Leandro Barbosa to Make Room for Wilson Chandler
February 27, 2012

Stephen Dunn/Getty Images
According to Sam Smith of NBA.com, the Raptors are "anxious" to move the expiring contract of PG/SG Leandro Barbosa to clear cap space to sign restricted free agent Wilson Chandler.
Chandler and the Raptors have been long discussed in recent weeks because the Raptors have what many teams don't, and that's cap space. If they manage to unload the expiring contract of Leandro Barbosa, the Raptors could offer the restricted free agent a respectable—and likely unmatchable—contract offer that the Nuggets will likely balk at.
The Raptors have long needed a small forward that would help spread the floor on the offensive end. They are an improving club, but still struggle offensively most of the time. They need that shooting three and to be honest, Chandler provides that without having to trade away countless prospects to acquire him,
After getting his team to the Chinese Basketball Association's playoffs and then proceeding to get eliminated, Chandler will likely be given clearance from FIBA and the CBA to sign back in the NBA.
Last season, Chandler scored 15 PPG, added 5 RPG, shot over 81 percent from the line, 45 percent from the field and 35 percent from three. Chandler reminds me a little bit of Paul Pierce—he does a little bit of everything to help you win.
As for Barbosa, he excels in the open court, playing an uptempo sort of style. With the Raptors however, Barbosa has really forced much of his game. He hasn't let his game come to him, often taking aggressive offensive fouls and taking bad shots.
Barbosa's departure and Chandler's arrival could really give the Raptors plenty of options come draft time. If the player they want to target isn't there, they could trade down. If they want to take another PF or C, they could look to move Ed Davis or Amir Johnson in the offseason.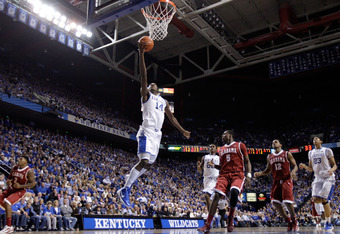 Andy Lyons/Getty Images
Getting Chandler might sound stupid right now because some couch experts would figure the Raptors to select Harrison Barnes, Michael Kidd-Gilchrist or Perry Jones III to be their future starting small forward.
However, one thing Chandler has over those guys is proven experience. You know what you're getting with Chandler. With the 2012 draft class, you never know what you could get. You could draft someone like Paul Pierce later in the lottery, but you could just as well take Adam Morrison third overall and fail miserably.
It's all in Chandler's court right now. His decision to join the Raptors could change the landscape of the Raptors' plans, but if he opts to go elsewhere then the Raptors will likely opt to stick to the plan. Their hope is that a first-round pick this year and the arrival of Jonas Valanciunas and a free agent could put this team into the playoffs.
Judging by what they have right now, I'd say that could very well happen.