Los Angeles Dodgers: Bidders Down to 7 According to Multiple Sources
February 28, 2012

Kevork Djansezian/Getty Images
According to several news sources, including ESPN.com and the L.A. Times, the group headed by Los Angeles Lakers legend Magic Johnson is one of seven bidders that have made the latest cut in the bankruptcy auction of the Dodgers and Dodger Stadium.
The group headed by Johnson is largely funded by Guggenheim Partners chief executive officer Mark Walter and also reportedly includes Stan Kasten, former president of the Atlanta Braves and Washington Nationals. 
An anonymous ESPN.com source with knowledge of the situation reports that those still in the running to replace Frank McCourt as Dodgers owner other than the Johnson group are:
St. Louis Rams owner Stan Kroenke

Real-estate developer Alan Casden

New York Observer publisher, real-estate mogul and Donald Trump son-in-law Jared Kushner

A group headed by Shamrock Holdings president and CEO Stanley Gold and the family of the late Roy Disney

A group headed by hedge-fund manager and SAC Capital Advisors founder Steven Cohen, which also includes longtime sports agent Arn Tellem

A group headed by former YES Network chairman and chief executive Leo Hindery and Colony Capital chairman Tom Barrack.
According to an mlb.com article, the bidders eliminated Monday are Memphis Grizzlies owner Michael Heisley and Ares Management founder Tony Ressler.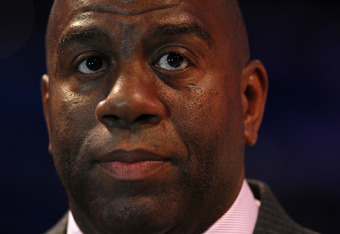 Ronald Martinez/Getty Images
The whole process of who will become the next owner of the Dodgers is a little complicated, however the seven remaining groups, including each member of each group, will now continue to be reviewed and highly scrutinized by Major League Baseball.
At the end of the vetting process by MLB, the groups that remain will be submitted to baseball's ownership committee, then the executive council and finally to the owners of the other 29 MLB teams with three-fourths approval required.
MLB.com says from there: 
"MLB will notify McCourt which bidders advance next month and a final round of bidding is expected before McCourt selects the winner, which must be done by April 1. According to the agreement between McCourt and MLB, the sale must close by April 30, the date McCourt must pay former wife Jamie McCourt a $131 million divorce settlement."
Believe it or not, that is the simplified version of what needs to happen in order for a new owner of the Dodgers to be named. And the scary thing for Dodgers fans is outgoing Dodgers owner Frank McCourt is free to take any rejection of a potential owner to a mediator if he disagrees with MLB.
For most Dodgers fans, the intricacies of the process aren't important. But finally having an owner that cares about the success and future of the team is what is most important.
This Dodger fan can't wait until the new owner is announced and I am hoping the group headed by Magic Johnson is the one that comes out on top.