NASCAR: Kurt Busch's Road to Redemption Is off to a Rocky Start
February 28, 2012

John Harrelson/Getty Images
Since blowing up in an interview with ESPN reporter Dr. Jerry Punch and subsequently parting ways with Penske racing, Kurt Busch has put himself on what some have been calling a road to redemption.
For Busch, this season's main goals are to prove he can handle adversity without a meltdown, that he can perform at a high level with aptly named small team Phoenix Racing, and that he can rediscover his love for auto racing.
Unfortunately, the first stretch of this road is uphill, winding, made of gravel and mud, and has more standing water on it than the rain-soaked Daytona infield. There could also be a smoldering jet dryer in the way courtesy of Juan Pablo Montoya, although that might be a bit much.
Point is, this isn't the way the 2004 Sprint Cup Champion wanted to begin 2012
Busch dominated much of Saturday's second-tier Nationwide Series race, leading a race-high 42 of 120 laps and 16 straight leading to the final.
However, coming out of the final corner on that final lap, Busch blocked a hard-charging Joey Logano, squeezing him into an equally hard-charging Tony Stewart. The ensuing melee involved essentially the entire top 10 drivers in the running order and completely ruined the cars of Busch and several others.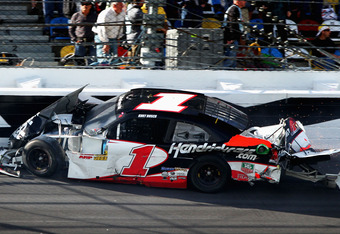 Jerry Markland/Getty Images
On the positive side, the accident occurred late enough that he was still scored in 10th place at the end of the day. Busch would not be quite as lucky in the rain-delayed Daytona 500 two days later.
At the beginning of only the second lap, Elliott Sadler and Jimmie Johnson triggered a multi-car wreck which Busch could not avoid.
The No.51 Chevrolet spent multiple laps in the garage area undergoing repairs, with Busch himself assisting the crewmen working feverishly to get the car back on track.
The team did eventually get back on track. The best they could salvage, however, was a 39th place finish, 89 laps behind winner Matt Kenseth.
If there is one positive to take home from an otherwise disastrous race it is that Busch and his team never gave up and finished the event. He even gave a nice little "we're-gonna-finish-this-thing" speech to his crew during the two-hour, five-minute delay brought on by Montoya's excursion with the safety truck.
That's a nice step forward for someone who has historically berated his team when adversity strikes.
But this is only one event, one weekend of racing. If beatup race cars and poor finishes become common place, it will become increasingly difficult for the volatile Busch to keep his cool.
Luckily, the NASCAR Sprint Cup Series heads to Phoenix, where drivers have more control over their own destiny than at restrictor plate tracks like Daytona.
It is also a pretty good track for Busch. In the previous seven races there, he finished better than ninth five times.
However, the track's recent reconfiguration may have thrown Busch for a loop. His last trip to the track ended with a disappointing 22nd place showing. And James Finch, who owns Phoenix racing, hasn't put a car in the top 20 there since 2005.
So, the cards may or may not be stacked against him this weekend. Kurt Busch needs this winding road to redemption to straighten out.
Otherwise, having fun and keeping cool won't last very long.