Carolina Hurricanes: Injuries, Trade Inactivity Gives Youngsters an Opportunity
February 29, 2012

Grant Halverson/Getty Images
Drayson Bowman. Jerome Samson. Zac Dalpe. Brett Sutter. Riley Nash. Zach Boychuk.
Those six young and talented forwards, the most elite of the Carolina Hurricanes' deep pool of prospects, have all played at least five games at the NHL level this year.
Head Coach Kirk Muller has given them playing time to gain much-needed experience, one-on-one coaching to help with development and talented teammates to help them find a role on the team.
In three months, he has done what Paul Maurice was fired for not doing, and it's already paying exponential dividends.
However, the opportunities awarded to those half-dozen youngsters this season cannot be completely attributed to Muller's refreshing coaching style.
Unfortunate injuries to the Hurricanes' top players have opened up a plethora of roster spots as the year has worn on, and the 'Canes recent trade inactivity will allow guys like Bowman and Samson to likely keep those spots moving forward.
Defending Calder Trophy winner Jeff Skinner, once-hot trade target Tuomo Ruutu, energy winger Chad LaRose and gritty fourth-liner Patrick Dwyer have all missed (and, in some cases, continue to miss) significant stretches of the '11-'12 campaign.
Carolina has struggled to find a skilled winger to play alongside Eric Staal and an experienced center to anchor the second line, as well, causing many to question GM Jim Rutherford's silence during Monday's trade deadline.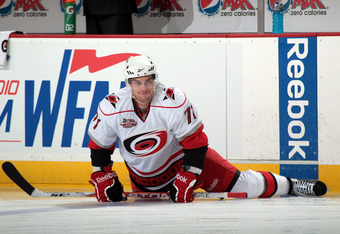 Bruce Bennett/Getty Images
But while those two shortfalls have hurt the team's success, it's also opened the gates for the next generation of Hurricanes.
Bowman, Samson and Dalpe have scored five goals and 10 assists in 43 combined appearances since Muller's hiring in late November; under Maurice, that trio had a grand total of zero points in 11 games.
Samson, an undrafted winger that the Hurricanes' minor league system has nurtured for four years, has been a nice feel-good story.
The 24-year-old has tallied two goals—the first two of his NHL career—and four points in 10 games after scoring at over a point-per-game pace for three seasons running in the AHL.
Meanwhile, 22-year-old Bowman has received all but two of his 23 games played with Muller behind the bench, and has prospered from that tremendously.
The 2007 third-round selection has two goals and seven points on the year, as well as a plus-three rating since February 17.
Bowman and Samson have each been earning solid top-nine ice time lately, averaging about 13 and 15 minutes, respectively, of TOI per game since their most recent recall to the 'Canes. 
Furthermore, both youngsters—especially Samson—have often been used as the winger beside red-hot Eric Staal (five goals, eight assists, plus-six) since Samson's call-up, and Jiri Tlusty (three goals, six assists, plus-nine) since Bowman's call-up.
And while the other four up-and-coming forwards we mentioned haven't had quite that much success, the potential is still most definitely there.
In a mere five appearances this season, Nash put up some overlookable yet very valuable statistics.
He has a 7-0 takeaway/giveaway ratio and a plus-one rating (on a team with just seven players in the positive range).
Brett Sutter, the cousin of 'Canes center Brandon Sutter, has racked up 23 hits in 15 games and won 14 of 21 faceoffs over that span, as well.
And even Boychuk, a former No. 14 overall draft pick with a declining career, had several good chances in his near-15 minutes of ice time during Tuesday's 4-3 win over the Nashville Predators.
With such an array of young offensive talent just waiting for their chance to shine, the fact that the Carolina Hurricanes are looking like a non-playoff team for the third consecutive campaign can actually be called a blessing in disguise.
A new era of players are currently preparing for a Raleigh takeover—a takeover that may very well bring renewed confidence, motivation and success to a 'Canes squad that always seems to be just a sliver below the competitive threshold.
Eric Staal, Jerome Samson and Drayson Bowman on the NHL's future No. 1 first line?
That dream might soon become a reality.
Mark Jones is currently Bleacher Report's featured columnist and community leader for the NHL's Carolina Hurricanes. In his 40 months so far with the site, he has written more than 350 articles and received more than 425,000 total reads.