Dancing with the Stars: Donald Driver's Dancing Skills Could Lead to Super Bowl
February 29, 2012
Jonathan Daniel/Getty Images
Greetings from the Frozen Tundra, my friends!
After a month-long hiatus of Green Bay Packers fans still shaking their heads over the playoff loss to the New York Giants, good news greeted fans of the Green and Gold this morning when it was announced that Donald Driver will be participating in, and potentially dominating, Dancing With the Stars.
Oh yeah, I said it: dominate.
Now, for the football fans out there who think that this is a ridiculous concept, consider this: Driver is one of the most well-known faces of the Green Bay Packers.  Yes, Clay Matthews and Aaron Rodgers are famous, but in Wisconsin?  Driver's selling power and recognition have been so huge that even if you aren't a fan of the Green Bay Packers, you know who he is.
Driver has been the face of McDonald's.  He has been the face of a public safety campaign for zero traffic accidents on Wisconsin roads.  He has his own television show named Inside the Huddle.  He appears in numerous charity events, including a softball game during the offseason. 
And, if you watch Packers football (which some say should be required by law in Wisconsin's borders on game day), you know when DD catches the ball, as the entire Packers Nation breaks into collective cheers.
In addition, Driver (I have been told by one of my friends) has a smile that makes every single Packers fan smile right along with him.  He has talent, is a phenomenal athlete and seems like the kind of guy that genuinely cares about the community that he has made his home for the past 13 seasons.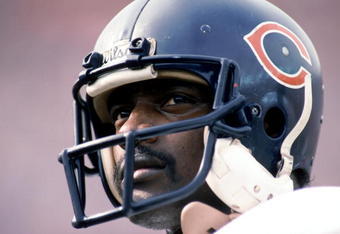 George Rose/Getty Images
What is there not to like about this guy?
Additionally, some football fans out there may be saying, "Why on Earth would any football player want to appear on Dancing With the Stars?  Isn't that kind of a girly thing to do?" 
Consider this: Walter Payton studied ballet while he played for the Chicago Bears.  Walter Payton. 
Remember Payton, aka "Sweetness"?  If you were a Packers fan in the late 1970s to the mid-1980s, you remember Payton, as he just seemed to run right at the Packers defense and run right over the top of them.  Repeatedly.
Yeah, he studied ballet.  He also made a little music video with his Bears teammates called "The Super Bowl Shuffle" in 1985—and helped to win said Super Bowl against the New England Patriots.
And Payton wasn't the only one!  Lynn Swann of the New Orleans Saints and Herschel Walker of the Dallas Cowboys both spoke of the benefits of ballet training.  Benefits Include, but are definitely not limited to, building core muscles, helping to chance direction quickly and, in the long run, reducing injuries.
And if the Packers need to do one thing in order to have a successful season, it is reduce injuries.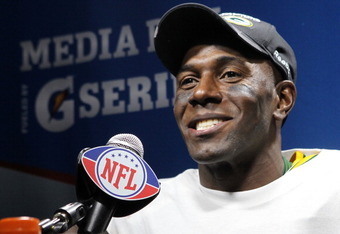 Ronald Martinez/Getty Images
I say, Packers fans, we let Driver get his groove on, shake his pooper, shimmy, wear colorful sequined shirts and slacks, and do whatever he needs to do to get his Dancing With the Stars on. 
Dancing, it has been reported, is not only good for the ticker, but also good for flexibility, balance and just all-around coolness.  If he wants to high-kick his way to a mirror-ball trophy, then he needs to do so, and do so with the blessing of the Packer Nation, I say!
Driver wins Dancing With the Stars, and Packers win Super Bowl?  Sounds like a plan!
As long as the Green Bay Packers get to keep Driver, that is...pay attention, Mr. Ted Thompson!
After a disappointing conclusion to the playoffs for Packers players, staff and fans, I predict that fans of the Green Bay Packers will be tuning in to watch Mr. Driver fox-trotting and waltzing up a storm.  And, as we wait for the start of another football season, it will nice to see a familiar face even if it is an unfamiliar setting.
Just dance, Donald, and please take time to enjoy yourself in this very long offseason.  Just, please, avoid the jazz hands...