2012 NFL Mock Draft: Post-Combine Edition
February 29, 2012

Joe Robbins/Getty Images
2012 NFL mock drafts are redrafting like mad now that the 2012 NFL Scouting Combine is complete. According to Twitter-fueled draftniks, there are more players locked in the top 20 then there are spots.
Free agency is a few weeks away which will be the next major shift in mocks.
Another event that could put the draft world on it's head is if the Rams can deal the second overall pick as NFL.com has reported they are committed to doing. I don't like to mock trades this early in the process but I did this one which a hunch Washington is willing to mortgage their franchise for a player some are calling the second best QB prospect in the last five years.
1. Indianapolis Colts - Andrew Luck, QB, Stanford - While RGIII has done a good job of challenging Luck for the top overall pick, Luck hasn't done anything to suggests he isn't the best QB prospect in the draftnik era.
2. Washington Redskins (Trade) - Robert Griffin III, QB, Baylor - I'm not a big fan of mocking a trade that hasn't happened yet this early in the NFL draft process, but all signs are pointing to either the Skins or Browns and Washington has a history of making big moves. RGIII will be a great building block for Washington's O that is very undecided. Unfortunately, the team may give up too much to add offensive talent around him through the draft.
3. Minnesota Vikings - Matt Kalil, OT, USC - Kalil is the safest tackle prospect since Jake Long. He kept Tyron Smith on the right side, is an elite athlete and has NFL bloodlines. Easy pick for Minnesota.
4. Cleveland Browns - Quinton Coples, DE, North Carolina - It would be a dream for Cleveland to sit at four and get RGIII, but that's looking less likely. Coples rounds out a budding 4-3 front for Cleveland.  Opposite the dynamic Jabaal Sheard, Coples should be one-on-one with tackles a lot as a rookie, and he has the ability to shift to DT on third down if the team wants to bring in a rush specialist.
5. Tampa Bay Bucs - Morris Claiborne, CB, LSU - The Bucs have many needs and with Ronde Barber collecting Social Security soon, they can shore-up their secondary with the top corner. Trent Richardson would be a nice luxury, but they can find a lightning for their thunder later in the draft.
6. St. Louis Rams (Trade) - Justin Blackmon, WR, Oklahoma St. - Anyone who says there's no way the Rams would draft a WR like Blackmon at six isn't a realist. The receiver isn't a wower in a combine setting, but he's talented, accomplished and a hard worker on and off the field. Jeff Fisher has a history of drafting skill players early, the franchise has already went this OT route, and Sam Bradford needs a player to develop with.
7. Jacksonville Jaguars - Dre Kirkpatrick, CB, Alabama - The Jags would love to get their hands on Coples but trades in the top 10 push him out of their reach in this draft. Staying on the defensive side of the ball, Kirkpatrick is start ready with Pro Bowl potential. You don't find 6'2" corners who can run sub-4.5 every day, and Kirkpatrick is a fierce competitor. His red flags are a concern and something the Jags may not want to deal with, but they would be passing on a prime prospect.
8. Miami Dolphins - David DeCastro, G, Stanford - Positional value aside, DeCastro has the highest floor in the 2012 NFL draft. Historically, we have seen a few guards go in the top 10, and they're trending upwards as a position group which makes this a reality. Miami went center in the middle of the first last year. Whoever plays QB for Miami will be able to lean on the run game and stand tall in the pocket with another blue-chip blocker in front of him.
9. Carolina Panthers - Courtney Upshaw, DE/LB, Alabama - Going head-up with Ingram this draft season, some may be surprised to see Upshaw going first after the combine. I believe Upshaw is a better fit as a hybrid linebacker/rush DE in a base 4-3, and he gives Ron Rivera a weapon the Panthers were lacking last year. With a lot of talent at WR and DT, the Panthers can address those needs in later rounds.
10. Buffalo Bills - Melvin Ingram, DE, South Carolina - Between Ingram and Upshaw, the Bills also get their better fit in this mock. Buffalo refused to rush the passer last year which is why I expect them to draft multiple players who can make plays behind the LOS.
11. Kansas City Chiefs - Dontari Poe, DT, Memphis - Going into the combine, I saw KC taking Brockers, we know Pioli likes the SEC, and KC needs a legit nose for their 3-4. Brockers flopped while Poe flourished. He has an extremely thick build and can translate weight room strength to the field. He isn't a perfect prospect, but there's enough of a floor to invest in his ceiling.
12. Seattle Seahawks - Luke Kuechly, LB, Boston College - If the draft unfolds this way, Seattle will most likely be looking to move down the board because they have addressed their OT needs the past two years. There's a chance David Hawthorne leaves town, and they cut Leroy Hill which would open the door for Kuechly. I believe an underrated fit for their scheme is Fletcher Cox, especially if Red Bryant doesn't re-sign.
13. Arizona Cardinals - Riley Reiff, OT, Iowa - Some will shout blasphemy at Reiff falling to 13 however draftniks always over-mock tackles because of positional value an endless need. The Cards have many holes to fill on their line—even when the team is on the field. Reiff looks ready to start from day 1 and is the highest-rated consensus tackle on the board although I like Jon Martin more.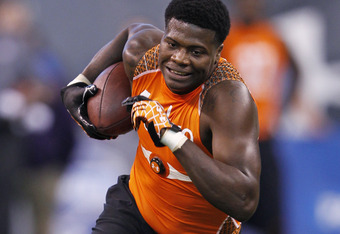 Joe Robbins/Getty Images
14. Dallas Cowboys - Mark Barron, S, Alabama - Dallas' secondary has been causing Cowboys fans pain for years, and it's time they act via the draft. Barron is an all-purpose safety, and he will give Rob Ryan a tool to increase his schemes complexity.
15. Philadelphia Eagles - Cordy Glenn, OL, Georgia - Philly doesn't like to draft LBs early, which is their biggest position of need. The team ran the ball well last season, but their offensive line could still be upgraded. Glenn can start at guard or RT for the Eagles. We know they love athletic size on the offensive line and versatility is a big plus.
 
16. New York Jets - Trent Richardson, RB, Alabama - Although I think the Jets really need to focus on adding a talented pass-rusher, they might be able to draft one later in the draft. Richardson is too talented to pass on at 16. The Jets want to run the ball over 500 times which means they need two backs that can handle load. If Richardson is off the board, I think Michael Floyd could also be in play.
17. Cincinnati Bengals - Kendall Wright, WR, Baylor - The Bengals would like to see Richardson fall in their hands, and he could. Off the board, I think they continue their BPA strategy and go with Wright who is a perfect complement to A.J. Green and a smart addition for Andy Dalton.
18. San Diego Chargers - Jonathan Martin, OT, Stanford - If you watched Chargers football last year you know their offensive line was horrible. While some injuries may heal, the team cannot allow Rivers to enter 2012 on his back.
19. Chicago Bears - Michael Floyd, WR, Notre Dame - We know the Bears want to add a receiver who can make plays downfield for Cutler. Floyd is an all-purpose receiver who flashed premium speed at the combine after a very successful senior season. Easy pick if he's still on the board.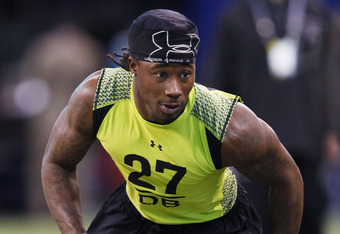 Joe Robbins/Getty Images
20. Tennessee Titans - Whitney Mercilus, DE, Illinois - Sprinkled with needs throughout their defense, especially with free agency looming, the Titans could go for one of many positions. Mercilus gives them a pass-rusher they've been looking for. He has a great motor which led to outstanding production this past year at Illinois.
21. Cincinnati Bengals - Fletcher Cox, DT, Mississippi St. - The Bengals don't have much depth at the DT position which means they are a play away from having a massive hole in the middle of their defense. Cox could start on many teams in the NFL, on the Bengals he will be great for Peko on passing downs and spelling Atkins throughout the games. Another great BPA pick.
22. Cleveland Browns - Janoris Jenkins, CB, North Alabama - Continuing to focus on defense in the draft, I have Cleveland snagging Jenkins if he's still on the board. The need is there, and we know Mike Holmgren likes to draft DBs early and often.
23. Detroit Lions - Stephon Gilmore, CB, South Carolina - The Lions defense is improving, and it will continue to get better if they bring in a talented DB via the draft. Gilmore used the combine to solidify his first-round status while Mike Adams, who I had here previously, did the opposite.
24. Pittsburgh Steelers - Zach Brown, LB, North Carolina - The Steelers have a history of drafting defensive depth early in the draft and teaching them how to play Steeler football. Brown has the talent to be great. He needs to increase his physicality on the field, but he can be a good situational player for Pitt from day one.
25. Denver Broncos - Don'ta Hightower, LB, Alabama - Rewind a few years and draftniks were saying Rollando McClain is overrated, and the real prospect is Hightower. I won't knock McClain, but Hightower is no doubt, for real. Denver needs to add a leader in the middle of their defense. DT is another need, but this draft is deep there, and Hightower can play next to Von Miller for the next decade.
26. Houston Texans - Alshon Jeffery, WR, South Carolina - When Andre Johnson goes down, it becomes apparent just how little talent Houston has at wideout. With Johnson on the field Jeffery can be a constant jump ball threat, keeping safeties from over shifting to Houston's playmaker. Some feel Jeffery is a second-rounder, I believe he is top-20 talent.
27. New England Patroits - Stephen Hill, WR, Georgia Tech - There is a lot of talk about NE adding a deep threat.  If Randy Moss isn't the plan, it could be track star Stephen Hill who is built more like Usain Bolt than Moss or fellow Yellow Jacket alum Demaryius Thomas. Hill isn't a sure thing, he played in an option attack that doesn't highlight WRs, but he has flashed impressive skills when given the opportunity.
28. Green Bay Packers - Nick Perry, DE, USC - We saw Clay Matthews' production take a huge dip in 2011 after two double-digit sack seasons. Lack of focus could have been an issue for the poster boy but so is increased attention from OC's. Perry was a DE at USC, making him a perfect complement to the LB hybrid that Matthews is. Perry is another guy really eating after a great combine.
29. Baltimore Ravens - Devon Still, DT, Penn St. - Still earned a lot of attention throughout the year but has dipped in the postseason. His tape is inconsistent, and his combine forgettable. A nose/tackle isn't a need for Baltimore, who would like to trade down if this is the big board, but they do a good job of drafting talent first.
30. San Francisco 49ers - Michael Brockers, DT, LSU - No player was hurt by the combine more than Brockers. Some may view 30 as a gross overreaction to a poor performance, but the truth is I struggled finding a team other than KC who I thought would take him in the top 15. Brockers has great size, and looks like an athlete, but is limited. He plays high, doesn't shed blocks well and only has a decent motor.
31. New England Patriots - Bruce Irvin, OLB, West Virginia - The Pats found a way to get sacks last year, and they will get more if they bring Irvin into the mix on third downs. He is situational, but at 6'3", 245, he had one of the best DE combines in history, and those numbers translate to the tape where he has the same motor of an Ingram or Upshaw.
32. New York Giants - Coby Fleener, TE, Stanford - This would be a dream fit for both parties, and it just might happen. Fleener missed the combine with an injury so he didn't show his goods. Draftniks have talked about how he isn't a great blocker, but teams don't draft TEs in the first round for that.  Fleener can line up anywhere on the field, and he stretches it.
Let me know what you think about the picks and follow me on Twitter @JohnLorge.