Missouri Valley Tournament 2012 Bracket: Seeds, Odds, Preview and More
February 29, 2012

Eric Francis/Getty Images
The 2012 Missouri Valley Conference Tournament kicks off on Thursday, and it's expected to be a wild one. It's that time of year for college basketball, as everything gets a little crazy in March. 
Also known as Arch Madness, 10 teams from the MVC will compete for the conference title beginning on Thursday and ending on Sunday at the Scottrade Center in St. Louis, Missouri. 
Whichever team comes out on top will receive the MVC automatic bid to the 2012 NCAA Tournament. The competition will be intense because so much is one the line. 
With that said, let's take a look at some specifics of Arch Madness. 
Bracket 
2012 MVC Tournament Bracket and TV Schedule
| | | | |
| --- | --- | --- | --- |
| Date | Matchup | TV | Time |
| Thu, March 1 | #8 Indiana State v #9 Southern Illinois | MVC TV | 6:05 ET |
| Thu, March 1 | #7 Drake v #10 Bradley | MVC TV | 8:35 ET |
| Fri, March 2 | #1 Wichita State v Game 1 Winner | MVC TV | 12:05 ET |
| Fri, March 2 | #4 Illinois State v #5 Northern Iowa | MVC TV | 2:35 ET |
| Fri, March 2 | #2 Creighton v Game 2 Winner | MVC TV | 6:05 ET |
| Fri, March 2 | #3 Evansville v #6 Missouri State | MVC TV | 8:35 ET |
| Sat, March 3 | Game 3 Winner v Game 4 Winner | MVC TV | 1:35 ET |
| Sat, March 3 | Game 5 Winner v Game 6 Winner | MVC TV | 4:05 ET |
| Sun, March 4 | MVC Tournament Championship Game: Game 7 Winner v Game 8 Winner | CBS | 1:05 ET |
Courtesy of MVCSports.com, you can click here to see the Arch Madness in bracket form. 
Odds 
According to Covers.com
Indiana State (-4.5) vs. Southern Illinois 
Drake (-7) vs. Bradley 
Teams to Watch For 
No. 1 Wichita State
The Shockers are 26-4 on the year and 16-2 in conference play. They're easily the top favorites to win, and having the first-round bye is a huge help. They're currently ranked No. 15 in the nation. 
They only conference losses they suffered this season came at the hands of Creighton back in December, and a triple overtime loss to Drake at the end of January. Wichita State did bounce back strong the next time it played both of those teams, winning each in blowout fashion. 
Senior leadership is the key for the Shockers, as they're top five scorers on the team will be playing in their final Arch Madness.
Lead by Garrett Stutz and Joe Ragland, the Shockers should coast through the 2012 MVC Tournament. 
No. 2 Creighton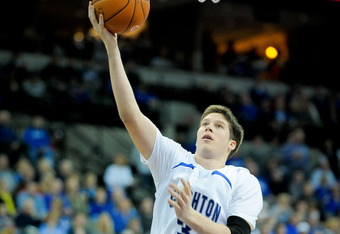 Eric Francis/Getty Images
The Blue Jays are 25-5 on the year and 14-4 in conference play. They're currently ranked No. 25 in the country. 
Creighton has a very strong chance to win this tournament, especially if the Blue Jays get hot. They lead the nation in field goal percentage, shooting at 50.8 percent, and they're also second in three-pointers, shooting 42.8 percent. 
Led by Doug McDermott, who is third in the nation in scoring, the Blue Jays are going to put up a good fight. McDermott averages 23 points per game, shooting 60.7 percent from the field and 47.9 percent from beyond the arc. 
The sophomore forward will have to rise up and carry his team the whole way if Creighton wants to win and reach the NCAA Tournament. 
No. 7 Drake 
The Bulldogs are my sleeper team for Arch Madness, simply because they know they have to win it all to reach the NCAA Tournament. 
They'll be extremely motivated, and since they know they can perform at a high level and beat the best, the Bulldogs are going to surprise people. 
After Wichita State and Creighton, there's a significant drop off in the rest of the conference. No other teams have won double digit conference games, which is why those two teams are the big favorites. 
However, if there's a team that can shock the Shockers and disrupt the Blue Jays, I'd put my money on Drake. Led by Rayvonte Rice and Ben Simons, who both average 16 points per game, the Bulldogs will need to catch fire against Bradley and never look back. 
Prediction 
Unfortunately, my sleeper pick won't turn into a Cinderella, as Wichita State cruises through Arch Madness. 
The Shockers will use the great experience of their seniors to ride into the NCAA Tournament as MVC champs. Don't be surprised if Creighton wins though, thanks to McDermott's stellar performance. 
However, Wichita State has better depth and stronger players, so they'll get the job done in St. Louis.