2012 Fantasy Baseball Projections: Players Who Will Excel After Changing Leagues
February 29, 2012

Mike Ehrmann/Getty Images
Whenever a player switches teams in baseball or any sport, there is usually an adjustment period needed for that player to reach a certain comfort level. That is especially true in baseball because going from the AL to the NL or vice versa is literally a completely different ball game.
There are plenty of players who changed leagues during the offseason, and while some will ultimately fail, others will make the transition seamlessly. It isn't always easy to tell which players will get acclimated to their new surroundings quickly, but if you can identify them, then you have a leg up on your competition.
Here are three players who will thrive after switching leagues this offseason.
SP Gio Gonzalez (WAS)
Over the past two seasons, Gio Gonzalez has developed into one of the most dominant, young starting pitchers. Because of that, it came as somewhat of a surprise when the Oakland Athletics dealt him to the Washington Nationals during the offseason. Gonzalez, a southpaw, has nasty stuff, but was also aided by a spacious ballpark over the past couple of years. He won't have that same benefit in Washington, but the switch to the National League should make up for that.
It's well documented that pitchers usually see across-the-board improvement when they go from the AL to the NL due to the fact that they no longer have to pitch to a designated hitter. Most NL lineups go only six or maybe seven players deep. Gonzalez won at least 15 games over each of the last two seasons for the mediocre A's, so he should improve upon that this year. Gonzalez struck out nearly a batter per inning last season as well, making him a prime candidate to make a leap toward elite status.
1B/OF Michael Cuddyer (COL)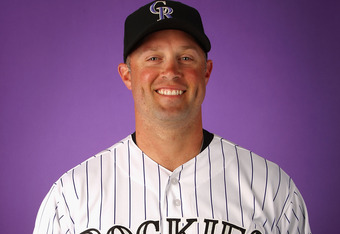 Christian Petersen/Getty Images
Michael Cuddyer had been a member of the Minnesota Twins since 2001, but this offseason he finally moved on as he signed with the Colorado Rockies. Cuddyer has been a consistent power producer for the past five years or so, and he is also quite versatile as he can play first base, outfield or even second base in a pinch. Cuddyer was an All-Star with the Twins last year as he hit .284 with 20 home runs and 70 RBIs in 139 games.
Those numbers may not seem like anything special, but when you consider that he put them up while playing primarily at the cavernous Target Field, they look quite a bit better. Coors Field may not be the hitter's haven it once was, but it will seem like a Little League field to Cuddyer, considering what he has grown accustomed to. Cuddyer hit 32 homers for the Twins in 2009, and it wouldn't be surprising to see him approach that number this season, especially with Troy Tulowitzki and Carlos Gonzalez as protection in the lineup.
RP Jonathan Papelbon (PHI)
Len Redkoles/Getty Images
It wouldn't be fair to say that Jonathan Papelbon struggled over his last two seasons as closer for the Boston Red Sox, but he certainly began to grow stagnant. Papelbon had an impressive WHIP of 0.93 in 2011, but his ERA was just 2.94, which was actually a big improvement from his abysmal ERA of 3.90 in 2010. Papelbon signed with the Philadelphia Phillies during the offseason, and that figures to be just what the doctor ordered to repair his fantasy value.
Not only should he have a easier time in the National League East compared to the monster hitters he had to face in American League East, but the Phillies are flat-out better than the Red Sox. Boston is going to struggle to make the postseason this year, while Philadelphia is favored to have the league's best record. With so many great starters acting as a bridge to him, 40 to 45 saves is a real possibility for Papelbon.