MLB Playoffs Expand to 10 Teams: Why New Format Damages Sport's Exceptionalism
March 1, 2012

J. Meric/Getty Images
Bud Selig has his way, as usual.
MLB and the MLB Players' Association will announce Thursday that they plan to expand the current playoffs to include a one-game Wild Card Round and (therefore) a second wild-card team in each league, according to Ken Rosenthal of Fox Sports.
Details remain to be ironed out in terms of scheduling, but the system goes into effect one year earlier than initially imagined. 
This change is a disaster for baseball, though, of course, not in terms of money or marketing or even competition. The extra layer of playoffs will generate huge (if reluctant) revenue and attention, and the increased opportunity to reach the postseason will help incentivize winning in a way other facets of the new collective bargaining agreement decidedly do not.
The real problem with this move is not about the on-field product, though September baseball will be strange and difficult to predict or understand for a while. The real problem with this move is philosophical, pedagogical and maybe even moral. The real problem is this: Life has no playoffs.
Sports, especially professional sports, thrive in United States society because fans enjoy competition, escapism, a feeling of connection to others and, to the delight of marketing executives, sex and beer.
They succeed because they provide a great many people with pure entertainment. They benefit society, though only insofar, as they also educate and edify the populace. If sport can't make us better by encouraging self-examination, bonding and open debate, it's an unconscionable waste of public resources and a sad commentary on our national mentality.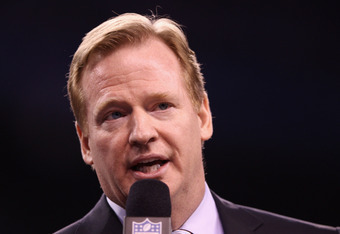 Elsa/Getty Images
Football has always failed those tests. Municipalities pour millions upon millions into public funding for gigantic eyesore stadiums filled some 20 times per year. Parents and school districts send 12-year-olds onto fields to begin bashing heads and start their brain damage early.
Fans obsess all week over games played only on Sundays, and the epidemic use of recreational and performance-enhancing drugs goes not so much unnoticed as unpunished.
Football encourages mania and an amoral safe ground. Because the season is just 16 games long and success is defined as winning the Super Bowl, it also suggests that life (if the sport is any model for it) is about succeeding when it counts. By extension, it implies that certain days, certain moments, do not matter. It encourages an all-or-nothing model of self-evaluation.
None of that reflects real life. Baseball can. Baseball is the everyday game. Even rabid fans have to go to work each day, and can watch at most 60 percent of their team's games. Because every day provides new results and new information, it's impossible to agonize over every pitch and every contest the way football fans do.
Because the season is 162 games long, it matters, and no one can pretend the season is truly defined by any one moment. Like real life, baseball contains relatively few truly climactic moments, and consistency and subtlety matter.
That, at least, is how baseball can be. It is rich and thrilling because it requires a day-to-day investment of roughly half the calendar. It is wonderfully, sensationally capable of bringing together fathers and sons, of causing fights and of teaching us something about ourselves. It is also capable of delivering overwhelming natural drama.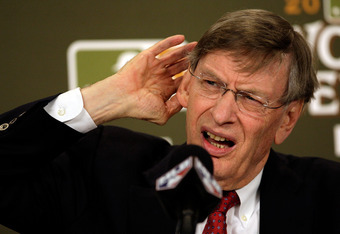 Jamie Squire/Getty Images
That's not good enough for Bud Selig, though. The system he has created is meant to artificially manufacture drama by manufacturing more sudden-death games and clutch moments. The dream Selig is chasing is of a game that resembles football as closely as possible; a game obsessed with playoffs and short races.
He has achieved it, or something like it. That's a shame.
Baseball will still be fun to watch and fun to follow. It will still be the best sport in the United States, with room to spare.
Races will happen, though they will be cheapened by the new framework. Teams will still make the playoffs and miss the playoffs, though the legitimacy of those results will be sapped by the system.
Teams will compete for wild-card spots that mean virtually nothing, and then two of them will play a Wild Card Game that means absolutely nothing. A team that was eight games better than another might be forced to play that team in one contest for the right to go on to the real playoffs.
To me, though, that's not the nightmare scenario. The nightmare is a situation in which a team one game better than another would have to do the same. In that scenario, it will be completely inevitable—baseball generally, and Selig specifically, sees that Wild Card Round game as more important than the 162-game season that preceded it.
At a time when the idea of American exceptionalism may be dying, America's game has voluntarily surrendered its own uniqueness.