Ravens Front Office, Ozzie Newsome Starting to Heat Up This Offseason
March 2, 2012

Andy Lyons/Getty Images
According to the Baltimore Ravens web site, the team has done exactly as they promised they would, and used the franchise tag on running back Ray Rice today. The move was executed in hopes that both sides will eventually come together on a long-term deal.
Rice, who just completed his fourth season as a Raven and third as the team's starter, posted a career-best and an NFL-high 2,068 yards from scrimmage, also adding a Ravens-record 15 total TDs (12 rushing and 3 receiving).
Rice's 1,364 rushing yards ranked second in the NFL, while his 2,068 total yards marked the second time (2009: 2,041) that he's surpassed the 2,000 milestone. 
Rice also became just the second player in NFL history to post multiple 1,000-yard rushing/700-yard receiving seasons (also in 2009), joining Marshall Faulk, who accomplished this impressive feat four times (1998-2001).
This is the seventh time the Ravens have used the franchise tag, and most recently used it tag on defensive tackle Haloti Ngata last February. The team and Ngata eventually agreed to a five-year, $61 million extension two weeks into the 2011 season.
Ravens General Manager Ozzie Newsome issued this statement through the team following the announcement. "As we have in the past, placing the franchise designation on a player allows us to keep negotiating on a long-term contract. Our goal is to keep Ray Rice a Raven. We've done this with other outstanding players through our history, including Haloti Ngata a year ago." 
The two-time Pro-Bowler was scheduled to become an unrestricted free agent on March 13, but now he will remain in Baltimore and is in line to make $7.7 million, the projected franchise salary numbers for running backs, during the 2012 season according to the Baltimore Sun article.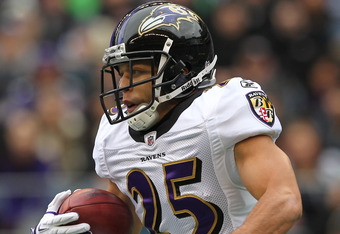 Otto Greule Jr/Getty Images
The Ravens now have until July 15 to work out a deal, or the former Rutgers star will play the season under the franchise tag. Rice's agent, Todd France, and Ravens officials met last week at the NFL Scouting Combine in Indianapolis to begin discussions about the deal. 
Newsome and team President Dick Cass wanted to get a deal done before March 13, giving the AFC runner-up Ravens more salary cap flexibility to re-sign their own free agents and acquire new talent.
According to the report, it's unclear where the Ravens and Rice stand in their contract talks. Per team policy, the Ravens do not discuss details of contract negotiations, and France hasn't responded to several requests for comment.
The Ravens also announced today that cornerback Chris Carr and wide receiver Lee Evans have been cut from the team. Carr, a seven-year veteran and reserve cornerback with Baltimore, played in just seven games this season as he was slowed by hamstring and back injuries. He was scheduled to make $2.5 million ($3.45 million against the cap).
Carr spoke with Ryan Mink of the Ravens web site and had this to say about the team's decision, "I'm going to miss everybody, but I'm not surprised,' Carr also said, "When I got injured and young guys played well who are younger than me, and who get paid less than me in the future, business-wise it made all the sense in the world [to release me]."
What also made sense in almost identical circumstances was cutting much-maligned wide receiver Lee Evans. The eighth-year pro will always be remembered as the wide out who dropped the pass (or had it knocked from his hands) that would have sent the Ravens to the Super Bowl.
Evans suffered from a high-ankle sprain for much of the season and played in the least amount of games (9) he's ever played in during his NFL career this past season. He had just four catches for 74 yards and no touchdowns.
Rookie Torrey Smith took over the starting role from Evans and filled in nicely. Smith set the Ravens rookie record in receptions (50), receiving yards (841) and touchdowns (7).
Smith's performance made Evans expendable as the former first round (13th overall) pick of the Buffalo Bills during the 2004 NFL Draft was scheduled to count for $5.5 million against the cap (including a $1 million roster bonus had he been on the team on March 18).
Newsome also issued this comment about Carr and Evans. "Each year, we have to make tough, difficult decisions to manage our roster. Chris Carr and Lee Evans were valuable Ravens, and both helped us get to the AFC Championship game and the brink of the Super Bowl last season with the way they played and the maturity they added to the locker room.
"Chris was instrumental in helping us earn the playoffs the last three seasons. As we talked about when we informed Chris and Lee of these moves, this does not close the door on them coming back to the Ravens."
Cornerback and Baltimore native Domonique Foxworth is also rumored to be cut sometime today or tomorrow as well as linebacker Jarrett Johnson.
According to an article written by Joe Platania of the Press Box, Johnson is a candidate to be signed by the New York Jets or Indianapolis Colts. The Ravens have plenty of work to do before the draft and offseason training activities begin. 
Quarterback Joe Flacco wants a contract extension, and his agent believes he should receive top five quarterback money. According to a recent Sports Illustrated article, Rice wants Adrian Peterson money. That's only about $100 million with $36 million guaranteed over seven years.
The Tennessee Titans gave RB Chris Johnson $53 million over four years with $30 million guaranteed. Rice is likely to get something in between those two deals with the Ravens.
It should be a fun two months at The Castle in Owings Mills, especially when free agency begins at midnight on March 13. When that day arrives, teams can begin to sign veteran free-agents, as well as make trades.
This date is also the qualifying-offer deadline to restricted free agents, and the minimum-salary offer deadline to exclusive-rights free agents.
The Ravens will also have their hands full with restricted free agents. They have two that will attract a ton of interest and with the new collective bargaining agreement not rewarding teams with as many draft picks as it did in the past, the Ravens may have to pay dearly to keep both young cornerbacks, Lardarius Webb and Carey Williams.
Under the rules on the new collective bargaining agreement, Webb should receive the maximum offer in terms of compensation, but if he was signed by that team in the past, the Ravens would have received a first- and a third-round pick. 
Under the new agreement, Baltimore would get just a first-rounder, so there may be even more teams willing to roll the dice. And when you consider how Webb finished the season, intercepting big passes in both the Ravens playoff games, Baltimore may have to dig deeper than they wanted to match. 
The good news is the Ravens have the last chance to keep any restricted free agent by matching the qualifying offer. The bad news is it only takes one general manager with a lot of cap room who is willing to give up a first-round pick to make an offer the Ravens cannot match.
This will be a process, and could be painful at times. Eventually, the Ravens and Rice will agree on a deal, but there could be some ugliness before it is all said and done. Look for their to be some tension in the Ravens huddle if one and not the other (Flacco and Rice), signs a new deal.
Don't tell me it's just a business, and all will be well, I know that, but this is a lot of money, and these are egotistical men. If the Ravens sign one and not the other, it will get rather uncomfortable in the locker room. It's only natural.
Flacco and Rice came into the organization at the same time together. Both were drafted in 2008, Flacco in the first round (18th overall), and Rice in the second (55th overall). This would be like you and a friend working a job together that you both started on the same day, and he got a raise after 90 days and you didn't. You would be pissed, and so will one of them if they both don't get a new deal.
QB Joe Flacco is the Ravens' all-time leading passer, and since Flacco and Rice joined the team, Baltimore is 44-21 including the playoffs (5-4). Both deserve new deals and will get them, but this process can be as gut-wrenching and nail-biting to watch and follow as Flacco leading the Ravens down the field with less than two minutes to play in the AFC Championship game.
Let's just hope that Ozzie Newsome and Dick Cass continue to operate as they have in off-seasons of the past, and let's also hope that Owner Steven Bisciotti has deeper pockets, and a better business sense than Lee Evans has hands. Otherwise, it could be a very long offseason and an even longer season.
The team has their offseason workout program scheduled to begin on March 15, and organized team activity practices (OTA's), are set for some time in May and June.