Subway Fresh Fit 500 2012 Results: Reaction, Leaders and Post-Race Analysis
March 4, 2012

Christian Petersen/Getty Images
Phoenix International Speedway is one of the coolest tracks on the entire circuit because of its unique shape and the wild racing it produces year after year.
The intermediate track takes a special blend of adjustments to these NASCARs to make sure they handle the different turns and the traffic they will encounter.
Update: Sunday, March 4th at 6:10 p.m.
Denny Hamlin is the Subway Fresh Fit 500 champion. He cruised to an easy victory on the final lap, as his closest competitor, Kevin Harvick, ran out of gas. 
And fuel was the big story at the close of this race. Drivers were working with their teams to conserve as much fuel as possible, and for several racers, like Harvick, they did not conserve enough. 
NASCAR analyst Tom Bowels tweeted out why this finish will be especially satisfying for Hamlin.
Denny Hamlin now wins, on fuel mileage at the same track where he blew the 2010 championship... in a fuel mileage race. #NASCAR #closure

— Tom Bowles (@NASCARBowles) March 4, 2012
Hamlin is now the points leader in this young season. Harvick was able to hold on to second. 
| Place | Driver |
| --- | --- |
| 1 | Denny Hamlin |
| 2 | Kevin Harvick  |
| 3 | Greg Biffle  |
| 4 | Jimmie Johnson  |
| 5 | Brad Keselowski  |
| 6 | Kyle Busch  |
| 7 | Martin Truex Jr.  |
| 8 | Jeff Gordon  |
| 9 | Mark Martin  |
| 10  | Joey Logano  |
You can view the full results here. 
This was a nice bounce back race for Jimmie Johnson after being derailed by a wreck at Daytona. Greg Biffle is also off to an exceptionally strong start with his second straight third place finish. 
Dale Earnhardt Jr. was solid all day, but could never quite put it together, and wound up 14th. 
*End of update
Jeff Gordon comes into this race as the defending champion, but there is a starting grid full of drivers with more to prove than ever before. This will be anything but easy for whoever ends up taking the checkered flag.
With a late start due to the location of the race, keep it here for all of the reaction, leaders and post-race analysis you can handle.
Where: Phoenix International Raceway, Phoenix, AZ
When: Sunday, March 4, 2:30 p.m. EST
Watch: FOX
Starting Lineup
Mark Martin
Tony Stewart
Regan Smith
Jimmie Johnson
Juan Pablo Montoya
Ryan Newman
Greg Biffle
Kevin Harvick
Joey Logano
Kasey Kahne
Jeff Burton
Kyle Busch
Denny Hamlin
Marcos Ambrose
AJ Allmendinger
Clint Bowyer
Bobby Labonte
Aric Almirola
Kurt Busch
Paul Menard
Jamie McMurray
Landon Cassill
Dave Blaney
Carl Edwards
Martin Truex Jr.
Matt Kenseth
Scott Riggs
Brad Keselowski
Dale Earnhardt Jr.
Jeff Gordon
Casey Mears
David Reutimann
Josh Wise
David Ragan
JJ Yeley
David Gilliland
Michael McDowell
Joe Nemechek
Robby Gordon
Brendan Gaughan
Travis Kvapil
Mike Bliss
David Stremme
Favorites
Jeff Gordon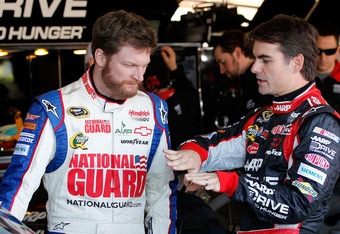 Tyler Barrick/Getty Images
After racing on Phoenix International Speedway for 14 years with plenty of success but no victories, Jeff Gordon finally won his first Cup Series race on the track in 2007. While starting at No. 30 is not great, it won't be long before No. 24 is towards the front.
Since that victory, Gordon had great success on the track, including a win at this event last season. As the defending race winner, the No. 24 team is a serious threat to win on Sunday.
With an average finish of 10th in this event to go with his two career victories, 10 top-fives and 18 top-10s at Phoenix, fans need to look no further than the NASCAR legend for the clear favorite at this race.
Kasey Kahne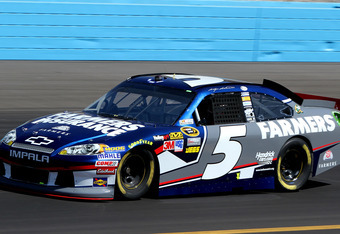 Jerry Markland/Getty Images
With Kasey Kahne under the wing of Hendrick Motorsports and the trio of talented drivers Jimmie Johnson, Jeff Gordon and Dale Earnhardt Jr., this is Kahne's time to show the world that doubted his skill and will to win last season that they were wrong.
Kahne may only have one win on the Phoenix raceway, but that race came in the second to last race in 2011 and the momentum is still there. If Kahne can win the same race just a few months earlier, he can easily do it again.
An average finish of 20th at Phoenix doesn't bode well for the young superstar, but his eight top-fives in only 11 starts last year proves that he can wheel around the track with the best of them. The key will be staying off the wrecker.
Ryan Newman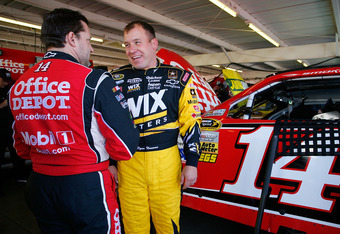 Tyler Barrick/Getty Images
There is a racing term that has come to define Ryan Newman at Phoenix International Speedway; checkers or wreckers. Except, its top 10 or wreckers for Newman, close enough.
When completing every lap of the race, Newman has never finished in worse than 16th at Phoenix including seven top-fives and a huge win in the opening Phoenix race of 2010. It's the other six races where he wasn't on the lead lap that has people scared.
If Newman can use the momentum that teammate and car owner Tony Stewart has created with his 2011 Championship win, the No. 39 Stewart-Haas car will be heading towards a stellar finish.
Check back for more on NASCAR as it comes, and check out Bleacher Report's NASCAR Page to get your fill of all things motorsports.