Butler's NCAA Tournament Reign Ends in Conference Tournament Semi
March 4, 2012

Streeter Lecka/Getty Images
I woke up this morning with a weird feeling in my stomach. It was almost a sick feeling, or an empty feeling. No, I am not nursing a hangover; in fact, last night was fairly low key for me. Butler was eliminated from NCAA Tournament contention with Saturday's 65-46 loss to Valparaiso on Saturday night.
Think about this for a second. It had been 1,081 days since the Bulldogs last lost a basketball game in March. In 2010 and 2011 Butler lost heartbreaking national championship games to Duke and UConn in early April. In 2009, senior leader Ronald Nored was a freshman, when his team suffered its last March defeat as an eighth-seed to LSU. The look on his face when taken out of the game for the final time Saturday night suggested he wasn't used to this feeling as tears rolled down his face.
For coach Brad Stevens and other Butler followers, this exit into a lesser postseason tournament is not really a surprise. With Nored as the only true contributor from the previous two seasons and a whole slew of underclassmen, going back to the Final Four was not likely. However, the expectations were high, as has become customary for the tiny basketball giant in Indianapolis.
Much will be said about Butler's "dismal" year. Center Andrew Smith was inconsistent in his first year as a full-time starter and the Horizon League Tournament was no exception. In Friday's quarterfinal he put up 25 points against Milwaukee and 24 hours later nearly went scoreless in the Bulldogs' biggest game of the year against Valpo. Smith may never become consistent, but he has one more year to prove his skeptics wrong.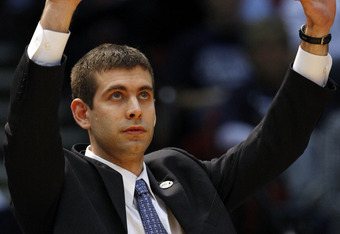 Chris Graythen/Getty Images
Freshmen Roosevelt Jones and Kameron Woods, who have showed signs of greatness to come, were awful. Jones committed two charging fouls, a foul that has been called on him time and again this season because of his stocky physique and physical nature. He basically throws his body into his opponent.
Woods is an adventure in the open court. Two times Saturday night he made a steal and raced down the court like a point guard on a one-versus-three fast break. The ball was stolen both times.
After the game Stevens acknowledged that "growth is a must" for his team.  
This was a season that most will consider a failure, but if you step back and take a look at it, it just might have been Stevens' finest coaching job yet.
Butler, typically a deadly outside shooting team, shot 28 percent on the season from the perimeter. That is fourth worst in the nation. Navy, Maryland Eastern, and Rhode Island are the only three teams that shot worse and each is sitting at or near the bottom of its respective conference. Brad Stevens and Butler won 20 games, a win mark that generally is considered a successful season for the majority of college basketball programs. 
Butler finished its season ranked 262 in total scoring offense at 63 points/game. The only two other 20-win teams below the Bulldogs are Wisconsin and Virginia, statistically the two best defensive teams in the country.
Butler was also ranked toward the bottom nationally (No. 289) in free-throw percentage at 64 percent.
Pretty much any other team ranked that low in of three-point shooting, scoring and free throws is going to have a bad year, maybe winning 12 games.
Not Stevens' Bulldogs.
Butler lost 50 percent of its scoring from last season. Stevens started 10 different players and didn't come up with his final rotation until the conference tournament. They still won 20 games. One must remember, when Stevens originally finished his best recruiting class to date back in 2008, he expected this to be a team with Shelvin Mack and Gordon Hayward leading the charge.
He has led Butler to 20 or more wins in his first five seasons at the helm and is on pace to be one of the winningest coaches of all time. He has put Butler basketball permanently on the map. They have been nationally televised more than any other mid-major program as the five-seed in its own conference.
The rest of the college basketball world probably won't understand the unsettling feeling that I have until next Sunday when the brackets are announced. Without the Bulldogs penciled in on that draw sheet, who will we pick as the Cinderella story? 
Who will we root for game in and game out to be the giant killer? Will the casual fan even tune in to the tournament without having a lovable bulldog to root for? There is just something about Butler that captures America.
The way Bulldogs fans post on Twitter and other social media networks about the disappointment of Butler's season is mostly negative. Someone who knows nothing about college basketball would think that this was one of the worst teams in the country.
They won 20 games.
That's what Stevens has done to the Butler basketball culture. The expectations are higher than ever, and that's a great thing.