Washington Capitals: Alex Ovechkin Benched, or Dale Hunter "Matching Lines?"
March 5, 2012

Greg Fiume/Getty Images
The Washington Capitals have been a team in turmoil much of the season, failing to live up to the "Stanley Cup or bust" hype that greeted them in many preseason prognostications.
In Sunday night's 1-0 loss to the Philadelphia Flyers—a second straight home shutout—another chapter was written in the drama that continues to unfold in Washington's Verizon Center.
Alex Ovechkin was benched. Or maybe not.
What we do know is immediately after the Flyers' Eric Wellwood scored what would be the only goal of the game at 7:51 of the second period, the "Great Eight" took just one more shift the entire period. Coach Dale Hunter after the game claimed it to be a matchup decision.
"I definitely was matching lines," Hunter responded when asked why Ovechkin missed much of the rest of the period. "I didn't want him against [Jaromir] Jagr and Jagr's line. He turned the puck over on the goal. That's what caused the only goal of the game."
"It was not a benching," Hunter continued. "I was matching lines. He played a lot in the third. He had his chances and the goalie stood tall."
To be fair, Ovechkin's linemates, Marcus Johansson and Troy Brouwer, both had two more shifts in the period.
So Hunter was only matching lines, yet needed to point out Ovechkin's miscue on the scoring play.
Ovechkin took his regular shifts in the third period and responded, recording five of his seven shots for the game with two hits and a blocked shot. After the game, Ovechkin owned up to his mistake.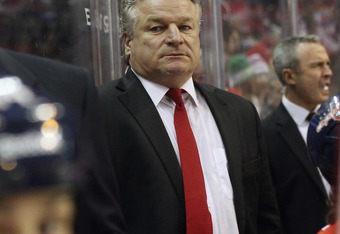 Bruce Bennett/Getty Images
"It's tough loss for us, I think," Ovechkin said. "My mistake cost us two points and it cost us the game."
Regardless of Hunter's ultimate motivation, it seems Ovechkin got the point. But this team really doesn't need any more drama. All they have to do is look at the Eastern Conference standings.
The Capitals are now 1-2 in a critical five-game homestand—their longest of the season—and chances to make up ground in a tight playoff race are dwindling. They are now five points behind the Florida Panthers for first in the Southeast and are one of five teams within three points of the eighth and final playoff seed in the conference.
To make matters worse, the Caps still have a brutal five-game road trip that will take them through Long Island, Winnipeg, Chicago, Detroit and Philadelphia. Daunting, to say the least.