Stern Language 2012 Kansas City Royals Preview: The Kids Can Hit
March 6, 2012

Brian Kersey/Getty Images
Well this is what we have all been waiting for. Of course when I say all, I mean the 944 Royals fans who still exist. Its been a long, long time since the Royals excited people. The early to mid 80's were huge for KC, they made the World Series in 1985 and won the division repeatedly prior to that.
The last decade however, has been unkind to the Royals. They have produced plenty of studs, only to see them leave town when their payday was due. From CF Johnny Damon and RF Jermaine Dye to CF Carlos Beltran and LF Raul Ibanez, the Royals haven't been able to hold onto young talent. Now they have a new batch of youth. Stud 1B Eric Hosmer, 3B Mike Moustakas, CF Lorenzo "Candy" Cain, 2B Johnny "Little Italy" Giavotella and catcher Sally Perez are all significant prospects who are expected to pan out.
The Royals have a plan, and apparently it is to wait until all the stars have aligned and everyone on the team is young and ineligible for free agency. Well, now they've done it. The problem is, young hitters take time to develop and gel, and even if this team rakes, and they shall, their pitchers stink.
That said, let's rank the Royals. Here are your 2012 Royals, the Kings, the Crumbums, and the Codgers.
Kings:
1B Eric "Hosmerelda" Hosmer
The kid hit (.293 with 19 jacks). He stole 11 bases last year and if he can get that number up to 20, we are talking about a top-20 player in the majors. He should hit 30 homers right now, and he will hit over .300 this year and he is not even 23 years old. 
LF Alex Gordon
As anyone who follows the MLB knows, he was a #2 overall pick and was supposed to play third base for the Royals. Well, it took him a few years, but here he is. He hit over .300, had 23 home runs, and stole 17 bases last year in a breakout season. If he can repeat those numbers, and he should, then the Royals may have enough hitting to make up for a total lack of quality starters.
Closer Joakim Soria
Soria should come in and close a lot of 8-7 games for KC this year. The bullpen will do better if new addition Jonathan Broxton can regain his 2010 Dodgers form. Soria was a top-5 closer until he had a little hiccup last year. Assuming Soria is on his game, the back of the Royals bullpen will be just fine.
Crumbums:
Well, as this is a young team, it is hard to find many crumbums, but I have located one nonetheless.
SS Yuniesky Betancourt
Often regarded as the worst starting player in the majors, the no-hit, no-field Betancourt may well lose his spot, if he has not by the time this is written. Betancourt is slow as molasses and can't hit. He is a total crumbum. I imagine KC knows this, so I am not sure why they signed him. Considering they have a speedy youngster in SS Alcides Escobar waiting in the wings, we might not have to see much of Betancourt this year.
SP Jonathan Sanchez
This dude throws 95 mph, is not yet 30 years old, and the Giants dealt him anyway. To be willing to part with a young pitcher who can hit 95 MPH on the gun, speaks volumes.
This kid is a bonehead.
Anyone who saw him pelt Chase Utley in the 2010 playoffs, then try to fight him after he gingerly threw the ball back, knows this.
Total Crumbum.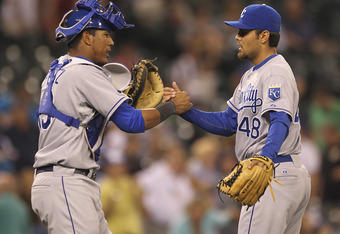 Otto Greule Jr/Getty Images
Codgers:
Setup man Jonathan Broxton 
 Unless Broxton is completely healed from his surgery, the kid may be done altogether. He did not pitch much last year, and when he did he had a 5+ ERA. Hell, even in 2010 he had a 4+ ERA and a 1.48 WHIP.
Forecast :
There is no doubt that KC can hit. They had better hit, too, because their starting pitchers are unproven. I predict an 81-81 type season from this bunch.
The Royals are building something. It remains to be seen if they can develop enough pitching in time before their offense leaves via free agency.