Phoenix Coyotes: Bucking the NHL Odds, on and off the Ice
March 6, 2012

Christian Petersen/Getty Images
While the Coyotes' fate in Phoenix hangs in the balance, the on-ice value of the club continues to soar in astonishing fashion.
For starters, the club has encountered its annual adversity by simply competing harder than any NHL club, give or take the Rangers and Blues. Then, there's the arresting performance of coach Dave Tippett, whose stewardship of a franchise under duress has been somewhere above splendid.
Add to that Don Maloney's generalship which inevitably hits the GM bull's-eye bringing long shots in with startling efficiency.
Imagine what a coup d'etat Dave Maloney's kid brother pulled off when he rescued Mike Smith from the Used Goaltender's Lot.
Discarded by the Lightning—Dwayne Roloson was hot at the time; Smith was not—Miracle Mike came
to Phoenix as the not-so-great unknown and has since stunned just about everyone to the core, perhaps even Maloney.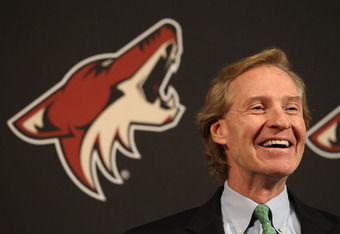 Christian Petersen/Getty Images
A "one-month wonder" Smith is not!
That point has been most recently underlined by the NHL. Bettman, Inc. voted the Yotes' keeper First Star of February.
His credentials follow: Smith went 11-0-0 and led the league in wins as Phoenix earned 23 out of a possible 24 points to climb to first place in the Pacific Division. His 11-game winning streak is a franchise record and is tied for the longest in the NHL this season.
Smith also was tied for first in February with a .952 save percentage and ranked second with a 1.42 goals-against average. He recorded back-to-back shutouts Feb. 11 against the Blackhawks and Feb. 16 at the Kings and posted a career-high 171:26 shutout sequence that ended Feb. 18 against the Stars.
The Kingston, Ontario, native is tied for fifth in the league with 29 wins and ranks in the top 10 in goals-against average (2.29), save percentage (.925) and shutouts (four) in 52 appearances this season.