Does Golf Need Tiger Woods Anymore?
March 6, 2012

Mike Ehrmann/Getty Images
You couldn't help but notice the irony. Rory McIlroy wins the Honda Classic Sunday to become the new No. 1 golfer in the world while Tiger Woods was shooting his lowest last round ever.
One impressively making it to the top of the heap. The other signaling he's still more than a face in the crowd but seeing his old crown placed on a younger head despite his best efforts.
Tiger's furious finish wasn't enough to steal Rory's thunder, but it did wonders for the tournament's attendance and TV ratings.
That's what Tiger Woods' presence has meant to golf since he turned pro in 1996. He's still the biggest star in the game and will probably earn more money than any other golfer for years to come even if he never wins another tournament.
Just look at the logo on his hat. Who can top that?
But following Tiger now is different from what it was before his personal life blew up for all the world to see. The so carefully managed public image was revealed to be a mirage.
Tiger inside the ropes was a golfing assassin with a killer smile. Tiger inside the house was apparently, a louse at least to his wife. 
So, now he's trying to come back. He seems recovered from physical injury but the damage to his reputation is still a bleeding wound.
Tiger may be able to change his swing but it doesn't appear that he's capable of changing himself. Many of us aren't.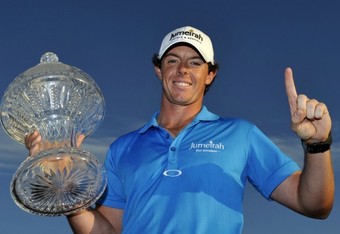 Woods still lets the press get to him and sulks in a way Jack Nicklaus or Arnold Palmer never did when things weren't going their way on the golf course.
The great golfers have had big egos but most have been more gracious than Tiger Woods. We've learned he's human and not all that likable. Ask his ex-caddy. Ask the other pros. 
Are we still rooting for him or are we now just like an audience at a Shakespeare play enthralled in the plot, waiting to see what happens next?
I for one think that there are so many new young players with great potential that Tiger's time left on center stage is not going to be all that long.
If he wins again, we'll admire that achievement respectfully but not adoringly. Those days aren't numbered, they're over.
If Palmer put golf on television and made it a legitimate American spectator sport, Tiger Woods took it to the next level and made himself and many of his competitors rich.
He is owed a lot for that—but does professional golf still need him to be able to thrive going forward?
No, those days are over, too.