ACC Player of the Year vs. ACC Most Valuable Player
March 6, 2012

Grant Halverson/Getty Images
The annual award for ACC Player of the Year, according to most, belongs to North Carolina's Tyler Zeller.  The Indiana-born senior has anchored the 27-4 Tar Heels to another ACC regular season title with 16.3 points per game (fifth in ACC), 9.3 rebounds (second) and 1.4 blocks (eighth).
Zeller is eighth in free-throw shooting percentage (.803) and second in field-goal percentage (.549). The only thing Zeller doesn't do is shoot three-pointers, having never made one during his career.
That said, were the award for "most valuable player," a case could be made for both Virginia's Mike Scott and UNC's Kendall Marshall as neither team would be nearly as good without the senior center and sophomore guard respectively.

Virgina is a different and much better team with Scott, who led the ACC in shooting percentage (.573) while scoring 17.9 points per game (second) and gathering in 8.3 rebounds (fifth). At times he looked like a man among boys and if Virginia is to win a game in the NCAA tournament, Scott will have to continue to produce big numbers while carrying the Wahoos on his back.

Marshall is clearly the most important player for the Tar Heels.  When he plays to his averages (9.6 assists, 2.7 turnovers, 32.8 minutes played and 7.2 points per game), North Carolina is extremely difficult to beat. When Marshall scores in double figures the Heels are unbeatable and worthy of their preseason No. 1 ranking.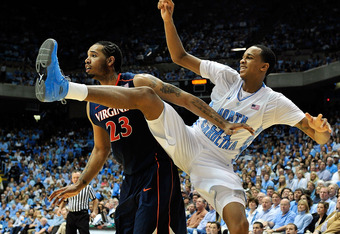 Grant Halverson/Getty Images

His value to the team is obvious by his statistics and the simple fact that he never asserts himself defensively to avoid any possible foul trouble. 

When North Carolina went on their 2009 championship run, as good as they were, they were  unbeatable once point guard Ty Lawson added a three-point shot to his repertoire.  Look for the
same result if Marshall scores in double digits during both the ACC and NCAA tournaments.
Since Duke relies almost entirely on outside shooting, a similar case could be built for Austin Rivers (15.3 points per game).