RAW Comments: Cena/Rock, HHH/HBK, Ryder/Eve, Jericho/Punk and AJ's Jeans
March 6, 2012

Another satisfying episode of Raw…I do not know what I will do if Raw turns back to crap.
I would have liked more wrestling, and I am baffled as to why Raw is not 3 hours long. Miz and Truth were wasted, although Truth gave a good, yet brief promo. And seeing Santino win the US title…almost made me puke. What did Jack Swagger do to end up as an after thought?
The surprise of the night was the interaction between Eve and Zach Ryder. I was expecting his return, but I am baffled as to where this story will go now that Kane is going to dance with Orton at WM28. I know the kiss is a set up, but for what? Who will Eve get to beat down—Ryder?
The best match of the night goes to the tag match. First of all…I think Jericho and Bryan would make one tremendous tag team. I bet Bryan was on cloud nine teaming up with Jericho, who is one of the best of all time. The pin-fall was perfect, and the interaction between Jericho and Punk was tremendous. The look of doubt riddled across Punk's brow, and the look of triumph plastered on Jericho's mug spoke volumes for each man. A promo would have ruined it. I loved it when Jericho tossed the belt in the ring at Punk, as if to say "Hold this, I will get it later." Like I said, their body language spoke volumes. 
By the way…did you all see the jeans A.J. was wearing? Wow…I can just hear the ball rattling in the spray can as it was shook before use…
Now…on to the juicy stuff…
HBK and HHH. I respect HBK, but I was not looking forward to his return. He has done it all, and there is not much more he can do. I was not surprised by the announcement that he was going to be the referee for the match. Hell…I was one of a million folks to predict it. However, I was surprised by how quickly they built the animosity between the Game and Michaels. I thought this would develop over the next few weeks, as opposed to being the "catalyst" that brings Michaels   into the match. Now next week should be interesting as HBK confronts the man. The Undertaker is coming back to Raw, and I am sure HBK has something to say. So folks…it will be DX vs. Taker…and Taker goes 20-0 after Shawn "accidentally" gives HHH some sweet chin music.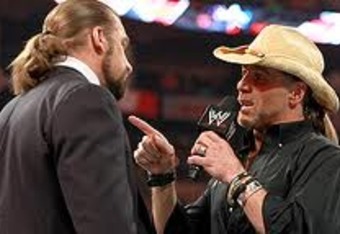 And of course I saved the best for last…
Now last week…the Rock was shut down by Cena. A fact Cena brought up. He said the Rock could only do taped and scripted promos ever since he returned. Cena demanded that he get the Rock…as opposed to Dwayne Johnson playing The Rock.
Well, he got what he asked for…
The promos Rocky did were great. They were…dare I say…vintage Rock. Funny and sarcastic, the Rock ripped Cena. From tossing his merchandise into the river much like those great patriots during the Boston Tea Party, to going back in time to whoop Cena's ass if he, and not Paul Revere, rode through the street announcing the arrival of the British troops. He even made a poem about it…
John Cena went to town
Riding on a pony
Rock stuck a feather up his ass…
And called him a jabroni…
I thought, for just a second, that as he strutted purposefully to the ring, the Rock was just going to hit Cena in the mouth and call it a night. Instead, the Rock told Cena if all his material wealth, the fame and stardom were gone, there would still be a 6'4", 260 pound man who was going to rip Cena's throat out…and make him his bitch.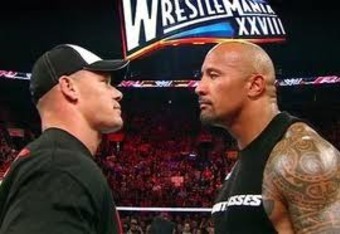 Not much else for the Rock to say after that.
Cena jotted the measurements the Rock stated on his forearm, and read what the Rock said. This of course was a jab at the notes the Rock supposedly had on his wrists last week. Now, while the Rock did gain some cool points, the verbal battle was once again won by Cena.
I know there are folks who just hate Cena, but you have to admit, The Rock is bringing out the best in Cena, and making him viable again. I believe this match will give us what we all want—a heel Cena maybe for just one night, as well as one heck of a match.
I am impressed with how the WWE is building each and every feud, with the exception of Bryan and Sheamus. I anticipate more matches to come, and some love for the World Heavyweight title match. WM28 is shaping up to be one great card, and last night's Raw continued a trend which—except for the GM feud—has this WWE fan very happy.
Now…if only Vince puts Savage into the Hall of Fame this year. Now that would be just too sweet!