Roy Oswalt Could Still End Up a Member of the Boston Red Sox
March 7, 2012

Dilip Vishwanat/Getty Images
Talk about beating a dead horse, right?
Just when I was fully prepared to turn the page on the whole Roy Oswalt coming to Boston notion, the Boston Globe's Nick Cafardo had to lure me back into the saga.
I'm like Michael Corleone, just when I thought I was out...
The reality is, even if fans are growing tired of hearing that Oswalt might, could, should, is thinking about, wants to, doesn't want to, wants to pull a Clemens, thinks he might want to join the Red Sox, fans should pay attention.
For all of the faults that many have come up with as to why the team should not sign him at this point: age, decreased K/9, increased ERA - what have you, he is still one hell of a solid pitcher.
Furthermore, at this point, he is going to be a lot more affordable than if the team sought to sign him at the beginning of free agency, where he likely could have demanded $14 million.
Now, Oswalt can likely be had for around $7 million to be the fifth starter on this roster.  Think about that for a second.
Roy Oswalt as the FIFTH starter for the Red Sox.
Does that not tighten up the starting five to a point where the Red Sox pitching staff could be mentioned in the same conversation as the Angels, Yankees, Phillies and Rays?
I feel that it does.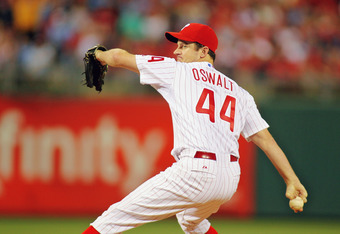 Len Redkoles/Getty Images
True, the man that many believe to be the fourth starter, Daniel Bard, is still relatively unproven, his numbers this spring have been inspiring. Of course, you can say that he hasn't had to pitch many innings or throw that many pitches, I get it.
The point is, with the addition of Oswalt, the Red Sox go from being a team that others have laughed at for their "penny pinching" ways of signing plenty of reclamation projects, to now having potentially the deepest core of starting pitchers in the Majors.
"Oh, Oswalt needs to skip a couple of starts?  No sweat, let's throw Ross Ohlendorf in there."  Perhaps, "Jon Lester bruised his thumb, give Aaron Cook the ball."
You get my point.
Inevitably this saga will come to an end.  Hopefully sooner than later. Personally, I can't take much more of this. With the Red Sox being the only team that appears to still have any interest in Oswalt, this could mean for some very good news for Sox fans by the end of the month.