NHL Debates: Is Toronto Maple Leafs GM Brian Burke Overrated?
March 7, 2012

Richard Wolowicz/Getty Images
Over the past month, the Toronto Maple Leafs have gone 3-10-1, which has many people wondering if in fact GM Brian Burke is the right man for the job.
When Burke was first hired on as president and GM in Toronto, he promised "proper levels of pugnacity, testosterone, truculence and belligerence."
"Our teams play a North American game," Burke said during his introductory press conference in Toronto on Nov. 29, 2008. "We're throwbacks. It's black-and-blue hockey. It's going to be more physical hockey here than people are used to."
These promises injected a surge of optimism into Toronto and immediately revitalized the tentative fanbase of Leafs Nation.
Burke, who had just won a Stanley Cup the year before in Anaheim, was thought to be the one person capable of putting an end to the curse of '67.
Unfortunately for Leafs fans, the chances of this happening anytime in the near future are bleak at best.
Now four years into his tenure atop Toronto's pyramid, Burke has yet to ice a team capable of even making the playoffs—let alone win a championship.
Granted, he has spent much of his time in hockey's mecca at the local garbage dump trying to rid his club of unwanted goods. But the expiry date on that excuse ran out last season when Burke had finally put in place a playoff-worthy team—his words, not mine.
Even former coach Ron Wilson was drinking Burke's Kool-Aid. According to him, heading into the current season, Toronto was only a few pieces away from contending—not for the playoffs—for a Stanley Cup.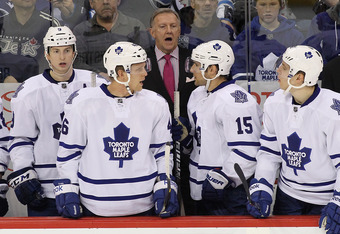 Marianne Helm/Getty Images
I don't know what Wilson was on or where he got it, but I want some.
In fairness, Toronto played decent hockey this season until their free-fall began. In fact, a month ago the Leafs were comfortably sitting seventh in the Eastern Conference with two games in hand on the clubs chasing them down.  
But enough small talk. Let's get to the nucleus of the great debate at the core of this article.
Burke would have fans believe that his club's recent struggles are the result of a strange phenomenon—the likes of which the hockey world has never seen before.
Are you buying his argument that Toronto is a playoff-worthy team that has gone through an unfortunate stretch?
Those who are will more than likely point to trades that Burke has made as evidence that he has Toronto moving in the right direction. Phil Kessel, Dion Phaneuf, Joffrey Lupul and Jake Gardiner are just a few names that don the Blue and White because of him.
Supporters of Burke will also point out the excellent season that Toronto's AHL affiliate—the Toronto Marlies—are having, and rightly so.
On the other hand, those who argue against Burke will more than likely point to his free-agent track record in Toronto as his crutch.
Rather than wait for players to develop within the organization, Burke turned to the free-agent market in an attempt to fast-track his team towards success and made some blunders as a result.
Players such as Tim Connolly, Mike Komisarek and Colby Armstrong have been unable to live up to expectations since arriving in hockey's hotbed. 
Yes, critics have the advantage of hindsight, but the GM is at fault if players don't live up to expectations—just as he is at fault for refusing to fire a certain unnamed coach until it's too little, too late.
The outcome of Burke's tenure in Toronto remains to be determined, but until his team comes through on his promise and delivers a playoff berth, the debate over his ability to properly manage will rage on.
All things considered, what say you?
Is Brian Burke overrated?
And for those who say even the suggestion of Burke being overrated is mutiny, please click here and read this article.
Follow Matt Wiseman on Twitter for up-to-date NHL news and analysis.