South Dakota State Punches Ticket to First NCAA Tournament in Their History
March 8, 2012

Every once in a while, you will find a team that has the opportunity to capture the hearts of the entire country.  One that not only accomplishes great things, but one that shows what it's like to watch a real team play.  By real team, I'm talking about a group of teammates that compliment each other so well on the court, but genuinely care about one other off of it.  
In this instance, the South Dakota State men's basketball team now has the chance to become that team.  
Last night in front of 6,526 fans at Sioux Fall Arena in Sioux Falls, South Dakota, the SDSU men completed their most remarkable season in school history, outlasting a feisty Western Illinois squad in overtime, winning 52-50 to earn their first trip to the NCAA tournament in school history.  
Not only did the Jacks prove they could win when it counted, but they also showed the world—and a national television audience on ESPN—that even when their backs are against the wall, they have the composure and talent to pull themselves together to get the job done.  
Lone senior on the Jacks roster, Griffan Callahan, led the way with his leadership and toughness when SDSU needed a lift the most.  Callahan struggled in the first half shooting the ball, but made his presence felt in the second, scoring 10 timely points and nailing two free throws in the closing seconds of regulation to tie the game, as well as hitting the game-winning shot in overtime to seal it for the 27-7 Jackrabbits.  
Offense was nowhere to be found for most of the game, as the two teams shot under 40 percent for the game (SDSU-35 percent, WIU-40 percent).  Because the offenses were almost non-existent, Western Illinois had the advantage as their lock down defense—which was tops in the conference this year—shined throughout the first half, giving the Leathernecks a 28-24 halftime advantage.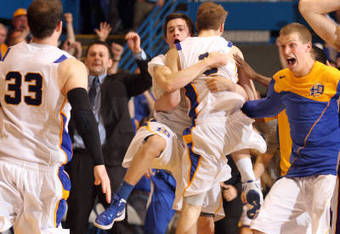 WIU came out of the gates even stronger in the second half than they finished the first, opening the half on a 9-1 run to push their lead to 12, 37-25 five minutes into the second half.  WIU's Tommy Tyler, who had a game-high 19 points, made a layup with just over four minutes to play, putting the 'Necks up 44-40.  
From there, two free throws by Nate Wolters (14 points, six rebounds, four assists, two steals) brought the Jacks within two with 4:08 left, giving Callahan the opportunity to tie the game with 15 seconds left in regulation, both of which he hit, sending the game to overtime.  
Off the opening tip of overtime, Tyler grabbed the ball and slammed it home to send WIU up two quickly in the extra frame.  Tony Fiegen came right back and scored on a little hook shot to tie it up at 46 apiece.  After another layup by WIU, SDSU's Chad White (nine points, 3-4 3FG) hit a crucial trey to give the jacks the lead, 49-48.  
After a shot clock operator error that saw a Terrell Parks (eight points, 11 rebounds) shot get tipped, the Leathernecks recovered but the shot clock was reset even though the ball clearly never hit the rim.  Once the officials corrected the mistake, there were two seconds left on the shot clock with the 'Necks inbounding the ball, which Obi Emegano (eight points, eight rebounds) converted a layup to regain the lead, 50-49 with 2:08 left to go in the game.  
With 1:27 left the in game, Wolters dished out one of his four assists as he found Callahan (10 points, six rebounds, two steals) and nailed a three pointer from the left wing to give the Jacks a 52-50 lead, which would ultimately be the final shot hit in the game.  
After two shot-clock violations, Western Illinois had ten seconds left to try to either win or tie the game.  Parks dribbled out some clock before driving to the lane, only to have his shot fall short.  Parks grabbed the rebound, but it was ripped away from him by Brayden Carlson (three points, seven rebounds, three assists, two steals) who held the ball until the final buzzer sounded and the South Dakota State crowd stormed the court to celebrate the school's first trip to the NCAA tournament.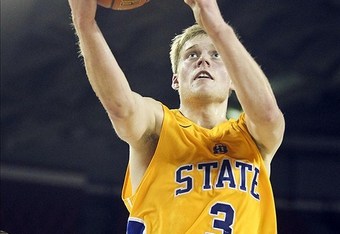 After watching this team grow and mature over the year, I can say that there are few teams who deserve to have this moment than South Dakota State.  Forget the fact that they have played well all year, with a few games as exceptions.  Consider how hard they all work on a day-to-day basis and how much they care for each other not just as players, but as people.  The Jackrabbit men really are one big family.  
Head coach Scott Nagy is one of the most caring coaches you will find in the Division I ranks.  One perfect example of just how much he cares for his players came on Senior Night a few weeks ago.  Now, every school has Senior Night to congratulate their upper-classmen on a job well done and move on from there.  Very few coaches will show emotion in those instances, but Nagy was different.  Before lone senior Callahan was announced before the crowd, Nagy was already in tears, not afraid to show his emotion for somebody that has put it all on the line for him and showing his appreciation.
Nagy is one of those coaches who can come off as strict and reserved, but beyond that, he's one of the most kindhearted men you will ever get to know, if you have that pleasure.  
Everybody says that their team is special, but these guys won't even acknowledge if they deserve attention.  Nate Wolters, the star player on the team and slowing becoming a national name, won't even go so far as to say he is the best player on the team.  He can go off for 30 points in 28 minutes and he will still praise his teammates for making his job so easy.  
Wolters is a rare case of a star player being one of the most humble people you know.  Regardless of the attention he receives, Wolters will just give a little grin and move on like nothing has changed.  
SDSU now has the opportunity to become another mid-major that enters the NCAA tournament with few expecting them to go far, making some higher-ranked teams wish they didn't have to face them in the process.  Potentially entering the tournament as a 13-14 seed, the Jackrabbits have great opportunities in their future, something they are well aware of and are working as hard as they have all year to accomplish.  
If you want a mid-major to root for in the tournament that can pull off some upsets, look no further than the South Dakota State men's basketball team. 
Now, on a side note, I'd like to congratulate all the players and coaches on this year's team for a job well done.  It couldn't have happened to a better group of people.
Coaches: Scott Nagy, Austin Hansen, Rob Klinkefus, Brian Cooley and Nick Goff.
Players: Griffan Callahan, Nate Wolters, Tony Fiegen, Jordan Dykstra, Chad White, Brayden Carlson, Marcus Heemstra, Zach Monaghan, Zach Hortsman, Taevaunn Prince, Alex Olson, Austin Hennings, Samuel Francis, Joey Feilimier and Cory Jacobsen.  
They are all around a great group of guys whom I've personally had the pleasure of getting to know over the past year, a year I consider to be one of the best of my life.  I wish them the best of luck in their tournament play and no matter what, you guys have an entire state's hearts.  
Congratulations, SDSU men's basketball team.  You've earned everything you've received.