Pac 12-Tournament 2012: Cal's Jorge Gutierrez Will Steal the Show
March 8, 2012

Ethan Miller/Getty Images
Jorge Gutierrez will make or break the near future of Cal basketball. There is no better time for a player with his passion for the game to rebound for a remarkable weekend of basketball. 
The California Golden Bears take on bitter rivals Stanford in Thursday's quarterfinal action. That's exactly the kind of game Cal needs to kick-start a March surge. 
No player could use an infusion of energy more than Jorge Gutierrez, the Pac-12 Player of the Year and Defensive Player of the Year. 
Cal had a six-game winning streak at the tail end of the regular season that guaranteed they would capture the top seed in the Pac-12 tournament and have the most swagger in the field. 
Then they laid an egg. Cal got ahead of themselves and dropped games to Colorado and Stanford. 
But it's time for payback. 
No player needs a bounce-back effort more than Gutierrez, who went flat right when Cal needed him most, with an 0-for-7 shooting night against Colorado and a 3-for-8 performance against the Cardinal.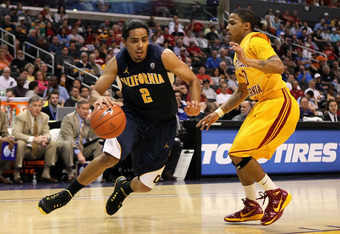 Jeff Gross/Getty Images
The doldrums are not lost on the Cal leader and standout player of the year. The future is bright for Gutierrez, as long as he can get back that zeal he once played with. 
Cal is looking for win number 24 and inclusion in the NCAA tournament, and their forward is looking to end his career at Cal in the best way possible. 
He knows how much the next set of games means to his legacy. Via The San Francisco Chronicle:
It's hard to take that it's coming to an end; my college career is coming to an end. That's not an excuse for playing the way I've been. I need to relax and trust my teammates.

That's in the past. We're putting those two losses in the past and focusing on the next game. We're trying to start the tournament in the right state of mind and be positive.
Gutierrez is that special player that performs with a chip on his shoulder, like he is trying to prove he belongs on the court. He plays with fire and it translates as someone that frustrates the opposition beyond belief. 
The good news is that such play is contagious. Cal needs their leader to step up with a breakout game to will guarantee his career at Cal will go on for another game. 
Cal is not going anywhere, and neither is Jorge Gutierrez. 
Thursday, March 8th
| | | | |
| --- | --- | --- | --- |
| GAME  | Matchup | Time (PT) | TV |
| GAME 5 | (9) Oregon St. vs. (1) Washington | 12:00 p.m. | FSN |
| GAME 6 | (5) UCLA vs. (4) Arizona | 2:30 p.m. | FSN |
| GAME 7 | (7) Stanford vs. (2) California | 6:00 p.m. | FSN |
| GAME 8 | (6) Colorado vs. (3) Oregon | 8:30 p.m. | FSN |
Friday, March 9th
| | | | |
| --- | --- | --- | --- |
| GAME  | Matchup | Time (PT) | TV |
| GAME 9 | Game 5 Winner vs. Game 6 Winner | 6:00 p.m. | FSN |
| GAME 10 | Game 7 Winner vs. Game 8 Winner | 8:30 p.m. | FSN |
Saturday, March 10th
| | | | |
| --- | --- | --- | --- |
| GAME  | Matchup | Time (PT) | TV |
| GAME 11 | Pac-12 Championship | 3:00 p.m. | CBS |