Arsenal Transfer Rumours: Alex Song off to Juventus? No Chance
March 9, 2012

Clive Mason/Getty Images
Juventus have an £18 million transfer chest, says the Daily Mail, and they want to spent some of it on Arsenal's Alex Song.
The Daily Mail print these terse lines on their website:
A Juve source said: "We need to back our plans for a strong European campaign by reinforcing the squad in some key positions — and Essien and Song are under review."
It is juicy news, of course, but no way is Song going to Juventus, I say. Alex Song is no Samir Nasri. How do I know this?
Well, I don't know. I'm just guessing. Gut feelings.
A fellow Gooner and I have been talking Western movies these last few days. We both like to think we are some lone gunslinger with a mean squint and streak, a lazy drawl and a fast draw, who has survived many close calls due to an uncanny instinctual sense.
The convoluted "uncanny instinctual sense" should tell you something about the delusion. But my point is that old fashion gut feeling has its use now and then, and who is to say mine is too dull to tell me a thing or two?
You?
But here's my question: Has it reached a point where every wet-behind-the-ear club wants to steal our players?
What? Juventus are no wet-behind-the-ear club? Sorry, let me rephrase.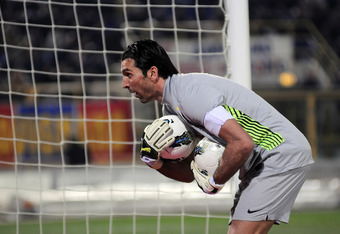 Mario Carlini / Iguana Press/Getty Images
Has it reached a point where every little club with little cash wants to steal our players?
Crazy? Juventus are no little club?
Right. Let me try again.
Are Arsenal now so small that every run of the mill club would steal her players, by waving a few wads of cash?
No run of the mill?
Sorry. I give up.
The point is, Alex Song is going nowhere, not to Juventus, not even to Manchester City.
QED.