Former Umpire Harry Wendelstedt Dead at 73: "He Lived for Baseball"
March 9, 2012

Jonathan Daniel/Getty Images
Harry Wendelstedt, former big league umpire—father of current MLB umpire Hunter Wendelstedt and owner of the Harry Wendelstedt Umpire School—has died. He was 73 years old.
Considered a mentor by many and a friend by umpires everywhere, the senior Wendelstedt was truly an arbiter who did things the right way. He worked in the National League for 33 years until his 1998 retirement, officiating three NLDS, seven NLCS and five World Series. He also worked four All-Star games and umpired five no-hitters, a record shared with Hall of Fame umpire Bill Klem.
Wendelstedt served four terms as President of the Major League Umpires Association and was recently nominated for Hall of Fame consideration by sportswriter Dr. John McCollister and LA Dodgers legend Tommy Lasorda, who today said, "He deserves it."
By all accounts from players, coaches, managers and fellow umpires, Harry Wendelstedt was an all-around class act and a huge fan of the game: "He lived for baseball. He lived for umpiring. When we were getting him into the ambulance [Friday morning], he had MLB [Network] on. That's all he would watch."
Wendelstedt's mentorship and passion for officiating the game of baseball affected thousands of umpires throughout the course of his on- and off-field career.
With approximately 100 students flocking to Wendelstedt's school every January, Harry had seen, instructed and coached over 3,000 young umpires and MLB-hopefuls since he took over and renamed the Al Somers Umpire School in the late 1970s.
Wendelstedt and his son Hunter briefly overlapped at the big league level in 1998, during Harry's last year in the National League and Hunter's first as a Triple-A call-up, working as a fill-in at the major league level while a full-time big league umpire is on vacation.
The two Wendelstedts were on the field together for, as Hunter described it, "a couple of different situations that were amazing."
On Aug. 29, 1998, home plate umpire Sam Holbrook called a strike against slugger Mark McGwire—a call McGwire did not like one bit during his pursuit of what would become a then-record 70 home run season.
Holbrook and Hunter were both new to the MLB stage at that time and had both been assigned to the veteran Wendelstedt's crew.
Sensing trouble, Cardinals manager Tony La Russa ran out of the dugout and was ejected. Next up was the pitching coach who was also tossed and finally, having failed to take the hint, McGwire was kicked out.
While fans littered the field with bottles and other debris, the senior Wendelstedt gathered his crew and refocused his fellow umpires: "'Listen. I'm going to handle everything else. I need a couple of things...Rich [Rieker], Hunter, after every half inning, you're going to meet me right behind second base. No one has that good of an arm. If they want to throw stuff at us, they're not going to reach us beyond second.'"
Turning his attention to Holbrook—who had just ejected three prominent Cardinals personnel—Wendelstedt said, "'Sammy, I've worked with you all year. You're one of the better young umpires in the big leagues. I need you to bear down now for the next eight innings and do the job that I've seen all year long. Block it out. Every pitch that you call, right or wrong, they're going to scream at you. Don't worry, go out there and do the job I know you can.'"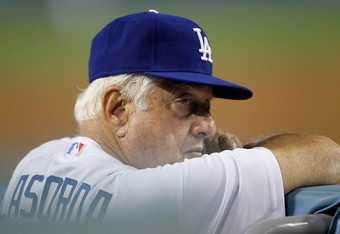 Jeff Gross/Getty Images
Now that's a crew chief.
Wendelstedt was also involved in a contentious contest between the San Francisco Giants and Los Angeles Dodgers on May 31, 1968 at Chavez Ravine.
San Francisco had loaded the bases with none out and Dodgers pitcher Don Drysdale's then-record 58.2 scoreless innings streak on the line. Facing a 2-2 count, Giants batter Dick Dietz took a fastball on the elbow and headed down to first base for the hit by pitch.
Not so fast, said Wendelstedt, who called Dietz back to the plate, claiming the batter had not tried to avoid the pitch. Dietz later flied out and Drysdale pitched a shutout, preserving the streak.
Dodgers manager Lasorda loved it: "I'd never seen that call before in the big leagues...Never had seen anyone make it."
As is customary upon the passing of an esteemed fellow umpire, MLB umpires are expected to wear a patch or symbol in Harry Wendelstedt's honor early this season.
Gil Imber is Bleacher Report's Rules Featured Columnist and owner of Close Call Sports, a website dedicated to the objective and fair analysis of close or controversial calls in sports.