NBA Trade Deadline: Should the Nets Forget Dwight Howard and Pursue Josh Smith?
March 10, 2012

Kevin C. Cox/Getty Images
With the NBA Trade deadline less than a week away, more and more teams are dipping their toe in the pool of potential trade targets.  Some franchises are examining ways to augment their talent base with someone who has fallen out of favor in another city.  Others are looking to fill holes and provide depth in hopes of making a significant playoff run.  Others still, are simply looking to save a little money and trim their payroll.
While many teams have been in and out of the trade market in this shortened season, the New Jersey Nets have been firmly entrenched on the front line.  Their focus has been laser sharp since the acquisition of all-world point guard Deron Williams at last seasons deadline.  Their target: The Orlando Magic's Dwight Howard.
It is not a secret that the Nets covet Orlando's all-NBA center like a Quagmire covets Lois, and will do just about anything to get their hands on him.  They have put all of the eggs in the Howard basket, dealing a plethora of valuable asset in exchange for Williams in hopes to lure "Superman" New York's second largest borough.
If you are going to go "all-in" on a player, Howard would be the one to do it for.  With all due respect to whomever hoists the Podoloff Trophy, Dwight Howard may be the the single most valuable player in the NBA today.  The 6'11" center is currently averaging a gaudy 20.9 points and 15 rebounds per contest while shooting a impressive 56.7 percent, which is tops among eligible players.  He is also a three-time recipient of the league's Defensive Player of the Year award and is the odds on favorite to win the title 2012.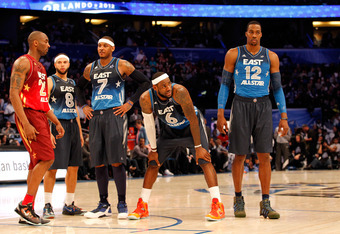 Ronald Martinez/Getty Images
in pairing with Deron Williams in the soon-to-be-completed Barclays Center, but have been stuck in a holding pattern while Magic GM Otis Smith mulls over his options.  Rumors have Orlando possibly even holding on to Howard until season's end and attempting to re-sign him in the offseason. 
So what do the Nets do in the meantime?
Nets brass pulled off a near miracle landing Deron Williams after striking out on Lebron James, Chris Bosh and Dwayne Wade in 2010.  If Orlando is unable to convince the Magic to part with Howard via trade, perhaps the most prudent move would be to make an inquiry about on of Howard's former teammates, Josh Smith.
J-Smoove is in the midst of a career year, averaging 17 points and a shade under nine boards per game.  He, as usual, is a defensive demon collecting 1.5 pilfers a game and swatting a respectable two shots per contest. He is an electrifying athlete and seems to have finally put it all together.
Smith and the Hawks have had a tenuous relationship recently and Josh has .  With his stock as high as it has ever been, is a prime time trading chip.
How could the Nets make this happen?
The Nets have as many valuable assets as anyone in the NBA at this point.  A package of Brook Lopez, Mehmet Okur's expiring $10 million contract and one of New Jersey's two first-round picks may be enough to pry the 6'9" power forward loose from the budget conscious Atlanta club.  
In addition to the cap relief (which will be a huge factor when considering the escalating contracts of Joe Johnson, injured big man Al Horford a re-signed Jeff Teague), the Hawks would receive a promising scoring center that will allow Horford to slide back into his more natural power forward position.  The move also gives them a top 15 pick at the very least, and a possible top five pick depending on how the lottery balls bounce if the Nets offer their own pick.
What about Howard, you ask?
The addition of Smith would, at very least, further the interest of a free agent Howard this coming summer.  As stated previously, the two have a history.  Familiarity aside, "Smoove" can play and a trio of Smith, Howard and Williams coupled with emerging swing man Marshon Brooks could be devastating in the Eastern Conference.
Of course, the are questions abound in a deal like this.  How much do the Hawks value Lopez, who has been dealing with his first bout with injuries as a pro?  Is this the best deal you can get for a player of Smith's ability?  Would this move be enough to lure Howard away from the additional salary he would make by staying in Orlando. Will Howard finish the season in Orlando?  
No one knows.  What is known is that the Nets made a huge splash last season and seem eager to make another this year. The addition of Josh Smith can only help Brooklyn's cause.