BenJarvus Green-Ellis to Raiders: Why Ex-Patriots RB Would Look Good in Oakland
March 10, 2012

Elsa/Getty Images
Sports media as a whole always seem so impressed with the New England Patriots and how they manage the structure of their team.
So if they're so impressive, what in the heck are they doing setting running back BenJarvus Green-Ellis loose on the free-agent market?
New England is the team that, as YardBarker.com contributor Michael Stadlam put it, "seems to know how to get the most from his fairly limited talents."
Then who knows why the Pats chose not to sign the 26-year-old running back.
Maybe it's because they've been too busy trying to slap the franchise tag on that icy-eyed Wes Welker fellow. Or it could be because they're content with RBs Stevan Ridley and Shane Vereen.
So now, The Law Firm is poised for the market and ready to be scooped up.
Now normally, the Oakland Raiders won't touch anything Patriot-esque with a 10-foot pole. (Well, except to snag a fourth-round draft choice for Randy Moss back in 2007. Which as we all know, didn't turn out so lovely for New England.)
And it has been speculated that the Pats have already made Green-Ellis an offer that he's "not so comfortable with."
But he's still going to test the market, looking at other possible suitors.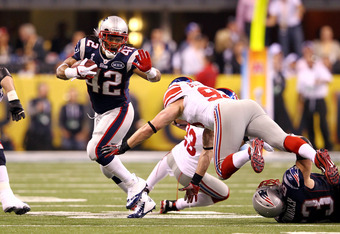 Al Bello/Getty Images
Here are a couple reasons why BJGE would look good in a Silver & Black jersey:
HE'LL PERFORM BETTER ON A TEAM WITH A STRONG RUN GAME
One thing that keeps BenJarvus Green-Ellis somewhat under the radar is that he spent the last four seasons playing on a pass-happy team.
His efforts in the run game were constantly overshadowed by the passing yards racked up by receiver Welker and tight ends Rob Gronkowski and Aaron Hernandez.
The Firm will be coming from a team ranked 20th in the NFL for rushing yards. And on the seventh-ranked Raiders, Green-Ellis would have a better opportunity to show his talents.
HELP GET THOSE CRUCIAL FIRST DOWNS/TDs
Green-Ellis is touted for his short-yard gains, which would be a big help to Oakland's 25th-ranked third down conversions. With his career total 2,064 rushing yards, he would be a positive asset.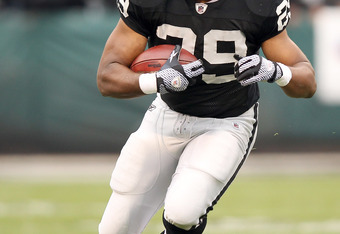 Ezra Shaw/Getty Images
Not to mention those drives into the end zone. BJGE has 24 touchdowns in his four-year career, 11 from this past season, and he could easily increase that stat if he stays healthy for the full 2012 season.
COMPLEMENTARY PLAYER TO BUSH
Fellow free agent—and underrated running back—Michael Bush will probably stay in Oakland. And coming off of a strong season where he led the team in rushing yards, there is sure to be an even bigger boost to the Raiders running game in 2012.
With Darren McFadden yet to play a full season, it would behoove Oakland to bring in another solid RB, and power back Green-Ellis could be the ticket.
Put his 667 yards and 11 touchdowns from 2011 together with Bush's 977 yards and 7 touchdowns, and it could spell very nicely for the Raiders run attack.
STILL YOUNG, AND NOT PAST HIS PRIME
Set aside the fact that this kid saw a bit of a performance decline in 2011 due to a toe injury. Let's look at the fact that, pre-injury, Green-Ellis averaged 229 attempts for 1,008 yards and 13 touchdowns.
And he ended the 2011 season on a high note, even leading the Pats in rushing yards during the Super Bowl (not that New England took advantage of it).
Any team smart enough to grab a young, explosive back with a couple years' experience under his belt would be smart to pick Green-Ellis up.